Thursday, May 23, 2013
Page 1
Feuer Says He's Gratified, Ready to Work After Landslide
By a MetNews Staff Writer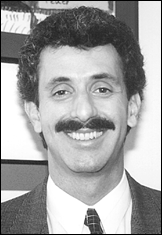 MIKE FEUER
Los Angeles City Attorney-Elect
Los Angeles City Attorney-Elect Mike Feuer said yesterday he was gratified and humbled by his landslide victory over City Attorney Carmen Trutanich and would put together a transition team soon.
"It was a very gratifying election," he said. "I couldn't be prouder of my [campaign] team."
With all precincts reporting, Feuer had more than 62 percent of the vote for the office he tried for, but failed to win, 12 years ago. The former Los Angeles City Council and state Assembly member and head of Bet Tzedek Legal Services carried 14 of the city's 15 council districts—Trutanich carried his home district, the 15th—and 90 percent of the precincts, a Feuer campaign spokesperson said.
The results marked a swift fall for Trutanich, who a year ago was favored to win to win election as the county's district attorney. Instead, he finished third in the primary for that office and received only 30 percent in the March primary for his current post, and finished only slightly above that mark yesterday.
The Feuer spokesperson said it was the worst performance by an incumbent city attorney in at least 80 years.
Feuer, who said he had been on the phone with supporters and current officials all day yesterday, said he had no personnel announcements to make yet. But in his previous positions, he said, he has always considered the people he worked with to be "very much part of a family," noting that many of those he worked with in those jobs were involved in the campaign and were part of his victory celebration Tuesday night.
He said he would now focus, as he did during the campaign, on specific priorities—"rejuvenating" the office's neighborhood prosecutor program, reducing gun violence, improving risk management, and improving training within the office with a view toward preventing litigation.
The new city attorney will take office, along with other newly elected officials, on July 1.
Feuer called Tuesday's election "turning of the page in leadership in the city," as he, Mayor-Elect Eric Garcetti, and Controller-Elect Ron Gal­perin will be taking office at the same time. The city, he said, would be getting "a nice combination of experience and fresh perspective in each of the positions of citywide leadership."
It has been "decades," he said, since the three citywide elected officials worked together without antagonisms, expressing optimism that is about to change.
The city attorney-elect is married to Los Angeles Superior Court Judge Gail Ruderman Feuer. There will be no conflict between their positions, he explained, because she hears a felony calendar and the city attorney does not prosecute felonies, although she might have to recuse herself from hearing Pitchess motions involving the Los Angeles Police Department.
Copyright 2013, Metropolitan News Company