Wednesday, February 20, 2013
Page 1
C.A. Sides With Ryan O'Neal in Anti-SLAPP Flap
By a MetNews Staff Writer
The Court of Appeal, in a 2-1 decision, has affirmed the denial of an anti-SLAPP motion pressed by a man being sued by Ryan O'Neal for publicly alleging that the actor pilfered a $30 million Andy Warhol painting of the late Farrah Fawcett, O'Neal's longtime lover.
O'Neal asserts that Warhol, a friend, gave him the painting, one of two renditions of Fawcett. The other one went to the University of Texas—where the Texas-born Fawcett had been enrolled before bolting from academia to embark on a career in show business—pursuant to a bequest of her art collection.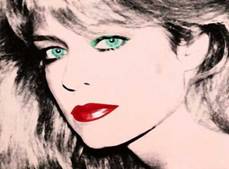 Warhol's depiction of Fawcett.
Presiding Justice Trish Bigelow of this district's Div. Eight, writing for the majority, said that Los Angeles Superior Court Judge Linda K. Lefkowitz correctly found that O'Neal's suit against Fawcett's onetime unpaid personal assistant, Craig Nevius, met the first prong of the anti-SLAPP statute—that the conduct alleged arose from a protected activity, speech on a matter of public interest. However, Bigelow went on to say, Lefkowitz appropriately determined that the second requirement was not satisfied: a likelihood that Nevius would prevail at trial.
In assessing Ryan's burden, Bigelow assumed, but did not declare, that Ryan is a public figure, saying:
"For purposes of this appeal from the trial court's anti-SLAPP order, we assume without finding that O'Neal is a 'public figure,' and that he must satisfy the heightened 'malice' standard of proof of New York Times Co. v. Sullivan (1964) 376 U.S. 254, 279-280 (New York Times) in order to prevail on his claims for damages."
Even saddled with that burden, Bigelow observed, it looks like Ryan will establish liability.
"We find the trial court was correct in its determination that O'Neal presented sufficient evidence of Nevius's malice to demonstrate O'Neal had a probability of prevailing on his complaint under the anti-SLAPP evidentiary standard," the jurist wrote.
'Obsessive,' 'Delusional Fan'
Bigelow characterized Nevius as, according to O'Neal's allegations, "an obsessive and delusional fan of Fawcett who was 'deeply jealous' of O'Neal's relationship with Fawcett."
O'Neal was reportedly engaged in an affair with the former Charlie's Angels star from 1979-97, casting her aside for a younger woman when she went into menopause, but resuming the liaison from 2001 until her death from cancer on June 25, 2009. They had one child, born in 1985.
Bigelow provides this summary of averments in O'Neal's complaint: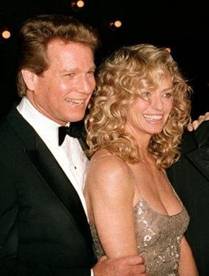 –Associated Press
O'Neal and Fawcett
"Nevius worked for Fawcett as her personal assistant without pay and assisted with the NBC documentary 'Farrah's Story,' until Fawcett asked that O'Neal take over the creative process, putting an end to Nevius' work. In response, Nevius became more obsessed with Fawcett and her relationship with O'Neal. Even after Fawcett's tragic death from cancer, Nevius continued to harass O'Neal and made defamatory accusations about him stealing the second Warhol painting."
Contradicts Earlier Statements
In the course of the trial court proceedings, Nevius at first denied that he had ever accused O'Neal of stealing the painting, then backtracked and admitted in a declaration that he had made the allegation to the University of Texas. That institution—purportedly as the result of Nevius's prodding—is engaged in separate litigation with O'Neal in Los Angeles Superior Court over ownership of the second painting, contending that it is encompassed in the bequest.
Nevius's assertion of a theft was recited by O'Neal's estranged daughter, actress Tatum O'Neal, in an autobiography, and reported—along with quotes from Nevius—on ABC's Good Morning, America, and in the Star magazine.
Evidence adduced by O'Neal in connection with the anti-SLAPP motion included a declaration by Jeffrey Eisen, an attorney with the law firm of Mitchell Silberberg & Knupp, who represented the trustee of Fawcett's living trust. Eisen declared that the trustee had concluded that O'Neal owned the painting.
Joining in Bigelow's opinion was Justice Elizabeth Grimes.
Flier Dissents
Justice Madeleine Flier filed a dissent. She maintained:
"The record contains no evidence suggesting that Nevius was aware of the falsity of the statement O'Neal stole the portrait. There was no evidence Nevius relied on unreliable sources. There was no evidence that the type of evidence Nevius relied on to conclude Fawcett owned the portrait was unreasonable."
Flier declared:
"Evidence Nevius did not know whether O'Neal stole the portrait is insufficient to show actual malice."
The case, filed Thursday and not certified for publication, is O'Neal v. Nevius, B238640.
Lincoln D. Bandlow of Lathrop & Gage, Inglis Ledbetter, and Richard S. Gower and Gregory J. Bramlage of Gower & Warriner represented Nevius. Martin D. Singer and Todd S. Eagan of Laveley & Singer acted for O'Neal.
Copyright 2013, Metropolitan News Company