Wednesday, January 23, 2013
Page 1
Kathryn Doi Todd Retires From Court of Appeal
By KENNETH OFGANG, Staff Writer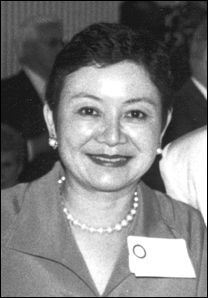 KATHRYN DOI TODD
Retired Court of Appeal Justice
Justice Kathryn Doi Todd of this district's Court of Appeal, Div. Two retired yesterday after 35 years in judicial office, including more than 12 years on the Court of Appeal.
Doi Todd, 71, became the first Asian-American woman judge in the country when Gov. Jerry Brown appointed her to the Los Angeles Municipal Court in 1978, during his first term. Brown now gets to name her successor, who would be his first appointment to the state's largest appellate court.
The jurist said in a statement that "[i]t was difficult to finally decide to retire, but I am looking forward to the next phase of my life." The statement did not explain what her future plans were, and a MetNews phone call to her chambers was not returned.
In 1981, Governor Brown appointed her to the Los Angeles Superior Court where she served as presiding judge of the Juvenile Court from 1988 to 1989. She was appointed to the Court of Appeal by Governor Gray Davis in 2000.
The future justice and her family were interned at camps in Wyoming and at Tule Lake, Calif., along with other persons of Japanese origin, during World War II. She returned to Los Angeles after the war, graduating from Los Angeles High School in 1959.
She graduated from Stanford University in 1963 with a degree in history, and then attended Loyola Law School on an academic scholarship, graduating with honors in 1970.
She established a civil practice in Los Angeles on her own, and later formed a partnership with her brother, David I. Doi—later a Los Angeles Superior Court judge—prior to being appointed to the bench.
Brown elevated her to the Superior Court in 1981, and she served as presiding juvenile court judge from 1988 to 1989. Then-Gov. Gray Davis elevated her to the Court of Appeal in 2000.
Chief Justice Tani G. Cantil-Sakauye issued a statement describing Doi Todd as a "pioneer."
The chief justice wrote:
"She, and men and women like her, are the reason that our appellate bench has become more reflective of the communities we serve. With over four decades of service to our justice system as an attorney, judge, justice, and Judicial Council member, she has made significant contributions to the judicial branch on gender bias and fairness, foster care, appellate issues, and juvenile law."
Doi Todd was one of eight judges who incorporated the National Association of Women Judges in 1979. She served on several Judicial Council advisory committees—including the Appellate Advisory Committee, which she chaired—in addition to serving on the council herself from 1995 to 1998.
She was a longtime member of the Japanese-American Cultural and Community Center Board of Directors, and was a trustee of the California Judges Foundation.
She was president of the Board of Trustees of the Los Angeles County Law Library from 1993 to 1996. She received a Distinguished Alumna Award from Loyola Law School in 2003.
Copyright 2013, Metropolitan News Company