Wednesday, November 13, 2013
Page 3
Judge Lays Out Plan to Race Cars in Europe When Term Ends
By a MetNews Staff Writer
Los Angeles Superior Court Judge Joseph DiLoreto told the MetNews yesterday he plans to race cars in Europe after his judicial term ends.
"I will have been a judge for 19 years, that's long enough," DiLoreto told the MetNews. He was first appointed to the bench by Gov. Pete Wilson in October 1995 and is in his third full term.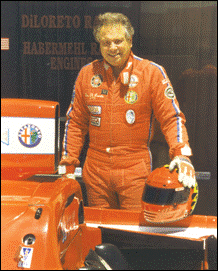 —Staff Photograph
Los Angeles Superior Court Judge Joseph DiLoreto is shown in his racing suit in this 2006 photograph.
He confirmed what had been reported last week—that he will not seek a fourth term and has endorsed Deputy District Attorney Christopher Frisco for election to his seat. DiLoreto said he plans to serve out the rest of his remaining term, which ends in January 2015, though he doesn't discount the possibility of leaving "a week or two" early.
The judge admitted that his love of racing is an "unusual hobby" that he has had since high school and has occupied much of his time off the bench. He owns 20 cars that he keeps stored in an industrial park and said he numbers fellow car enthusiast Jay Leno among his friends.
He said he will take one or two of those vehicles to Europe as soon as his time on the bench is over. "I want to do it while I still have my faculties," he said.
DiLoreto said he was leaving "the best job"—presiding over civil trials—because "it's time to move aside and let somebody else do [it]" and because "I need more time smelling gasoline."
He has enjoyed judicial service, he said, because he has "made many friends, and hopefully not too many enemies."
The judge said Frisco—the son of a retired Superior Court judge—has "tried a lot of cases" and described him as "a lifetime friend who loves my cars." He said he wasn't discouraging anyone else from running for a judicial slot, but that Frisco was his "first choice."
DiLoreto practiced law in Downey for 27 years before his appointment to the bench. He served a four-year term on the Downey City Council—including a year as mayor—during that time, and was a deputy district attorney in Orange County at the beginning of his legal career.
Candidates for election to the Superior Court may begin collecting petition signatures—if they want to have part or all of the filing fee waived—on Dec. 27. Declarations of intention to run must be filed between Jan. 27 and Feb. 5—with an extension to Feb. 10 in the case of open seats—and candidacies must be finalized between Feb. 10 and March 7.
Of judges whose seats are up for election next year—the primary is June 3—only DiLoreto and Jessica Perrin Silvers, who plans to retire in mid-February, have indicated they do not intend to run.
Copyright 2013, Metropolitan News Company