Tuesday, June 18, 2013
Page 1
Services Today for Retired Superior Court Judge Dell
By a MetNews Staff Writer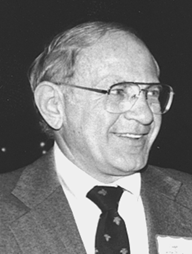 GEORGE M. DELL
1925-2013
Services will be held today for retired Los Angeles Superior Court Judge George M. Dell, who died Friday at the age of 88.
The cause of death was "old age," his daughter, San Jose attorney Adrienne M. Dell, told the MetNews. "He just wore out."
Dell retired from the court in 1985 after 22 years of judicial service, preceded by two years as a court commissioner. He remained active until about five years ago as an arbitrator/mediator.
The Washington, D.C. native came to California with his family when he was 8 years old. The family lived in the Huntington Park area, and the future jurist attended USC before joining the Army.
He then entered the U.S. Military Academy, graduating in 1947, the same year the U.S. Air Force was established as a separate branch of the service. Dell was commissioned as a lieutenant, leaving active service in 1950 but serving in the Reserve at the same rank.
After leaving active service, he attended law school at USC, becoming editor-in-chief of the law review before graduating in 1953 and joining Mitchell, Silberberg & Knupp. He left after two years to gain more trial experience, and worked in a small firm and as a sole practitioner until his appointment as Superior Court commissioner in 1961.
Before becoming a judicial officer, he was politically active, serving on the county and state central committees of the Democratic Party.
Then-Gov. Pat Brown appointed him to the Los Angeles Municipal Court in 1963. He ran for the Superior Court in 1966, challenging Judge Thomas C. Yager, also now deceased.
Dell once told a reporter that he ran against Yager because the incumbent "was not considered a particular asset to the bench." Dell received the largest number of votes in the plebiscite that was conducted in those days by the County Bar, but Yager won the election with 60 percent of the vote, compared to 27 percent for Dell and 13 percent for since-deceased Municipal Court Judge Leila Bulgrin.
He "got clobbered," Dell later explained, because he only had $5,000 to spend on a campaign. A few months after the election, however, Brown appointed him to the Superior Court, where he sat in Long Beach, Santa Monica, and downtown Los Angeles, where he had both civil and criminal assignments.
He was supervising judge of the criminal courts in 1970, presiding over some of the pretrial proceedings involving Charles Manson and his followers. He spent several years in law-and-motion, where he spent a year as supervising judge, and in writs-and-receivers, and sat on assignment in the Court of Appeal.
In the criminal courts, he presided over complex and lengthy trials, including one that resulted from a shootout between police and the Black Panther Party and lasted eight months. He also ruled that the state's prohibition of oral sex between consenting adults was unconstitutional, a ruling that was overturned on appeal, although the Legislature later repealed the statute.
Adrienne Dell said her father "was a very brilliant, special man" with an uncommon intellect and a strong sense of fairness. "Everybody wanted him to hear their cases," in both criminal and civil court, she said, and as a mediator/arbitrator, because "he was exceptionally fair."
Today's services are scheduled for 11 a.m. at Hillside Memorial Park, 6001 W. Centinela Ave. The family suggested that well-wishers donate to any charity of their choice in the jurist's memory.
Copyright 2013, Metropolitan News Company