Tuesday, July 9, 2013
Page 1
Death Sentence Upheld for Killer Dubbed 'Uncle Fester'
By a MetNews Staff Writer
The California Supreme Court yesterday upheld the death sentence for an Orange County man convicted of the 1989 kidnapping, rape, and murder of a 9-year-old schoolgirl.
Chief Justice Tani Cantil-Sakauye said there had been no showing of prejudicial error at the second trial of Richard Lucio DeHoyos, now 56. Orange Superior Court Judge Everett W. Dickey sentenced DeHoyos in 1993 for the killing of Nadia Puente.
Nadia's body was found in a plastic trash can liner in an aluminum trash can in Griffith Park. She was wrapped in a bedspread from a Santa Ana motel, and the trash can and the plastic liner were also from that motel.
DeHoyos' fingerprints were found on the liner, and police determined that DeHoyos had registered there, for two people, and had raped and killed Nadia in his room. Arrested days later in San Antonio, Texas, DeHoyos agreed to talk to Santa Ana police and eventually admitted that he had lured Nadia, who was walking home from school, into his car by posing as a schoolteacher who needed help carrying books.
He testified that he attacked the girl while in a rage over losing his job at Taco Bell earlier that day. He denied having raped her, and claimed he had sodomized her only after she was dead.
Reporters called DeHoyos "Uncle Fester." They attributed the nickname to jail inmates who said he looked like the television character portrayed by Jackie Coogan in the Addams Family television series.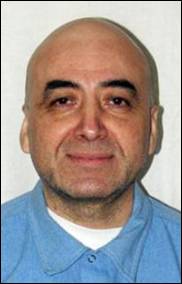 —California Department of Corrections
Richard Luciio DeHoyos in June 2007.
Jurors found him guilty at his first trial, and returned a death penalty verdict. But Dickey ordered a second trial on the basis of juror misconduct, after hearing testimony that three jurors had met with a former member of the jury panel and had discussed other high-profile cases involving DeHoyos' trial counsel, Milton Grimes.
DeHoyos pled not guilty by reason of insanity. But the second trial also resulted in a conviction and death penalty verdict, and the judge pronounced sentence accordingly.
DeHoyos, who had occasionally barked and growled in court, told the judge that he was sorry for his actions. But he showed little emotion when he was sentenced to Death Row, a newspaper report said at the time.
Ten mental health experts testified for DeHoyos. But the defense argued on appeal that several rulings by the judge had interfered with the right to present an insanity defense or to show that his impaired mental state precluded a finding of criminal intent.
One of the challenged rulings dealt with testimony by Dr. Susan Fossum, a clinical psychologist who had evaluated the defendant and who was called in an attempt to establish the impact of the defendant's job loss on his mental stability. The judge allowed her to testify about her evaluation, and to state that DeHoyos had a particularly fragile mental state that was damaged after he was fired by a female authority figure, but said she could not offer an opinion that he killed a child several hours later at another location because of what happened at his workplace.
That ruling was within the trial judge's discretion, Cantil-Sakauye concluded. Noting that the witness had not done research into the relationship between workplace problems and homicides away from the workplace, the chief justice wrote:
"The trial court properly precluded Fossum from generalizing about how job loss may cause someone to commit a homicide because there was no basis shown for her to testify as an expert on such topic."
Cantil-Sakuye also rejected a number of claims that the prosecution had used peremptory challenges to excuse prospective jurors on the basis of race. One such challenge was to the excusal of a 28-year-old salesman who said he was "Latin-American," although the prosecutor said he did not appear to be Hispanic or have a Spanish surname.
The prosecutor said he used a challenge partially because the man had extensively studied psychology and appeared likely to give special credence to the testimony of the defense experts. Dickey accepted that explanation, over defense arguments that Caucasians on the panel had studied psychology as well, but were not excused.
The chief justice, rejecting the defense argument, noted that the cited Caucasian jurors had taken only a few psychology courses, whereas the excused venire member had majored in the subject, taken postgraduate courses, and helped administer psychological tests.
The case is People v. DeHoyos, 13 S.O.S. 3407.
Copyright 2013, Metropolitan News Company