Tuesday, January 22, 2013
Page 1
City Attorney 'Not an Easy Job, Folks,' Trutanich Tells Debate Crowd
By JACKIE FUCHS, Staff Writer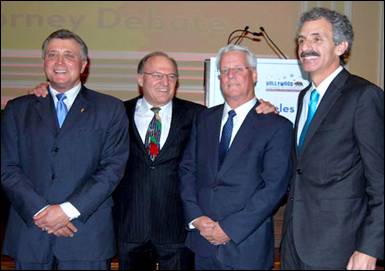 —Photograph by Marlene Panoyan, Hollywood Chamber of Commerce
Los Angeles city attorney candidates pose Thursday night before their debate at the Taglyan Complex in Hollywood. From left to right: City Attorney Carmen Trutanich, attorney and community advocate Noel Weiss, public safety attorney Greg Smith, and former Assembly member/attorney Mike Feuer.
City Attorney Carmen Trutanich was on the defensive as he faced off against three challengers in the second of three debates scheduled to take place before the March 5 primary election.
Trutanich told the small crowd gathered at Hollywood's Taglyan Complex Thursday night that city attorney is "not an easy job, folks," but that he was running on his record, an assessment with which former Assemblyman Mike Feuer readily agreed.
Calling the election "a referendum on Trutanich's track record," Feuer said that Trutanich has had his priorities wrong, and that instead of going after ticket scalpers, street artists and medical marijuana users, the city attorney should focus on gun violence prevention and school safety.
He positioned himself as the candidate with the "can-do spirit" and breadth of experience the office requires.
Attorney Greg Smith disagreed, pointing out several times that Feuer "has never tried a case." And while he agreed that Trutanich's office had made "lots of mistakes," he reserved his harshest criticism for Feuer, who he said had done nothing as an Assembly member to combat the state's high unemployment rate.
"He had his chance and now he wants to turn Los Angeles into little Sacramento," Smith said.
'Legally Questionable'
Feuer, a former executive director of Bet Tzedek Legal Services, was plagued last week by allegations that his campaign accepted "legally questionable" contributions from "officials and associates" of the non-profit organization, which in July 2011 entered into a $398,000 contract with the city's Department of Aging. Under voter-approved Measure H, meant to curb so-called "pay-to-play" practices, candidates for city office are prohibited from accepting donations from individuals who have bid or are bidding for city contracts of $100,000 or more,
Feuer told the MetNews before the debate that the original Bet Tzedek contract at issue was not subject to Measure H and that while the amendment of the contract was subject to the restrictions, with the exception of one donation, which was promptly returned, all of the questioned contributions his campaign received during the applicable blackout period came from board members who weren't prohibited from donating.
The allegations, reported initially on a local political blog, drew a heated response from Feuer, who said it was shameful that anyone would use legal donations to score points off of the disadvantaged people that Bet Tzedek helps.
Outsider Candidate
Attorney Noel Weiss characterized himself as an outsider who wants to empower the little guy. He said he would end abusive land use entitlements, put a deputy city attorney in every council office to keep the influence of insiders in check, and promote transparency by requiring city attorneys to bill the city for their time.
Moderator Robert Kovacik, of NBC4 kept the debate moving briskly, joking that he would have everyone home in time to catch Oprah's interview with Lance Armstrong. He held the candidates strictly to the time allotted for their answers, at one point scolding Weiss for going one second over.
Kovacik asked the candidates four questions, which were prepared by the Hollywood Chamber of Commerce and not disclosed to the candidates in advance. They covered such issues as the role of the city attorney in lawsuits, the adequacy of the office's budget, and the problem of aggressive panhandling and solicitation on Hollywood Boulevard.
Trutanich took time out from defending his record to lodge his own attacks against his opponents, calling Smith and Weiss "part of the problem" for suits they have brought against the city, and blaming Feuer for supporting the release of prisoners and a reduction in mental health programs as part of his budget strategy in Sacramento.
In response to Feuer's repeated claims that Trutanich had lost verdicts that resulted in losses to the city of $37.4 million, Trutanich said:
"If you don't go to the plate you don't strike out."
He termed Smith "the Meg Whitman of candidates" for using his own money to fund his campaign, a characterization with which Smith took issue, pointing to his difficulty in raising funds as proof of his status as an outsider with no special interests.
Smith contrasted himself with the other candidates, noting that he is a veteran and has spent his career fighting against corruption and discrimination. He warned that what happened in Bell could happen in Los Angeles if the city attorney does not improve its communication with the police and neighborhood councils.
In their closing statements, the candidates took efforts to distinguish themselves from each other, with Weiss saying the broader public interest should trump the interests of city insiders, and Smith arguing that he was the candidate best suited to end insider corruption, citing as evidence his record representing whistleblower police officers.
Feuer said it was the moment for fresh and inspiring leadership, and that he was the candidate who would cut through the gridlock in city hall.
Trutanich emphasized that above all, the city attorney is a lawyer, not a politician:
"I don't claim to be warm and fuzzy, but I am a good lawyer."
Copyright 2013, Metropolitan News Company