Monday, November 4, 2013
Page 3
Prosecutor Cooper Says He Will Run for Superior Court
By a MetNews Staff Writer
Deputy District Attorney Andrew Cooper said Friday he will run for Los Angeles Superior Court Judge in next year's primary.
Cooper has been a member of the Los Angeles District Attorney's office for nine years, working in the office's Hardcore Gang Division for nearly two years.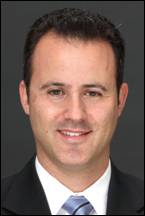 ANDREW COOPER
Deputy District Attorney
Cooper said that he is running for the position, "to continue to seek justice" and help "resolve issues facing the judiciary" such as budgetary strains. In addition to his work with the District Attorney's Office, Cooper spent several years as a civil and business litigator and has also served as a reserve deputy sheriff for 16 years.
The judicial aspirant said "community level experience provides a unique perspective furthering my ability to serve as a superior court Judge," after having dedicated his "entre life" to public service.
David L. Gould is serving as consultant and treasurer to the campaign. Gould said he has served as consultant for 30 candidates in races for Superior Court judgeships, helping to successfully elevate 29 of them into the position.
Gould said the campaign raised "above six figures" since the start of July.
Cooper is a registered Republican, but said the campaign is "attracting bipartisan support" including Democratic Assemblyman Isadore Hall, D-Dominguez Hills, and District Attorney Jackie Lacey. Other recent endorsements that Cooper notes are former District Attorneys Steve Cooley and Robert Philibosian as well as the Association of Deputy District Attorneys.
Cooper has long ties to Los Angeles, having grown up in the county before graduating with honors from the Anderson School of Communication at the University of Southern California. He went on to receive his law degree in 2000 at Loyola Law School of Los Angeles.
Cooper said he has not applied for a judicial appointment. "An election gives [someone] a definitive time frame to become a judge," he explained.
Copyright 2013, Metropolitan News Company