Tuesday, December 17, 2013
Page 1
U.S. District Judge Audrey B. Collins Under Consideration for C.A.
By KENNETH OFGANG, Staff Writer
The name of U.S. District Judge Audrey B. Collins has been sent to the State Bar Commission on Judicial Nominees Evaluation as a possible candidate for appointment to this district's Court of Appeal, the MetNews has learned.
Collins, 68, who did not return a phone call, could fill any of four seats currently vacant in the district, or potentially a future vacancy.
The current openings result from the retirements of Justices Paul Coffee from Div. Six on Jan. 31 of last year, Justice Kathryn Doi Todd from Div. Two on Jan. 22 of this year, Justice Frank Jackson from Div. Seven June 30 of this year, and Justice Orville Armstrong from Div. Five a month later.
Possible Presiding Justice
Collins, a former chief judge of the district, might also be considered as presiding justice in Div One, a post from which Robert Mallano is retiring Feb. 28, the same day that Justice Steven Suzukawa is retiring from Div. Four.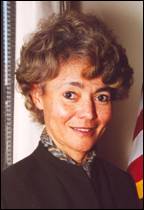 AUDREY B. COLLINS
U.S. District Judge
She was appointed to the federal bench by then-President Bill Clinton in 1994. At the time, she was the assistant district attorney for Los Angeles County, the No. 3 position in the office.
Collins graduated Phi Beta Kappa from Howard University in 1967, and earned her master's degree in government and public administration from American University in 1969. She graduated Order of the Coif from UCLA's law school in 1977, and joined the Legal Aid Foundation of Los Angeles as an assistant staff attorney.
One year later, Collins became a deputy district attorney for Los Angeles County. She served as the head deputy in the Torrance branch office from 1987-1988, assistant director of the Bureau of Central and Special Operations from 1988-1992, and assistant district attorney from 1992-1994.
She also served as deputy general counsel to William H. Webster, in his capacity as special advisor to the Los Angeles Board of Police Commissioners following the civil unrest of 1992.
She served as chief judge of the district court from 2008 until last year, when she stepped down three years prior to the completion of her term.
Larson Resignation
It was in her capacity as chief judge that she issued a six-page statement on the occasion of Judge Stephen G. Larson's resignation in 2009. The district, she said, "faces a crisis of retention…due in large part to two factors: stagnating judicial compensation and ever-increasing caseloads."
She noted that Larson, who went into private practice, was the eighth judge to resign or retire in an 11-year period, contrary to the longstanding tradition that federal judges serve for life, whether on active or senior status.
She noted that five had become private judges, giving them "the potential to earn the equivalent of a district judge's annual salary in a matter of months," while two had accepted state court appointments "at a higher salary and better health benefits."
Copyright 2013, Metropolitan News Company