Monday, December 30, 2013
Page 1
Former LACBA President John Collins Dies at 77
By a MetNews Staff Writer
John J. Collins, a leading litigator who held many positions in the profession, including County Bar president and chairman of the State Bar Commission on Judicial Nominees Evaluation, has died.
Collins died Thursday at the age of 77, ending a lifetime of service to "his church, his profession [and] his friends," attorney John McNicholas III, a close friend, told the MetNews.
"John Collins was a leader's leader," McNicholas said. "He'd be embarrassed to hear me say this, but he was the most giving, loving human being, and the best in everything he did."
Collins, who had battled cancer in recent years, retired in 2008 from the law firm now known as Collins Collins Muir & Stewart, but continued his involvement in civic and State Bar affairs, serving as vice chair, and then chair, of the JNE Commission until this year.
Loyola Graduate
A graduate of Santa Clara University and Loyola Law School, he went to work for the Los Angeles Superior Court as a research assistant to then-Judge Curtis A. Smith, then joined the County Counsel's Office just before his admission to the State Bar in 1962. He stayed there until 1964, when he joined the law firm founded by his father, remaining there for the rest of his practicing career.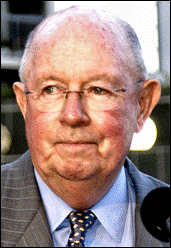 JOHN J. COLLINS
1936-2013
He primarily practiced civil litigation on the defense side, but did occasional plaintiff's work. He once explained in an article for the Association of Southern California Defense Counsel's magazine Verdict—he was a former president of the group—that he and his firm were blacklisted by the Southern California Joint Powers Insurance Authority for having represented a child who was injured in a South Pasadena park and sued the city.
"The advocate is no longer allowed to represent the interests of the client—the advocate must bow to the will of the special interest," he declared. The ban was later lifted.
His clients included the Los Angeles County District Attorney's Office, which he represented in personnel and other civil matters under both Gil Garcetti and Steve Cooley.
Cooley Friday praised Collins for both his collegiality and his professionalism. They were both members of the Society of Friendly Sons of St. Patrick, an Irish-American social and charitable group, and often chatted at its events, Cooley said.
As an attorney, Collins always rendered quality advice and representation, the former district attorney added. In addition to continuing to assist on personnel issues, Cooley explained, Collins was called upon to advise the office in connection with a complex issue regarding whether certain conduct committed in connection with an effort to settle a civil case could be prosecuted as extortion.
"We needed a solid lawyer with civil credentials" to give independent advice in the matter, Cooley explained.
Multiple Presidencies
Besides his LACBA and Southern California defense lawyers' presidencies, Collins served a three-year term on the State Bar Board of Governors—now the Board of Trustees, and was president or chairman of the Pasadena Bar Association, California Defense Counsel, the Los Angeles Chapter of the Ame­rican Board of Trial Ad­vocates, and ABOTA's state­wide affiliate, Cal-ABOTA.
He also served on the Judicial Council of California as an attorney member appointed by the Board of Governors, and was foreperson pro tem of the Orange County Grand Jury in 2008-2009. His awards included ABOTA California Trial Lawyer of the Year in 1991, the Pasadena Bar Association's Donald R. Wright Distinguish Service Award in 2002, MetNews Person of the Year for 2004, and Distinguished Alumnus and Champion of Justice awards from Loyola Law School, where he served on the Board of Overseers in recent years.
Information on services was unavailable Friday, but McNicholas said they would likely be held sometime after the beginning of the year. Collins is survived by his wife, Patricia L. Collins; daughters Lauren Patricia Collins, Cynthia Ann Lilly and Pamela Marie Birmingham; and sons William S. Collins, James H. Collins, Robert J. Collins, and John Collins Jr.
Daughter Andrea Collins died of cancer in 2003.
Copyright 2013, Metropolitan News Company