Tuesday, December 24, 2013
Page 3
Brown Reappoints Cappozi to the Commission on Judicial Performance
By a MetNews Staff Writer
Gov. Jerry Brown yesterday named former State Bar President Anthony Capozzi of Fresno to serve a second term on the Commission on Judicial Performance.
Capozzi, 67, was originally named to the CJP in April 2010 to succeed Marshall B. Grossman, who had held over after his second—and final—term expired. Capozzi has been holding over since his first term expired Feb. 28 of this year; his new term expires Feb. 28, 2017.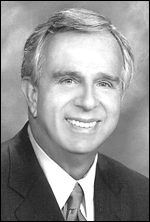 ANTHONY CAPOZZI
CJP Vice-Chairperson
Capozzi has owned and operated the Law Offices of Anthony P. Capozzi since 1979. He was a member of the Judicial Council of California from 2005 to 2010, and served as the State Bar of California's 79th president from 2003 to 2004.
CJP members are not subject to Senate confirmation and receive no salary.
The commission is the independent state agency responsible for investigating complaints of judicial misconduct and judicial incapacity, and for disciplining judges.
Capozzi graduated from State University of New York, Buffalo and the University of Toledo College of Law. He was a law clerk for the U.S. District Court for the Southern District of Illinois from 1970 to 1973, and served the U.S. Department of Justice as an assistant U.S. attorney from 1973 to 1979.
His current practice focuses mainly on criminal law, with some civil work.
He has served as president of the Fresno County Bar Association and the Federal Bar Association, San Joaquin Valley Chapter; lawyer co-chair of the Ninth Circuit Judicial Conference; co-chair of the Bench Bar Coalition; and member of the state Access and Fairness Commission, 2004-2005. He is a fellow of the American College of Trial Lawyers.
Capozzi was admitted to the State Bar of California in 1976, and is also admitted in Ohio and Illinois. He is a Democrat.
The CJP is composed of one Court of Appeal justice, two superior court judges, two attorneys and six lay citizens—two each appointed by the governor, the Senate Rules Committee, and the speaker of the Assembly. The attorney members are appointed by the governor and the judicial members by the state Supreme Court.
Capozzi is currently the vice-chairperson of the commission, having been elected to the post by his fellow members in October. Santa Clara Superior Court Judge Erica R. Yew is the chairperson.
Members are appointed to four-year terms, subject to a limit of two full terms plus up to two years of an unexpired term. A member whose term has expired may continue to serve until the vacancy has been filled.
Copyright 2013, Metropolitan News Company