Wednesday, June 26, 2013
Page 1
Caballero to Head New Agency in Government Reshuffle
By a MetNews Staff Writer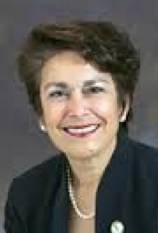 ANNA CABALLERO
Agency Head
Gov. Jerry Brown yesterday named Anna Caballero, a UCLA law graduate who has held a number of elective and appointive government positions, to head the new Business, Consumer Services and Housing Agency.
Caballero, a former Democratic legislator who has been secretary of the California State and Consumer Services Agency since 2011, will move to the new post next Monday when an ambitious plan to consolidate five huge state agencies into three is to take effect.
Caballero, 59, was admitted to the State Bar in 1980 and has been inactive since 2003. She obtained an undergraduate degree from UC San Diego before moving to Westwood.
She began her legal career representing farm workers as a staff attorney at California Rural Legal Assistance. She moved in 1982 to a Salinas law firm that later became Caballero Matcham and McCarthy.
She was the executive director of Partners for Peace, a non-profit specializing in violence prevention work, from 2000 to 2006.
Caballero served on the Salinas City Council from 1991 to 2006, the last eight years as mayor, before winning election to the Assembly, where she served two terms before losing a state Senate contest to Republican Anthony Canella in 2010.
She was recently fined $1,000 by the Fair Political Practices Commission for reporting violations in connection with the Senate campaign. Her campaign treasurer accepted responsibility, telling the Monterey Herald that he had health issues that contributed to inadvertent errors in the reporting of subvendor expenditures and that he had amended the filings to include the correct information.
In her new position, created as part of what the governor called "the most comprehensive overhaul of state government in decades," she will oversee an agency be responsible for licensing and oversight of industries, businesses and other professionals. The position requires Senate confirmation and pays $180,250 a year.
Also named to head new agencies were Marybel Batjer, 58, who will be secretary of the Government Operations Agency, and Brian Kelly, 44, of Sacramento, who will head the Transportation Agency.
Batjer is returning to California from Reno, where she has been vice president of public policy and corporate social responsibility at Caesars Entertainment Corporation since 2005. She served as cabinet secretary for then-Gov. Arnold Schwarzenegger from 2003 to 2005, chief of staff for then-Nevada Gov. Kenny Guinn from 2000 to 2003, and undersecretary at the California Business, Transportation and Housing Agency from 1997 to 1998.
She had previously worked at the Department of Fair Employment and Housing, the U.S. Department of the Navy, the National Security Council, the Department of Defense, and the National Women's Political Caucus, as well as serving as national security affairs special assistant for President Reagan.
Kelly has been acting secretary at the .Business, Transportation and Housing Agency since last year. He worked for four Democratic presidents pro tempore of the state Senate—Bill Lockyer, John Burton, Don Perata, and Darrell Steinberg—between 1995 and 2012, and previously worked for the Senate Democratic Caucus as a field representative.
Brown's reorganization plan was approved last year by the Little Hoover Commission and the Legislature. It will reduce the total number of state agencies from 12 to 10.
The plan is designed to place related departments under the same agency. It "changes the reporting relationships of dozens of entities to improve coordination and efficiency and make government more responsive to the public," the governor said in a release.
Copyright 2013, Metropolitan News Company