Tuesday, September 10, 2013
Page 3
Ex-Treasurer Kathleen Brown Joins Manatt Phelps & Phillips as Partner
By a MetNews Staff Writer
Former state Treasurer Kathleen Brown has joined Manatt, Phelps & Phillips LLP as a partner, the firm said yesterday.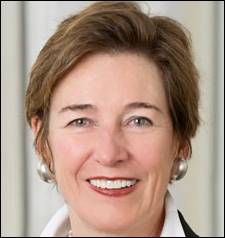 KATHLEEN BROWN
Former State Treasurer
Brown, 67, will be based in Los Angeles, but will spend "significant time in the firm's New York and San Francisco offices" and will focus on business counseling, government and regulatory affairs, the firm said.
Brown was state treasurer from 1991 to 1995 and was the Democratic nominee for governor in 1994, losing to incumbent Pete Wilson. She is Gov. Jerry Brown's sister and her father, Pat Brown, was governor from 1959 to 1967.
She also served on the Los Angeles Board of Public Works Commissioners and the Los Angeles Unified School District board. Brown was an attorney in the Capital Markets Group at O'Melveny & Myers, and later worked in the Investment Management Group at Bank of America, where she was president of the Private Bank.
She joined Goldman Sachs in 2001 as a managing director and directed a $2.5 billion portfolio for 75 families in the Goldman Sachs Private Wealth Management Group in Los Angeles in 2003. She moved to the company's investment banking division in Chicago after her brother was elected governor, and retired from the firm earlier this year.
The firm quoted Brown as saying:
"I've worked with Manatt lawyers in the financial services and government arenas during my career and have always been impressed with the firm's quality and innovation in legal and consulting services. And, beyond Manatt's capabilities in the banking, energy and healthcare sectors, I'm struck by their deep and long-standing commitment to pro bono work and public service. I look forward to collaborating with my new colleagues across the country."
Manatt's press release quoted remarks by George Kieffer, who heads the firm's national governmental and regulatory practice and is president of the Governor's Residence Foundation, through which private donors cover the $3,000-a-month rent, along with utilities and other expenses, on Jerry Brown's loft in Sacramento.
Kathleen Brown is ""one of a kind," Kieffer said. "Her ability to bring practical solutions to real-world challenges is a perfect fit with our culture and strategic priorities."
The release also quoted the firm's chief executive officer/managing partner.
"Kathleen has a distinctive and unique background," William T. Quicksilver said. "Her leadership for one of the world's largest financial services firms and the country's largest state gives her a deep understanding of business and government and the interplay of the two with the healthcare, energy and banking sectors - all areas where Manatt excels."
Brown's plan to return to legal practice was previously reported by the Wall Street Journal. She told the newspaper that she does not plan to return to public life in California.
"No, I am very happy in the private sector," the newspaper quoted Brown as saying. "My brother takes up enough screen time."
Brown is a founding member of The California Women's Foundation and has previously served on the boards of several nonprofit organizations, including the California Endowment, The Los Angeles Library Foundation and Children's Hospital of Los Angeles. Ms. Brown earned a BA in History from Stanford University (1967); and a JD from Fordham University School of Law.
She majored in history and Stanford University and earned her law degree from Fordham University in New York.
Copyright 2013, Metropolitan News Company