Monday, June 10, 2013
Page 1
Senate Confirms Breyer to Serve on Sentencing Commission
By a MetNews Staff Writer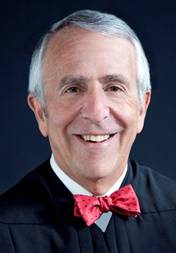 CHARLES R. BREYER
U.S. District Judge
The Senate has confirmed President Oba­ma's nomination of Senior U.S. District Judge Charles R. Breyer of the Northern District of California, to serve as a member of the U.S. Sentencing Commission.
Confirmation came by voice vote on Thursday, more than a year after the jurist was first nominated for the post.
Breyer, 71, who has chambers in San Francisco, is the first federal judge from the Ninth Circuit to serve on the Commission, which is made up of judges and others appointed by the president. The commission and is responsible for development of the Sentencing Guidelines, and recommends amendments to sentencing statutes.
Breyer succeeds Judge Ruben Castillo of the Northern District of Illinois.
First nominated to the commission on April 27 of last year, Breyer was favorably reported by the Senate Judiciary Committee on July 19 of last year, but did not receive a confirmation vote by the Senate in the last session of Congress. President Obama renominated him on April 15 of this year.
Nominated to the federal bench by President Clinton, Breyer has served on the Northern District court since 1997. He assumed senior status on Dec. 31, 2011, but continues to regularly hear cases.
Breyer has been active in judicial governance, previously serving on the Judicial Council of the Ninth Circuit and as the U.S. district judge representative to the Executive Committee of the Judicial Conference of the United States. He currently serves on the Judicial Panel on Multidistrict Litigation.
The judge is a native of San Francisco, where his father served as chief counsel of the San Francisco Unified School District. His brother is U.S. Supreme Court Justice Stephen Breyer.
Charles Breyer graduated from Harvard College in 1963 and UC Berkeley School of Law in 1966. Following law school, he clerked for Judge Oliver J. Carter of the U.S. District Court for the Northern District of California.
He was an assistant district attorney in San Francisco from 1967 to 1973, also serving as a captain in the U.S. Army Judge Advocate General's Corps from 1969 to 1973, and then worked at a local firm, Jacobs, Sills and Coblentz, from 1974 to 1979.
He returned briefly to public service in 1979, serving as chief assistant district attorney, before joining Coblentz, Cahen, McCabe and Breyer in 1980. He remained there until 1997, when he was appointed to the federal bench.
Also confirmed to the commission Thursday were Rachel Barkow, a former Washington, D.C. attorney who has been a law professor at New York University for the past 11 years, and Judge William Pryor of the Eleventh U.S. Circuit Court of Appeals, both recent nominees to the commission. Sen. Patrick Leahy, D-Vt., who chairs the Judiciary Committee, noted in published floor remarks that the committee gave all three nominees unanimous approval but criticized Republicans for the delay in confirmation of Breyer, which he said occurred "for no good reason."
Copyright 2013, Metropolitan News Company