Monday, October 7, 2013
Page 1
Bell Not Obligated to Defend Rizzo—C.A.
By KENNETH OFGANG, Staff Writer
The City of Bell is not contractually obligated to pay legal fees incurred by its former chief administrator, Robert Rizzo, in defending civil and criminal actions based on alleged misappropriations of city funds, the Court of Appeal for this district ruled Friday.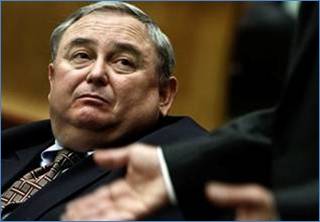 –AP
This file image shows former Bell City Administrator Robert Rizzo as he listens in court in Los Angeles.
The ruling by Div. Three came the day after Rizzo pled no contest to 69 felony charges of misappropriating public funds, hiding and falsifying records, perjury and other crimes. Prosecutors said Rizzo would be sentenced to 10 to 12 years in prison, and he also is expected to pay $1 million or more in restitution.
Rizzo's plea leaves former Assistant City Administrator Angela Spaccia as the only defendant still facing a criminal trial in connection with the scandal. Former City Council members Victor Bello, George Cole, Oscar Hernandez, Teresa Jacobo and George Mirabal were convicted in March, while former Councilman Luis Artiga was acquitted.
Spaccia and the former council members have all accused Rizzo of being the mastermind behind various schemes to collect inflated salaries and conceal them from the public.
Attorney General's Action
All of the criminal defendants, plus former Police Chief Randy Adams, are also being sued by the state attorney general. The complaint alleges causes of action for waste of taxpayer funds, negligence (against Rizzo and the ex-council members only) fraud (also against Rizzo and the ex-council members only), conflict of interest (against Rizzo and Spaccia only), and breach of fiduciary duty.
The Court of Appeal ruled in March that the attorney general has authority to bring the suit, which seeks the return of more than $5 million in excessive salary to the city and the appointment of a receiver.
Rizzo brought a cross-complaint in that action, seeking a declaration that the city is required to defend him. The city filed its own cross-complaint, seeking damages for fraud, breach of fiduciary duty, and other torts.
Rizzo contends that the city is obligated to pay all of the fees he has incurred and will incur in the civil and criminal cases, under the indemnification clause of his employment contract.
The indemnification clause provides:
"City shall defend, hold harmless and indemnify Employee against any claim, demand, judgment or action, of any type or kind, arising out of any act or failure to act, by Employee, if such act or failure to act was within the course and scope of Employee's employment. City may compromise and settle any such claim or suit provided City shall bear the entire cost of any such settlement and under a statute generally requiring a public entity to pay defense costs for an employee in an action arising from the course and scope of employment."
Rizzo also sought to hold the city liable under Government Code Sec. 995, which generally requires a public entity to defend an employee in a civil action, unless the action arises from conduct outside the scope of employment; the employee's conduct involved fraud, corruption, or malice; or a conflict of interest exists between the entity and the employee. Bell contended that all three of the exceptions applied, and also demanded a jury trial.
Trial Court Ruling
Los Angeles Superior Court Judge Ralph Dau ruled that Rizzo was entitled to a defense paid for by the city in both the civil and criminal cases as a matter of law, based on the contract. The city then sought a writ of mandate, which the court granted yesterday.
Justice Walter Croskey, writing for the Court of Appeal, said the indemnity clause cannot be reasonably interpreted as requiring the city to defend Rizzo in a suit that the city itself has brought, or in a suit brought on its behalf.
The justice wrote:
"The language of this clause is that of a third-party indemnity only. It is not reasonably susceptible of an interpretation that it also releases Rizzo from any liability to the City itself.
"As the indemnity agreement does not apply to first-party claims, the defense obligation cannot extend to such claims either. The City is only obligated to defend actions which allege facts which could potentially give rise to a claim of indemnity. As both the City's action and the AG's action were brought on behalf of the City, and the City has no duty to indemnify for such claims, it has no duty to defend them."
It is also clear, Croskey said, that the clause does not apply to criminal cases, which the city could not "compromise or settle" on Rizzo's behalf. Even if the city intended to contractually commit itself to broadly defend Rizzo in criminal cases, he added, that would violate Government Code Sec. 995.8, which gives a public entity only limited discretion to pay for an employee's criminal defense, requiring a finding that the employee acted in good faith and in the city's best interests.
He went on to say:
"While we base our opinion on the language of the contract and controlling law, it is also important to not lose sight of the policy issues implicated. Rizzo is alleged to have 'embezzled, stole, and misappropriated millions of dollars in City funds' over a period of 17 years. When the City sought restitutionary relief for such losses, by means of civil actions brought by itself and the Attorney General on its behalf, and the District Attorney initiated criminal prosecutions, Rizzo's response was to demand that the City defend him against the allegations in all such actions. This is not a case in which the public entity has chosen to stand behind its employee, perhaps wrongly accused by third parties. Instead, the entity has brought the accusations itself, and (when asked to provide a defense) has made a specific finding that its employee acted out of fraud, corruption, or malice."
Attorneys on appeal were David J. Aleshire, Anthony R. Taylor and Michael C. Huston of Aleshire & Wynder for the city and James W. Spertus of Spertus, Landes & Umhofer for Rizzo.
The case is City of Bell v. Superior Court (Rizzo), B247362.
Copyright 2013, Metropolitan News Company