Tuesday, July 9, 2013
Page 3
Services Set Next Week for Retired Judge Armstrong
By a MetNews Staff Writer
Services are scheduled next week for retired Los Angeles Superior Court Judge Robert W. Armstrong, who died Saturday at the age of 89.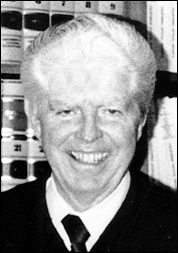 ROBERT W. ARMSTRONG
1923-2013
Presiding Judge David Wesley informed colleagues yesterday of the death of Armstrong, who retired from the court in 1995 but sat on assignment for several years afterward. The former jurist "passed away peacefully with his family at his bedside."
A native of Burbank, he grew up largely in Huntington Park, where his father served as police chief, and where he subsequently practiced law. After graduating from Huntington Park High School in 1940, he served in the Marine Corps, seeing action in the Asiatic Pacific Theater during World War II, and later served during the Korean Conflict.
A 1947 graduate of Pepperdine University, he worked nights as a clerk for the California Highway Patrol while attending USC's law school, from which he graduated in 1950. He practiced law in Huntington Park from 1951 to 1970 and in Downey from 1970 until 1985, when he was appointed to the Superior Court by then-Gov. George Deukmejian.
Deukmejian had previously appointed him to the California Commission on Criminal Justice, where he served from 1983 to 1985.
He was certified by the State Bar as a criminal law specialist in 1973, and said he tried more than 1,000 jury trials in 20 counties in California and in state and federal courts elsewhere.
He had been an active member of the Southeast District Bar Association, which named him "Judge of the Year" in 1987.
At the time of his retirement, he said he hoped to spend times at his family's homes in Scotland and Baja California and "smell the roses a bit more."
He also held several positions in the Los Angeles Diocese of the Episcopal Church.
Funeral services are scheduled for Tuesday of next week at 11 a.m. at All Saints Anglican Church, 346 Termino, Long Beach, CA 90814. There will be a luncheon reception immediately following the service at the Long Beach Yacht Club.
Copyright 2013, Metropolitan News Company