Wednesday, February 13, 2013
Page 1
Committee Vote Set Tomorrow on O'Connell Nomination
By a MetNews Staff Writer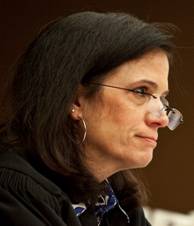 BEVERLY R. O'CONNELL
Los Angeles Superior Court Judge
The U.S Senate Judiciary Committee is set to vote tomorrow on 16 judicial no­minations, including that of Los Angeles Superior Court Judge Beverly Reid O'Connell to the U.S. District Court for the Central District of California.
O'Connell is one of three California nominees for whom votes are scheduled, according to the agen­da released yesterday by the committee.
The local jurist, who received the highest possible rating from the American Bar Association, was among 15 potential appointees whose nominations were held over last week by the committee.
O'Connell was an assistant U.S. attorney in the district at the time of her appointment to the Superior Court in 2005 by then-Gov. Arnold Schwarzenegger. She had been with that office for 10 years, after having spent five years at the law firm of Morrison & Foerster.
O'Connell received her law degree from Pepperdine University in 1990.
For a five-month stint in 2010 and 2011, she sat, under assignment, as a pro tem on Div. Eight of this district's Court of Appeal. She became supervising judge of the North Valley District Jan. 1.
She has also served on the Superior Court's Executive Committee.
Two other Californians are also set for votes tomorrow. Sacramento Superior Court Judge Troy L. Nunley was tapped by President Obama for a seat in the state's Eastern District, while San Francisco attorney William Orrick III, who recently left a high-ranking position at the Justice Department, would serve in the Northern District.
Also up for votes tomorrow are circuit judge nominees Patty Shwartz for the Third Circuit and Caitlin Halligan for the District of Columbia Circuit, district court nominees Pamela Ki Mai Chen, Eastern District of New York; Analisa Torres, Nelson Stephen Roman, and Katherine Polk Failla, Southern District of New York; Andrew Patrick Gordon, District of Nevada; Ketanji Brown Jackson, District of Columbia; Raymond P. Moore, District of Colorado; Derrick Kahala Watson, District of Hawaii; and Shelly Deckert Dick, Middle District of Louisiana; and U.S. Court of International Trade nominees Mark A. Barnett and Claire R. Kelly.
Copyright 2013, Metropolitan News Company