Friday, January 4, 2013
Page 3
Obama Renominates Judge O'Connell for U.S. District Court Bench
From Staff and Wire Service Reports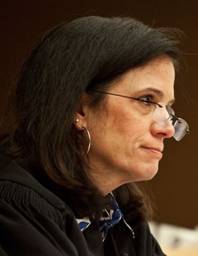 BEVERLY REID O'CONNELL
Superior Court Judge
President Barack Obama yesterday renominated 33 potential federal judges whose nominations were not voted on in the just-concluded 112th Congress, including Los Angeles Superior Court Judge Beverly Reid O'Connell, nominated to the U.S. District Court for the Central District of California.
The nominees also include William Orrick of San Francisco to the U.S. District Court for the Northern District of California and Sacramento Superior Court Judge Troy Nunley to serve in the state's Eastern District.
Sen. Barbara Boxer said in a statement:
"I am pleased that President Obama has renominated these highly qualified California nominees, who deserve a vote in the Senate," Boxer said. "I urge my colleagues to move swiftly to confirm these talented nominees, who are desperately needed to serve in judicial emergency districts."
O'Connell was an assistant U.S. attorney for the Central District at the time of her appointment to the Superior Court in 2005 by then-Gov. Arnold Schwarzenegger.
She had been with that office for 10 years, after having spent five years at the law firm of Morrison & Foerster.
O'Connell received her law degree from Pepperdine University in 1990.
For a five-month stint in 2010 and 2011, she sat, under assignment, as a pro tem on Div. Eight of this district's Court of Appeal. She became supervising judge of the North Valley District Jan. 1. She has also served on the Superior Court's Executive Committee.
O'Connell received the highest possible rating, "Well Qualified" from the American Bar Association prior to her confirmation hearing Dec. 12.
Also renominated were circuit judge nominees William J. Kayatta Jr. in the First Circuit; Patty Shwartz, Third Circuit; Robert E. Bacharach, Tenth Circuit; Jill A. Pryor, Eleventh Circuit; Caitlin Halligan and Srikanth Srinivasan, District of Columbia Circuit; and Richard Gary Taranto, Federal Circuit.
Renominated to the district courts were Rosemary Márquez, District of Arizona; Raymond P. Moore, District of Colorado; Ketanji Brown Jackson, District of Columbia; Sheri Polster Chappell and Brian J. Davis, Middle District of Florida; William L. Thomas, Southern District of Florida; Derrick Kahala Watson, District of Hawaii; Shelly Deckert Dick, Middle District of Louisiana; Elissa F. Cadish, Jennifer A. Dorsey, and Andrew Patrick Gordon, District of Nevada; Kenneth John Gonzales, District of New Mexico; Pamela Ki Mai Chen, Eastern District of New York; Valerie E. Caproni, Katherine Polk Failla, Nelson Stephen Román, and Analisa Torres, Southern District of New York; Michael J. McShane, District of Oregon; and Nitza I. Quiñones Alejandro, Jeffrey L. Schmehl and Luis Felipe Restrepo, Eastern District of Pennsylvania.
Renominated to the U.S. Court of International Trade were Mark A. Barnett and Claire R. Kelly.
Halligan's previous nomination was blocked by a Republican filibuster—Lisa Murkowski of Alaska was the only Republican to vote for cloture—largely targeting her work as New York solicitor general, including her involvement in a suit against gun manufacturers. Her renomination could be an early test of efforts by Democratic senators to curb the use of the filibuster.
Gun issues could also figure in the fight over the renomination of Cadish, who is supported by home-state senator and Majority Leader Harry Reid, but opposed by the state's recently retained Republican Sen. Dean Heller.
Cadish explained last year that while running for state district judge in 2008, she answered a questionnaire by saying that she did not believe there was a personal right to possess firearms. That view was later rejected by the U.S. Supreme Court, and Cadish said she would follow the high court's decision, just as she had written in her response to the questionnaire that she would "enforce the laws as they exist as a judge."
A Heller spokesman told The Associated Press that the senator's "views on the Cadish nomination remain unchanged."
Copyright 2013, Metropolitan News Company