Friday. August 24, 2012
Page 1
Memorial Service Scheduled for Sept. 8 for Former Court Executive Frank Zolin
By a MetNews Staff Writer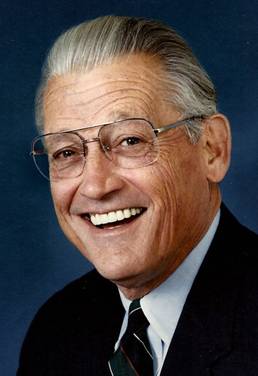 FRANK ZOLIN
1932-2012
A memorial service has been scheduled for Sept. 8 in Long Beach for Frank Zolin, who served as executive officer of the Los Angeles Superior Court.
Zolin passed away Tuesday at his Sacramento-area home. He was 79.
A public servant for more than 40 years, he served as the court's top administrator from 1969 to 1990, serving jointly as county clerk from 1984 until the end of his tenure at the court. He then went on to serve as director of the state Department of Motor Vehicles, and later as executive officer of the State Board of Control, before retiring in 1997.
The Chicago native came to Los Angeles with his family at the age of four, and attended local public schools, graduating from Hollywood High School. His ambition at the time was to be a baseball player, but he gave that up at age 17 because he discovered he was "lousy" at the sport, he once told a reporter.
He attended Los Angeles City College for a year, before entering military service. He was in the Army from 1952 to 1954, being stationed in Germany for most of that time.
CSULA Graduate
Upon returning to this country, he resumed his studies, this time at California State University, Los Angeles, where he studied political science and public administration. He graduated in 1958, beginning his long government career in the city manager's office in Pasadena.
He was there less than a year before joining the county's Chief Administrative Office as a trainee. He spent 10 years at the CAO, and after a stint at the Department of Public Social Services, where he was in charge of finance and personnel, he joined the Superior Court as the first staff person hired by Edward Gallas, the court's first executive officer.
Gallas left county service in 1969, and Zolin was appointed to succeed him. Fifteen years later, County Clerk John Corcoran retired, and the county—which was responsible for court operations then, and was consolidating departments—merged Corcoran's post with Zolin's.
Modernizing the Court
The restructuring put Zolin in charge of 2,000 employees. While Zolin and others said the move created efficiencies, others questioned whether it concentrated too much authority in a single individual.
Zolin was an early advocate of modernizing the court through technology, and in the early 1980s, he persuaded then-Chief Administrative Officer Harry L. Hufford to link the far-flung court through a unified computer system. He also took a leading role in the development of a dedicated juvenile courthouse.
In April 1990, he informed the court that he would be retiring in February or March of the following year. His departure was somewhat hastened, however, when the court and county approved a restructuring that abolished the dual role and created a new office of clerk/executive officer of the Superior Court, which, the then-county counsel opined, effectively ended Zolin's service as of the end of 1990.
Time to Move on
Reports suggested at the time that differences with Presiding Judge-Elect Ricardo Torres were at the heart of Zolin's decision to quit, but Zolin—who had a reputation for never criticizing the judges to outsiders—said that he had worked with "12 presiding judges and 12 personalities" and would have been willing to work with another.
It was simply time to pursue other opportunities, he said in a letter explaining his decision.
The last presiding judge under whom he served, Richard P. "Skip" Byrne, recalled Zolin yesterday as "a great guy" with a "substantial influence" in modernizing the court.
Presiding judges, Byrne noted, "come and go," while the executive officer and professional staff continue on. "I think [Zolin] really provided the continuity, vision, dedication and diplomacy for the court to achieve the status it enjoys today."
Hufford, who visited with Zolin shortly before his death, said it was valuable to have an astute professional heading the court's administration in the days when it came under the county umbrella.
"He was a very special person," Hufford told the MetNews. "He spoke with the authority of the court...we were able to deal with a single individual on issues like courthouse construction."
Zolin provided "administrative stability," Hufford said. "He had the knowledge of the county from his years in our office and his years [at the court], and he was a charming and delightful person."
Hufford, who had left county service himself a few years earlier, said that Zolin and the court reached a point at which it was probably best for both that he moved on, but that he was "quite successful at DMV," the largest department in state government.
Zolin was offered the DMV post by then-Gov. Pete Wilson less than a month after he left the county. He resigned four years later, citing managerial disagreements with his overseers in the Business, Housing, and Transportation Agency.
He subsequently agreed to become the top administrator at the Board of Control, which processed damages claims against the state, as well as claims under the crime victims compensation program. It is now called the Victim Compensation and Government Claims Board.
He retired in 1997, having been credited with streamlining procedures and significantly reducing claims processing times.
Zolin won various awards for public and court administration, consulted on a number of projects, was on the Advisory Board of the USC School of Public Policy Administration adjunct in Sacramento and was a mentor to several students attending the school.
Survivors include his wife, former Long Beach City Councilwoman Jan Hall Zolin; stepdaughters Jill Erps, Jody Lewis, and Jaclyn Hesson; stepson Jeff Hall; eight grandchildren and a niece.
The Sept. 8 memorial service will be held at 11 a.m. at The Grand, 4101 E. Willow St., Long Beach, CA 90815.
The family asked that memorial donations be directed to the USC Sol Price School of Public Policy, attention Brent Watson, 1150 S. Olive St., Suite 1500, Los Angeles CA 90015, with "in memory of Frank Zolin" indicated on the check.
The following tributes to Zolin were submitted to the MetNews:
I was a young reporter with City News Service when Frank was executive officer for the Superior Court. He always was willing to help "cub" reporters like me understand the massive Los Angeles Superior Court system. He schooled us in where to go to find information and helped us deal with court personnel. Public access was important to him and he wanted to ensure that reporters covered the stories with an understanding of the justice system so they would "get it right." His warmth, wisdom and guidance made me and others like me better reporters.
—Sandi Gibbons, Director of Communications, Los Angeles County District Attorney's Office
He was an outstanding administrator and innovator in the area of judicial administration. Presiding judges come and go, but Frank provided the continuity, vision, dedication and diplomacy for the Court to achieve the status it enjoys as the preeminent trial court in the nation. In all candor, Frank was the Superior Court. I am grateful and proud to have had the opportunity to work with him and to consider him to be my friend.
—Richard P. "Skip" Byrne, presiding judge of the Los Angeles Superior Court, 1988-1990
I am saddened to learn of the passing of my friend Frank Zolin. He was a pillar of the Los Angeles Superior Court for a very long time, including all the time I served as a member of that court. As Clerk/Executive Officer for the court he was responsible for all of its widespread administrative operations. He enjoyed the trust and respect not only of a succession of presiding judges but also of the bench officers. He earned it by his dedication to public service and command of the court's s administrative and fiscal needs, its personnel, and the services it provided. I was amazed at his ability to handle this vast array of material, and to deal effectively not only with the bench officers but also with the Board of Supervisors and various county agencies, the Legislature, and Administrative Office of the Courts. I lost touch with him not long after he moved to Sacramento following his retirement. I hope he enjoyed those retirement years. He deserved to do so after contributing so much.
—Norman Epstein, presiding justice of this district's Court of Appeal, Div. Four, and former Los Angeles Superior Court judge.
Frank Zolin wore three hats (at minimum) during his successful tenure in the Courts; Clerk of the Court, Executive Officer and Jury Commissioner. He was a strong, warm and outgoing man who took each of his responsibilities seriously and performed all with a great sense of humor. I am so sorry to hear of his passing.
—Patricia Phillips, former Los Angeles County Bar Association president and State Bar Board of Governors member
Frank was a man of competency, skill, professionalism and class. He exercised all of those traits while working with the Los Angeles Superior Court and made the Court a much better place for his years in Los Angeles. He was thoughtful and thorough and inclusive before making decisions, but was also firm in his convictions and implementation of those decisions once made. His true skill set was his ability to deal with so many bright members of the Judiciary, all of whom were not hesitant to express their own strong feelings and yet maintain a feeling of mutual respect while nonetheless moving the Court forward. He will be terribly missed as a good, kind and generous person and was it was truly a blessing to have known and worked with him.
—Lee K. Alpert, Encino attorney and civic leader
As clerk of the Los Angeles Superior Court, Frank Zolin was one of the nation's most effective court administrators. His 22 years of leadership helped to ensure that the court's administrative functions were carried out in a most efficient and timely manner—and his first priority was always providing the public with top-notch service in a well-run judicial facility.
—Los Angeles County Supervisor Michael D. Antonovich
Frank was a wonderful public servant and a true friend. His leadership left a positive legacy on our court system and he will be missed by all who had the pleasure of knowing him.
—Patrick M. Kelly, president-elect of the State Bar of California
Copyright 2012, Metropolitan News Company