Tuesday, May 22, 2012
Page 1
Attorney Paul Watford Confirmed as Ninth Circuit Judge
By a MetNews Staff Writer
Los Angeles attorney Paul J. Watford was confirmed yesterday to serve as the newest judge of the Ninth U.S. Circuit Court of Appeals.
Senators late yesterday voted 61-34 in favor of President Obama's nominee to succeed Judge Pamela Ann Rymer, who died on Sept. 21 of last year.
Nine Republicans—Scott Brown of Massachusetts, Lamar Alexander of Tennessee, John Kyl and John McCain of Arizona, Susan Collins and Olympia Snowe of Maine, Richard Lugar of Indiana, Lisa Murkowski of Alaska, and Lindsay Graham of South Carolina, joined 52 Democrats in voting to confirm. All of the "no" votes came from the GOP.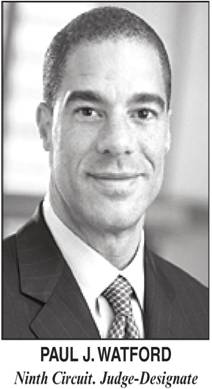 Confirmation was widely expected after senators reached a unanimous agreement—announced earlier yesterday—to cancel a cloture vote that had been scheduled and to take a straight-up-or-down vote instead.
Sen. Patrick Leahy, D-Vt., chairman of the Senate Judiciary Committee, hailed the agreement in his floor remarks, which were reprinted on his Senate web page.
"Thankfully, Senate Republicans have abandoned their misguided filibuster, and have finally consented to vote on this highly qualified nominee," he said. He noted that Watford was the 27th Obama judicial nominee whose nomination led to the filing of a cloture petition.
Leahy discounted GOP objections to some of Watford's work at Munger Tolles, including his assistance in support of litigants challenging Arizona's SB 1070.
"That a Senator might disagree with the position he assisted in developing on behalf of his firm's clients in this case is hardly a reason to oppose his nomination," the senator said. "I did not oppose Chief Justice Roberts' nomination because he helped and advised the challenge resulting in Bush v. Gore. Paul Watford's legal work at Munger, Tolles was professional, principled and not out of the mainstream."
Sen. Dianne Feinstein, D-Calif., also spoke for Watford on the floor, while fellow Democrat Barbara Boxer submitted a statement for the Congressional Record in support of the nomination. Boxer also issued a press release expressing disappointment "that more of my Republican colleagues did not join us in backing this highly qualified nominee."
Watford and another Ninth Circuit nominee, Arizona Supreme Court Justice Michael Hurwitz, were among eight nominees who were approved by the Judiciary Committee, but not included in a previous agreement that resulted in the confirmations of 14 judges.
Watford, 44, was first nominated last October. He is a litigation partner at Munger, Tolles & Olson LLP, where he has worked since 2001 and where he focuses primarily on appellate litigation in state and federal courts.
He first joined the firm as an associate in 1996 then left in 1997 to serve as an assistant U.S. attorney until 2000 in the Central District of California, where he worked in the Major Frauds Section, Criminal Division.
The attorney was also an associate at Sidley & Austin LLP in Los Angeles from 2000 to 2001.
Watford clerked for Judge Alex Kozinski, now chief judge of the Ninth U.S. Circuit Court of Appeals, from 1994 to 1995, and for Supreme Court Justice Ruth Bader Ginsburg from 1995 to 1996.
He attended UC Berkeley and received his law degree from UCLA, where he was editor of the UCLA Law Review.
Copyright 2012, Metropolitan News Company