Monday, August 20, 2012
Page 1
Trutanich Takes Out Papers to Run for Second Term
By a MetNews Staff Writer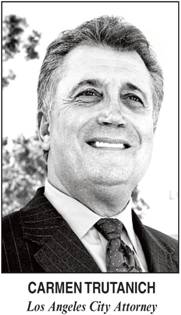 Los Angeles City Attorney Carmen Trutanich Friday pulled papers to run for re-election.
Trutanich named Rick Taylor as his campaign consultant. The city attorney's previous consultant, John Shallman, is working for Assemblyman Mike Feuer, who retained him while Shallman was still running Trutanich's ultimately unsuccessful campaign for district attorney.
Trutanich reportedly has blamed missteps by Shallman for what has been described as a surprising and embarrassing defeat. Despite raising far more money than any other candidate; having much higher name recognition according to opinion polls; and earning the endorsements of numerous public officials, including the governor and the sheriff, Trutanich missed the runoff, trailing both Chief Deputy District Attorney Jackie Lacey and Deputy District Attorney Alan Jackson.
Taylor acknowledged that Trutanich may have taken on some water during the race, but said "you've got to move on." The municipal electorate "will judge him as city attorney," Taylor said.
"We think we have a phenomenal record," the consultant told the MetNews. The campaign, he said, will focus on the incumbent's history of "doing more with less," steering the office through tough economic times, cutting expenditures for outside counsel by nearly two-thirds despite losing 150 attorney positions.
The effort will "kind of broaden what the public knows about" Trutanich, Taylor said.
Also in the race, besides Trutanich and Feuer, is West Los Angeles Greg Smith. Senior Assistant City Attorney Eduardo Angeles has also said he intends to run, although he trails Feuer and Smith in fundraising by a considerable amount.
Taylor dismissed a poll by Normington, Petts & Associates, released recently by John Thomas, who is working for Smith. Thomas, who is working for Jackson in the district attorney's race and worked for Trutanich's first city attorney campaign three years ago, is "an angry young man out there who's trying to pretend he's a political consultant," Taylor said.
Thomas said the poll of 500 county voters—which was taken for the Jackson campaign and which included 193 respondents within the city—showed Trutanich's job approval at 17 percent, with 43 percent disapproving; the city respondents were 22 percent positive and 49 percent negative.
But polling failed to accurately predict the outcome of the district attorney contest, Taylor pointed out. And whatever Trutanich's favorables are today, the consultant said, he expects them to go up as the campaign focuses on the incumbent's record of accomplishment.
As word of Trutanich's plan to run again spread, Feuer put out a statement saying he would "bring honesty, clarity and vision back to the City Attorney's office." He followed that up Friday by saying:
"I'm looking forward to an exciting campaign. The people of Los Angeles deserve a City Attorney focused on innovative solutions to our toughest problems—like too many gangs, too much gun violence, and too few jobs. Our next City Attorney must prioritize making our neighborhoods secure, improving our day-to-day quality of life and inspiring confidence and trust in city government."
Copyright 2012, Metropolitan News Company