Friday, April 13, 2012
Page 1
Ex-Foe Trujillo Endorses Trutanich for District Attorney
By a METNEWS Staff Writer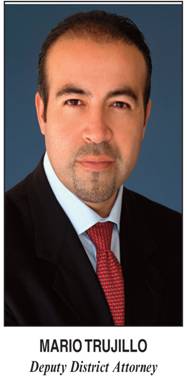 Deputy District Attorney Mario Trujillo said yesterday he will support Los Angeles City Attorney Carmen Trutanich in the June 5 primary for district attorney.
Trujillo, whose Hispanic heritage and fundraising prowess caused him to be considered a major contender for the office until he dropped out right before the filing deadline, citing family and health issues, told the METNEWS that he decided to back Trutanich because he "liked his position on certain issues that are very important to me."
Before he aborted his campaign, Trujillo talked frequently about the need for the office to do more than prosecute cases, and he said yesterday that Trutanich shares those views.
"He believes in doing more about crime prevention and intervention programs," Trujillo said. "He really means it when he talks about education and working hand-in-hand with law enforcement."
He noted that Sheriff Lee Baca and state Superintendent of Public Instruction Tom Torlakson have signed on as co-chairs of Trutanich's campaign, and Trujillo said that Trutanich is "ready to get to work on improving things, like working on the recidivism rate."
The self-proclaimed "lifer in the office" said that he looked forward to working with Trutanich if he wins the election, but said he was "offended" by suggestions that he was offered a quid pro quo for his support.
He said he had also considered backing Chief Deputy District Attorney Jackie Lacey, had met with her as well Trutanich, and that neither of them, nor current District Attorney—and Lacey supporter—Steve Cooley promised him anything in exchanged for his endorsement.
Trujillo noted that he and Trutanich have a past working relationship.
"I met him through the District Attorney's Office," he explained. "I supported him [for city attorney] and I was on his transition team."
Trujillo acknowledged that he had "aspirations of moving up in the office" and would consider taking either an administrative position or one that would involve crafting office policy or legislation if offered by the next district attorney.
In other news, Deputy District Attorney Alan Jackson called on Trutanich to stop referring to himself as a "Los Angeles Chief prosecutor" or "Chief Criminal Prosecutor" in campaign materials. Jackson said in a television interview Wednesday night that Trutanich was using those references, even though Judge Joseph Kalin ruled Monday that they could not be used as a ballot designation because they were misleading.
That ruling only applies to the candidate's title on the ballot.
Also seeking election to succeed Cooley, who is not running for a fourth term, are Deputy District Attorneys Bobby Grace, John L. Breault III, and Danette Meyers, who earlier this week won the endorsement of the Los Angeles County Democratic Party.
Copyright 2012, Metropolitan News Company