Wednesday, February 1, 2012
Page 1
Ricardo Torres II to Be Arraigned on Embezzlement Charge
By a MetNews Staff Writer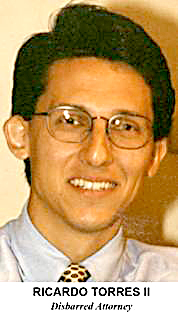 Disbarred attorney Ricardo A. Torres II faces arraignment Monday on a charge of embezzlement, a spokesperson for the district attorney said yesterday.
Torres, 47, was once regarded as a rising star in local politics. But he was disbarred last year after he admitted taking $90,000 from clients who were seriously injured by a drunk driver in 2005.
The ex-lawyer, who is free on bail, is due to appear Monday at 8:30 a.m. before Judge Upinder S. Kalra to plea to a single count of violating Penal Code Sec. 506. The statute bars a trustee or attorney from appropriating funds that have been entrusted to him or her to his or her personal use.
Torres attempted to resign from the State Bar in July 2010, after the bar prosecutors filed charges that he failed to return an unearned $15,000 fee and falsely told the client that he had obtained a dismissal when in fact the prosecution chose not to file. He was also accused of failure to cooperate with the State Bar investigation.
That action occurred several months after he apparently left the country, arranging to have his client files delivered to another lawyer who called the delivery "a total surprise." Torres had stopped practicing at the mid-Wilshire address listed on the State Bar website, and a recording said the phone had been disconnected.
The tendered resignation was turned down by the state Supreme Court, which directed that disciplinary proceedings in the State Bar Court go forward "forthwith." That led to the disbarment stipulation, in which Torres—who was also disciplined in 2002 and once served jail time for contempt because he persisted in asking questions that a trial judge declared improper—admitted to multiple ethical violations, including mis­ap­propriation.
Early in his career, Torres gained positive press as the founding president of the Los Angeles Legal Corps, which provided low-cost representation to persons who were making too little money to qualify for free legal services but could not afford to hire lawyers at prevailing rates.
His reputation suffered following his 2002 admission that he was responsible for mailers claiming that Antonio Villaraigosa, who was then trying to unseat Torres' friend, City Councilman Nick Pacheco, had "sold out the Latino community" and referencing "his white advisors" and "consultantes gringos." It was followed up by a mailer charging Villaraigosa with marital infidelity.
In 2006, the Fair Political Practices Commission fined a committee called the "Voters for Honesty and Integrity in Politics" and Torres, who was its treasurer, $1,500 for failing to disclose contributor information in a late independent expenditure report in connection with a state Assembly race in 2002.
A candidate for the state Assembly and the Los Angeles City Charter Commission in separate 1997 elections, Torres is a son of retired Los Angeles Superior Court Judge Ricardo A. Torres II. An uncle, William Torres, is a retired Superior Court commissioner.
A sister, Kathleen Torres, ran for the Assembly in a 1991 special election for a seat ultimately won by Barbara Friedman.
Copyright 2012, Metropolitan News Company