Friday, October 19, 2012
Page 11
SNIPPETS (Column)
Beckloff Hailed at Pasadena Bar Association Meeting for Judicial Excellence
Los Angeles Superior Court Judge Mitchell A. Beckloff was saluted Wednesday night at a meeting of the Pasadena Bar Association for his outstanding service on the bench—with the supervising judge of the Northeast District, Mary Thornton House, telling the group: "You can't get a finer judge."
Beckloff, she said, is a judge "who listens, who cares, who has respect for all in front of him."
Also speaking was retired Los Angeles Superior Court Judge Aviva Bobb, a past supervising of the court's Probate Department—the post now held by Beckloff.
"In my view," she said, "he's the greatest judge we have."
She told Beckloff:
"There's nobody who doesn't like you—you can't find anybody."
If, however, a detractor could be found, she said, the person would not draw his ire.
"You have no vengefulness in you," she observed.
Addressing remarks to the audience, Bobb declared:
"Those of you who appear before Judge Beckloff know how remarkably brilliant he is—and his great ability to digest extraordinary complexities of law and factual situations."
She cited his "serious dedication he has to the cases that are in front of him."
Bobb added:
"What I think is most remarkable about him is how deeply kind and capable he is with everyone in the courtroom. People talk about the deep respect he has for everyone in the court, his compassion for people whether they are rich or poor, or representative or not representative."
She said he is "quiet" and "appears to have no ego."
The "Judge of the Year" Award was handed to Beckloff by Pasadena Bar Association President Sajan Kashyap. This photo was taken by Natalie A. Peoples, a certified paralegal and legal technologist in the office of Donald P. Schweitzer, who was sworn in at the meeting as the association's 2013 president: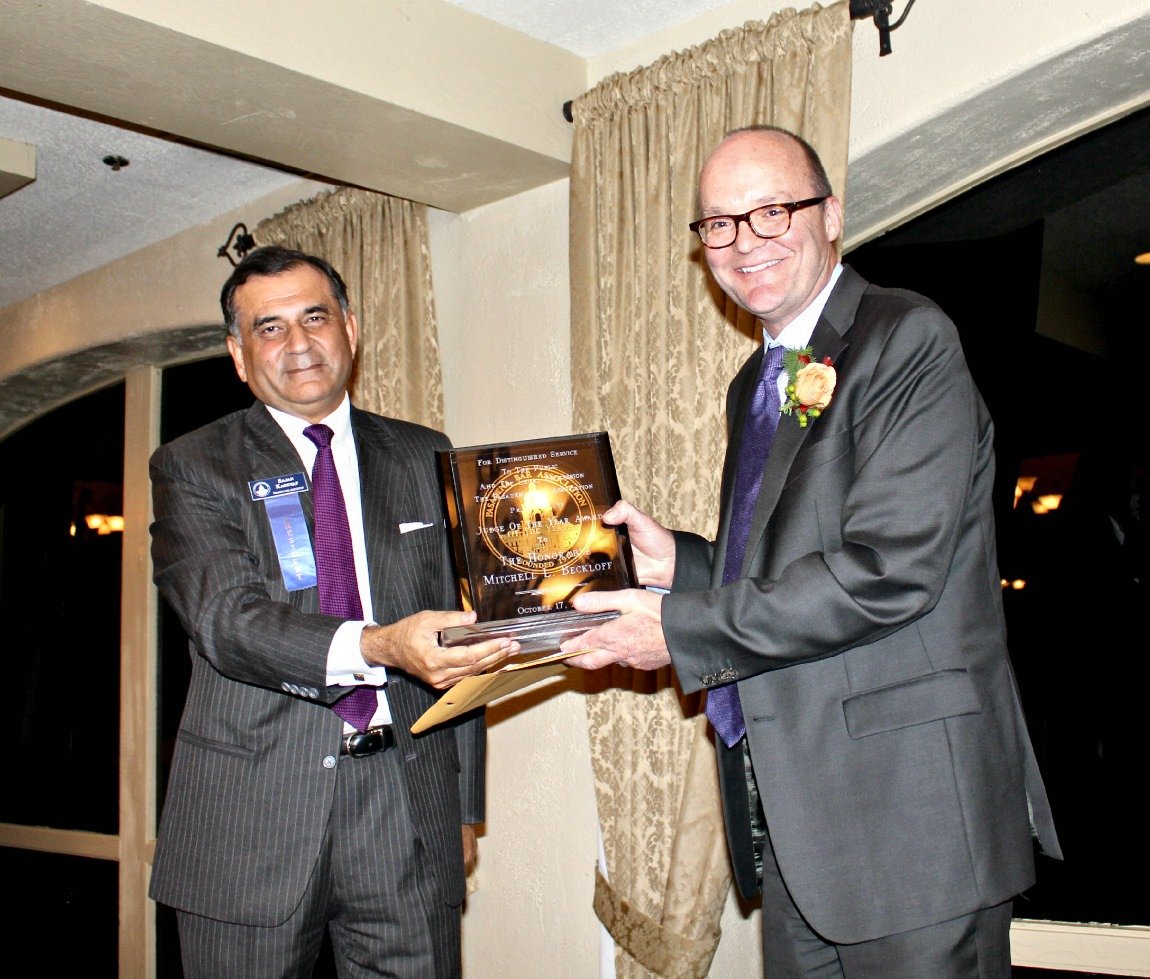 "I am completely overwhelmed and honored by you all tonight," Beckloff remarked, later declaring:
"I'm getting this award for doing something I love to do, and I feel honored and privileged to do."
At the end of the program, singer Cindy Jenkins performed, with Beckloff accompanying her on the piano.
•The Executive Office of the United States Courts for the Ninth Circuit announced yesterday that the federal courthouses in Los Angeles and San Francisco have been designated national landmarks by Interior Secretary Ken Salazar.
A press release said:
"The Spring Street courthouse in downtown Los Angeles was built between 1937 and 1940. It was the third federal building to be constructed in Los Angeles and also once housed a post office. It was added to the National Register of Historical Places in 2006.
"The Los Angeles courthouse also has a colorful history. It was the venue for the first ruling that public school segregation was unconstitutional, the 1946 Mendez vs. Westminster School District lawsuit, and the 1973 federal government case against Daniel Ellsberg for leaking the 'Pentagon Papers,' according to the U.S. General Services Administration."
This photograph was provided: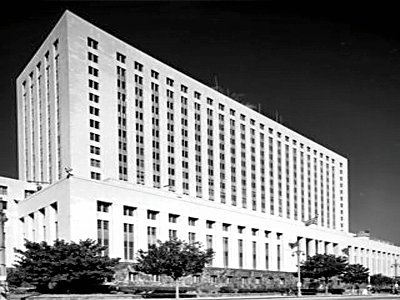 The San Francisco Courthouse, it noted, "opened in 1905 as both a courthouse and post office, now serves as the administrative headquarters for the U.S. Court of Appeals for the Ninth Circuit."
•Marcia J. Koslov has resigned as executive director of the Los Angeles Law Library, effective Dec. 31, it has been announced.
Susan Steinhauser, president of the library's Board of Trustees, commented:
"Marcia has brought a wealth of experience to her position and over the past seven and a half years, has expanded the Law Library's influence. During Marcia's tenure, our collections and use of technology have been refined; the services we offer to the public and legal community have grown; and partnerships with public libraries, bar associations and the courts have been built.
"Most evident, the Law Library has been renovated, both inside and out, to meet the changing demands of the evolving library user."
Koslov was appointed to her post in June 2005. She previously served as deputy director of the University of Texas Tarleton Law Library, librarian of the Wisconsin State Law Library, and librarian for the Missouri Supreme Court.
•The San Fernando Valley Bar Association's Family Law Section will present a discussion Monday on "E-Discovery."
Los Angeles Superior Court Judge Michael Terrell and attorney/computer forensic examiner Sherry Katz will discuss "how to obtain electronic data and how best to use it," according to a meeting announcement.
The event will take place starting at 5:30 p.m. at Monterey at Encino Glen, located at 16821 Burbank Blvd. in Encino.
One hour of MCLE credit will be given.
The cost to attend is $45 for members and $55 for non-members, with an additional $10 being charged those who pay at the door.
Payment can be made online at https://www.sfvba.org.
Copyright 2012, Metropolitan News Company