Tuesday, October 16, 2012
Page 11
SNIPPETS (Column)
Law Library to Celebrate National Pro Bono Week With Concert, Talks
A performance Thursday by Gary Greene Esq. and his Big Band of Barristers will kick off the Los Angeles Law Library's celebration of National Pro Bono Week.
The performance will take place during a reception on the downtown library's recent rehabilitated front plaza from 5:30-7:30 p.m.
On Tuesday, October 23, the Harriett Buhai Center for Family Law will offer a free MCLE course titled, "Family Law 101," from 5–8 p.m. It will cover custody, domestic violence, support and property, as well as procedure and forms.
The following day, from noon until 2 p.m., there will be back-to-back programs. Southern California Pro Bono Managers will present a lunch talk on pro bono challenges by Erwin Chemerinksy, dean of the University of California at Irvine Law School, followed by a one[hour ethics MCLE course on ethical concerns in connection with pro bono work, to be staged by SoCal Pro Bono Managers.
"It has been a pleasure to work in partnership with leading legal organizations throughout Los Angeles County to develop this week's events," LA Law Library Executive Director Marcia Koslov said. "This is a small token of appreciation for each and every individual who graciously donates their time, energy and legal expertise to our community."
•Deputy Los Angeles District Attorney David Berger's anti-Trutanich website, http://losangelesdragnet.blogspot.com, takes this poke at the chief lawyer for the City of Los Angeles:
"Embattled former DA wannabe City Attorney Carmen Trutanich's re-election campaign seems to be certain of winning based on the former ambulance chaser's apparent popularity in Tanzania, an East African republic bordered by Kenya and Uganda to the north, Rwanda, Burundi, and the Democratic Republic of the Congo to the west, and Zambia, Malawi, and Mozambique to the south.
"Tanzania, according to data on Trutanich's re-election campaign FaceBook page, appears to be 'The city where most of the people talking about this Page are from.'
"An East African republic might seem an unlikely source for the 4,873 FaceBook 'likes' that Trutanich claims to have, and the explanation is most likely the same as his 724,535 YouTube views for his failed DA campaign. He purchased them."
Trutanich's press aide, John Schwada, was asked to provide a comment. He didn't.
•Assemblyman Mike Feuer, D-Los Angeles, also a candidate for city attorney, is the target of a press release issued by John Thomas, campaign consultant to sole practitioner Greg Smith, a rival contender for the post.
It says:
"ASSEMBLYMAN MIKE FUER [sic] RUNNING FOR MAYOR?
"…[T]he Mike Fuer [sic] campaign announced the endorsement of another Sacramento politician, Assemblyman Warren Furutani [D-Gardena]. There is only one problem: the Assemblyman endorsed Fuer [sic] not for City Attorney, but for Mayor. There are concerns that the termed-out Assemblyman is looking to use the City Attorney's office as a stepping-stone to higher office, and this latest announcement only raises more questions.
"Greg Smith's chief strategist John Thomas stated, 'With this latest move, Mike Fuer [sic] has confirmed that he is not interested in actually doing the job of the City Attorney. How focused can Fuer [sic] be on the office of City Attorney if he and his staff can't keep straight what office he's running for?
" 'Fuer [sic] and Trutanich are two pees [sic] in a pod. We need a City Attorney who is concerned about winning the next case, not the next office.' continued Thomas."
The press release contained a link to a screenshot, on Smith's website, of a page on Feuer's website directing attention to the endorsement. The page contained this: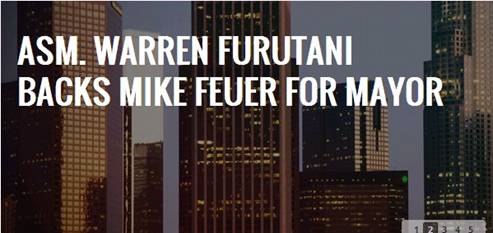 The error has been removed from Feuer's website.
The press release was dispatched to news media by e-mail. The spelling of Feuer's name has been corrected in the version that appears on the Smith website, though the spelling of "peas" had not been, as of yesterday afternoon.
•Grace Danziger, director of governance and corporate affairs for the Los Angeles County Bar Association, was presented with the Outstanding Service Award Friday at a Conference of California Bar Associations reception in Monterey.
The following shot of the honoree and her husband, Mark Danziger, was taken at the event by Deputy Los Angeles District Attorney Teresa Sullivan, a member of the LACBA delegation to the conference: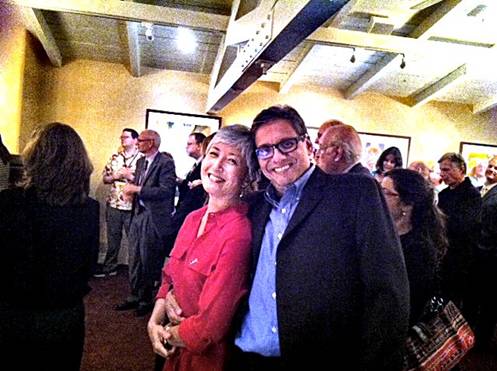 Copyright 2012, Metropolitan News Company