Wednesday, October 10, 2012
Page 11
SNIPPETS (Column)
Robert Tanenbaum to Address Santa Clarita Bar Association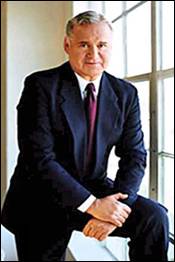 TANENBAUM
The Santa Clarita Bar Association tomorrow night will stage what is intended to become an annual event, "Dinner with the Author."
The author to be featured is Robert K. Tanenbaum, an attorney whose books include "Outrage," "Bad Faith," and "Betrayed."
According to a meeting announcement:
"A former homicide bureau chief for the New York D.A.'s Office and Deputy Chief Counsel for the House Select Committee on the assassinations of John F. Kennedy and Martin Luther King, Jr., Mr. Tanenbaum will speak about his experiences as an attorney and author of over 25 fiction and non-fiction books."
Tanenbaum is also a former two-term mayor of Beverly Hills. He came in third in the 1992 election for Los Angeles County district attorney (the year Gil Garcetti gained election).
The event, which will start at 5:30 p.m., will be held at TPC, 26550 Heritage View Lane, in Valencia.
Reservations are available by telephoning (855) 506-9161.
•The Pasadena Bar Association's Women's Section will present a 7:30 a.m. talk Nov. 7 on "Wills of Famous Women."
Rosemary Ringwald, Century City counsel for US Trust Bank of America, will be the speaker.
The venue will be the University Club, 175 N. Oakland Ave., in Pasadena.
The cost to attend will be $20 for members and $30 for non-members.
Reservations are required and can be obtained by e-mailing laura.lloyd@usip.com.
•The San Fernando Valley Bar Association's Taxation Law Section has planned a noon meeting for Oct. 16 featuring a talk by attorney Mark Pastor on "Criminal Tax Fraud."
The event will be held at the association's headquarters at 5567 Reseda Blvd., Ste. 200, in Tarzana.
Members with paid reservations will pay $30 to attend and non-members with paid reservations will be charged $40. Those paying at the door will be assessed an additional $10.
Reservations can be made online at https://www.sfvba.org.
Copyright 2012, Metropolitan News Company