Thursday, October 4, 2012
Page 11
SNIPPETS (Column)
Pasadena Bar Association to Honor Judge Mitchell Beckloff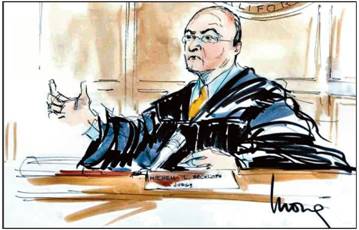 AP  
BECKLOFF
Los Angeles Superior Court Judge Mitchell L. Beckloff will be honored by the Pasadena Bar Association as "judge of the year" at its Oct. 17 dinner.
Beckloff is supervising judge of the Probate Department. He also teaches community property at Southwestern Law School.
New officers will be inducted at the dinner.
It will take place at the Brookside Golf Club, 1133 N. Rosemont Ave., in Pasadena, with the event commencing at 6 p.m.
The cost to attend is $40 for members and $60 for all non-members except for judges, who will be admitted for $35.
Reservations can be made by emailing info@pasadenabar.org.
•The Italian American Lawyers Association will team with the Southern California Chinese Lawyers Association and the Japanese American Bar Association on Oct. 17 in staging Marco Polo Night.
The event has been held each year since 1982—when Pasadena attorney Tom Cacciatore was IALA president—except last year, when the president, Thomas Girardi, dispensed with various club traditions.
The venue will be Casa Italiana, 1051 North Broadway, north of Chinatown. A cocktail hour—featuring free sake—will start at 6 p.m., followed by dinner, entertainment, and a trivia quiz.
The cost will be $35 for members of any of the sponsoring groups, provided a reservation is made at least 48 hours prior to the event; $45 for non-members with a timely reservation; $25 for students; no cost to judges; and $50 for others.
Reservations are available by e-mailing rsvp@jabaonline.org or telephoning (213) 593-3192. Those making reservations are asked to specify chicken, sausage or vegetarian entrée.
•California Attorney General Kamala D. Harris yesterday announced that the state Department of Justice has been awarded a $200,000 federal grant to boost law enforcement efforts to combat intellectual property crimes.
Harris commented:
"As technology continues to develop rapidly, thieves have moved their illegal activities to computers and the Internet. This grant will support my goal of being at the forefront of investigating these crimes and assuring that law enforcement officials throughout the state are well-equipped to bring those involved in intellectual property crimes to justice."
She added:
"California's economy thrives on the intellectual property of artists, creators, inventors, authors, software designers, engineers and so many other innovators. It is critical in California that we protect their creations from theft, misappropriation and counterfeiting."
Last year, Harris created an "eCrime Unit" to identify and prosecute identity theft crimes, cybercrimes and other crimes involving the use of technology. The grant was applied for to support that unit, according to a press statement.
Copyright 2012, Metropolitan News Company