Wednesday, October 3, 2012
Page 11
SNIPPETS (Column)
Retirement Dinner Slated for District Attorney Cooley
A Nov. 10 retirement dinner has been set for Los Angeles County District Attorney Steve Cooley, who will leave office Dec. 3 after three terms.
He chose not to run for reelection this year.
The event will be held at the Sheraton Universal Hotel, with cocktails at 6:30 p.m. and dinner at 7:30 p.m. Tickets are $100 each.
A reservation can be made by sending a check, payable to "Farewell Steve," to Ste. 18-709 of the Foltz Criminal Justice Center, 210 West Temple Street, Los Angeles 90012.
Oct. 26 is the reservation cut-off date.
•Gary G. Kreep, a San Diego Superior Court judge-elect, is warning about President Barack Obama's plan to spy from the skies on political meetings.
Kreep, as executive director of the Ramona-based United States Justice Foundation, says in an e-mail dispatched Monday:
"The Federal Aviation Administration (FAA) has announced that it is carving out specific routes in the sky over the United States for high-tech surveillance drones.
"It's all part of Barack Obama's plan to deploy armed drones over every city and town in America."
The message goes on to warn:
"In a very, very short time, these armed flying robots could be monitoring every anti-Obama rally or meeting in America.
"Just imagine attending a Tea Party rally one day, and a drone shows up, armed with a giant camera on one wing and missiles on the other.
"Would anyone stick around with such a menace buzzing overhead?
"Of course not.
"And that's the purpose of these armed drones. They are tools of intimidation. They are meant to scare the American people into submission.
"And they must be banned NOW."
Kreep won his court seat in the June 5 election, topping Deputy San Diego District Attorney Garland Peed by 1,569 votes.
•The Pasadena Bar Association's Real Estate Section has scheduled a noon meeting for Oct. 23 on "Recent Changes in Mechanic's Lien Laws."
Attorney Nick M. Campbell will be the speaker.
The lunch meeting will be held at the University Club, 175 N. Oakland Ave., in Pasadena.
The cost is $35 for members and $45 for non-members.
Reservations are available by e-mailing Jeanette Dean at jdean@hahnlawyers.com or by telephoning (626) 796-9123.
•Frank A. Merola has joined Stroock & Stroock & Lavan LLP as a partner in the Los Angeles office, the firm announced yesterday.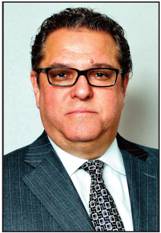 MEROLA
He will be part of the Financial Restructuring Practice Group, according to a press release.
It said:
"Mr. Merola comes to Stroock from investment banking firm Jefferies & Company [in Los Angeles], where he was a Managing Director in the Recapitalization and Reorganization Group. His recent representations included the Trustees of the Deepwater Horizon Oil Spill Trust; the Debtors in ATP Oil & Gas, Crusader Energy and Insight Health; the Official Committees of Unsecured Creditors in Tronox, Inc., Herbst Gaming, Innkeepers USA Trust and MSR Resorts Golf Course LLC; and significant creditor groups in Gateway Casinos and Fontainebleau Las Vegas.
"Prior to Jefferies, Mr. Merola was an attorney with the Los Angeles boutique of Stutman, Treister & Glatt, P.C. for over 20 years. As a restructuring lawyer, he has experience advising debtors, creditors, acquirers and equity holders in both Chapter 11 and out-of-court restructurings across a range of industries. Among other areas, Mr. Merola is known for his work in the real estate, gaming and leisure space and has had major roles in the casino restructurings of Tropicana Hotel & Casino, Trump Hotel & Casino Resorts, Aladdin Hotel & Casino, Gateway Casinos, Herbst Gaming, Sands Atlantic City, Resort at Summerlin, Gold River Hotel & Casino, and Arizona Charlie's."
Merola received his undergraduate degree in business administration from Georgetown University and his law degree from UCLA.
Copyright 2012, Metropolitan News Company