Friday, August 3, 2012
Page 11
SNIPPETS (Column)
Superior Court Seeks Commercial Litigators for Settlement Marathon
The Los Angeles Superior Court yesterday put out a call for experienced commercial litigators to participate in mass settlement of breach of contract and business tort lawsuits.
The "DISPO 2012 Settlement Program" will take place from 8:30 a.m.-4 p.m. on Sept. 10-14 at the Stanley Mosk Courthouse. There will be 10 teams of case-settlers, each comprised of a sitting judge and one or two volunteer attorneys.
The "notice to attorneys" explains:
"Volunteers must give one full day. Attorneys may volunteer for two days during this week, if they have the time and interest.
"Rule of Court 3.1380 for Mandatory Settlement Conferences will apply; parties, their lead trial counsel and any needed insurance adjusters will all be ordered to appear in person. Settlement briefs will be lodged via email from counsel so documents can be sent in advance via email to the volunteers."
Those willing to pitch in are asked to contact attorneys in the Los Angeles County Bar Association's Litigation Section—Dan Crowley at dmcrowley@boothmitchel.com or Jeff Westerman at jwesterman@milberg.com—or the Association of Business Trial Lawyers representative, Neil Erickson at nce@jmbm.com or at NErickson@jmbm.com.
•The American Bar Assn. on Sunday will honor California's top judge, classifying her as a woman lawyer.
An ABA press release says:
"Tani G. Cantil-Sakauye, chief justice of the California Supreme Court and the first Asian-Filipina American woman in the nation's history to serve as a state chief justice, is one of five leading women lawyers to be honored with the 2012 Margaret Brent Women Lawyers of Achievement Award, given annually by the American Bar Association Commission on Women in the Profession.
"Cantil-Sakauye will receive her award on Aug. 5 at the 22nd Annual Margaret Brent Women Lawyers of Achievement luncheon during the 2012 ABA Annual Meeting in Chicago."
The award is bestowed on women who have excelled in the legal profession and paved the way for other women to attain success in the field.
The Aug. 1 release reports:
"Although she said she has encountered various degrees of gender bias throughout her career, Cantil-Sakauye never viewed her experiences as hurdles. Instead she accepted them as her reality. 'Being mistaken for a court clerk and the court reporter made me more empathetic to the work these professionals perform,' Cantil-Sakauye said."
The chief justice is quoted as saying that being called "honey" or "'sweetheart" were "irrelevant to me, especially if I won the objection, motion or argument."
The press release continues:
"Cantil-Sakauye learned that being both a female and an ethnic-minority prosecutor arguing successfully in front of 12 jurors was something of a novelty. In order to instill trust in jurors, she dressed the part by wearing dark suits and minimal accessories.
" 'I learned not to waste the first five minutes of my argument on substantive issues because the jurors were likely scrutinizing me rather than listening to me,' Cantil-Sakauye said."
•The Conference of California Bar Associations, in an e-blast on Wednesday, crowed that two measures it proposed have been incorporated in statutes.
This is the first time since the group's formation in 2002, as a successor to the State Bar Conference of Delegates, that its proposals have won favor in the Legislature.
The e-mail declares:
"The first of hopefully many bills sponsored by the Conference of California Bar Associations (CCBA) were signed into law Tuesday, July 10, by Governor Edmund G. Brown, Jr. The two measures are AB 1727 by Assemblymember Jim Silva and AB 2106 by Assemblymember Don Wagner.
"AB 1727 is based on CCBA Resolution 12-03-2011, which was developed by Barry Besser, Esq., and sponsored by the Orange County Bar Association. AB 2106 contains two resolutions developed by appellate attorney Jay-Allen Eisen and sponsored by the Sacramento County Bar Association."
AB 1727 amends Family Code Sec. 5240 to permit ex parte motions, under some circumstances, to gain termination of an order assigning to a former spouse a portion of the wages of the party obligated to pay spousal support. AB 2106 Code of Civil Procedure amends Code of Civil Procedure Sec. 659 relating to motions for new trial and to set aside and vacate a judgment.
The e-mail advises:
"Seven bills sponsored or co-sponsored by the CCBA have survived all their committee hearings and are either one or two floor votes shy of the Governor's desk. These include important legislation to protect seniors and others from having their bank accounts legally raided by untrustworthy friends or family members who have been added to the account (AB 1624—Gatto) and legislation calling for the California Law Revision Commission to study and recommend improvements to the mediation confidentiality statutes, which currently shield bad attorneys from State Bar discipline or malpractice suits (ACR 98—Wagner & Gorell). All seven measures are expected to win legislative approval and go to the Governor.
"Five more bills sponsored or supported by the CCBA will face key Appropriations Committee hearings in August, including an important bill introduced last year (AB 308—Ammiano) to move the state towards a fairer, more effective eyewitness identification system, and a current-year bill (AB 1865—Alejo) to improve the level and quality of information provided to defendants in unlawful detainer cases. All measures have received strong policy support from lawmakers so far, but some may fall victim to the state's current financial crisis."
•The Entertainment Law Section of the Beverly Hills Bar Association on Aug. 15 will offer a presentation by attorney Ken Ziffren on "Developments and Trends for Entertainment Lawyers, Fourth Edition."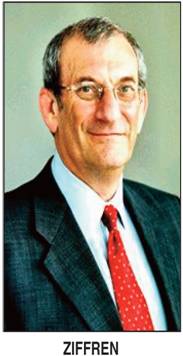 A meeting announcement says:
"Ken Ziffren makes his fourth summer presentation before the Beverly Hills Bar Association. He will address recent developments and important trends which affect the practice of entertainment law, and offer his cogent comments and re­com­mendations."
Ziffren, co-founder of Ziffren, Brittenham, LLP, "is universally recognized as a master negotiator of complex entertainment matters," according to the announcement, which adds:
"This is our most popular event, effectively the 'state of the union' address on the world of entertainment."
The lunch event, with sign-in at noon, will take place at Lawry's, 100 North La Cienega Boulevard, in Beverly Hills. The cost, for those paying in advance, is $70 for section members, $45 for law students and summer associates, $90 for BHBA members who aren't members of the section, and $110 for others. Anyone paying at the door will be assessed an additional $20.
•The Armenian Bar Association has announced that a longtime member of the group, Anahid Gharakhanian, has been appointed vice dean for Academic Affairs at Southwestern Law School.
She has been on the faculty since since 2002.
In her new capacity, Gharakhanian will be in charge of the overall academic program, faculty appointments, faculty development, and Southwestern's self-study process, and will continue to serve as Director of the Externship Program.
Garo Ghazarian, chairman of the national bar group headquartered in Glendale, remarked:
"On behalf of the Armenian Bar Association, I congratulate Professor Anahid Gharakhanian on her appointment and I applaud Southwestern Law School for her selection. Professor Gharakhanian's contributions to the legal community and to our Association are invaluable and wide-ranging. Her mentoring of so many of our new attorney members as well as our law student members is unparalleled and has been unheralded for too long."
Armen K. Hovannisian, vice chair of the association and a former colleague of Gharakhanian at Chadbourne & Parke LLP, added:
"Anahid is so many good things all rolled into one, most certainly a wonderful model for not only the student body of Southwestern, but to all women and men who aspire to combine positive meaning and purpose with the legal profession."
In announcing the appointment, Southwestern Dean Austen Parrish said:
"Dean Gharakhanian is a very talented and dedicated teacher and administrator, and I am delighted that she has agreed to expand her administrative role, as we have a very busy year ahead."
Gharakhanian earned her bachelor's degree in philosophy, magna cum laude, at UCLA, where she was a member of Phi Beta Kappa. She obtained her JD, cum laude, from Harvard.
Copyright 2012, Metropolitan News Company