Monday, July 30, 2012
Page 11
SNIPPETS (Column)
Non-Practicing Attorney Stone to Become President of City of Hope
A former practicing attorney is slated to become president of City of Hope on Wednesday.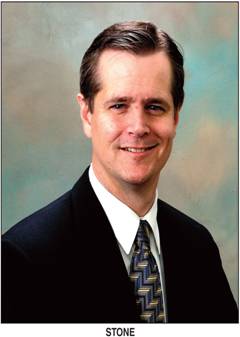 Robert W. Stone, currently president and executive officer of the City of Hope Medical Foundation and City of Hope's chief strategy and administrative officer, is a graduate of the University of Chicago Law School, and was admitted to law practice in California in 1993. After working at the law firms of Christa & Jackson and Hanna and Morton, he joined City of Hope in 1996 as associate general counsel.
He became general counsel in 2000, and was named corporate secretary in 2003.
Stone was appointed chief strategy and administrative officer in 2009 and as the first president of the Medical Foundation last year. He has been on inactive State Bar status since 2010.
In a press release, Michael A. Friedman, a medical doctor and chief executive officer of City of Hope, is quoted as saying:
"Robert Stone's leadership will continue to benefit City of Hope in this highly competitive and ever-shifting landscape of health-care delivery and research funding. Robert has been instrumental in preparing City of Hope for its future—with a proud history of achievements in compassionate patient care and medical research—as we work together to transform the future of health."
The press release advises:
"As president, Stone will report to Friedman in the City of Hope Office of the Chief Executive and will be responsible for executing City of Hope's strategy, driving business development and optimizing operations. He will oversee all operational, financial, human capital and strategic functions."
Stone is quoted as remarking:
"City of Hope's most significant asset is the compassion, talent and expertise of our people, working together toward common goals. We are in a period of significant transition in health-care delivery and research and on the brink of an exciting period in the history of City of Hope. I am confident that we will deliver on the promise of our 100-year legacy and the potential of our future."
The 110-acre City of Hope in Duarte has been designated by the federal government's National Cancer Institute as a Comprehensive Cancer Center. The private, non-profit facility includes a hospital, a clinical research center, and graduate medical school, with some treatment and research being devoted to diseases other than cancer.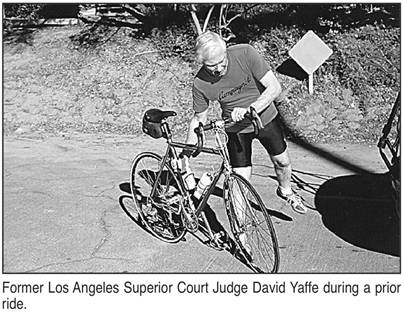 •The Beverly Hills Bar Assn. Barristers will stage a bench-bar bike ride in Hermosa Beach on Sunday, Aug. 12.
A meeting announcement says:
"Participants will check-in at The Good Stuff Restaurant in Hermosa Beach at 8:30 a.m. The Bike ride will begin at 9:00, and riders will travel north or south (depending on whether they want a more or less strenuous ride) for one hour. At the hour mark, riders will turn around and ride back. Everyone will return to the Good Stuff Restaurant in Hermosa Beach at 11:00 a.m. for brunch. We estimate that the price of participation would be about $25.00 to cover the cost of the brunch. Parking is 75 cents per hour in the big new 3 level parking lot.
"Commemorative T-shirt for all riders courtesy of our sponsor the Metropolitan News-Enterprise."
Online registration is available at www.bhba.org.
•The San Fernando Valley Bar Assn. on Sept. 22 will install its new president, David Gurnick, as well as  members of the Board of Trustees and the Valley Community Legal Foundation president, Elan Z. Lorant and the group's Board of Directors.
Billed as the "2012 Autumn Gala, it will take place at the Warner Center Marriott in Woodland Hills. The cost to attend the dinner id $105 per person, or $1,000 for a table.
Reservations are available by telephoning (818) 227-0490, ext. 105.
•Judge Hilleri G. Merritt and Judge Graciela Freixes, who both work at the Santa Clarita Courthouse, today, will be switching department. Merritt goes to Department 3, Freixes to Department 1.
Effective Monday, Judge Kevin Brown will be handling juvenile cases in Department 260 of the Compton Courthouse. His present department in Compton, TR, will be presided over, on an alternating basis, by assigned judges Josh Fredricks and William Chidsey, for the time being. Assigned Judge Charles R. Scarlett will return to the assigned judges pool.
In other recent moves, Judge Marvin Lager, stationed at the Stanley Mosk Courthouse, went from Department 99 to Department 39; Judge Deborah Christian was assigned to Department 61 of the Metropolitan Courthouse in Los Angeles, vacating Department O in Pasadena; newly appointed Judge Jeffrey K. Winikow took over in Department O.
•The Los Angeles County Bar Association generally has a slow-down in activities during summer months. Its online "Calendar of Events" is lean, listing only 14 workshops and meetings. The 14th item will be of interest to those who like to plan far in advance. The event is to be held June 27, 2013. Here's the description: "Please join us at the Dorothy Chandler Pavilion for a very special evening of food, festivity, and fun to celebrate the installation of 2013-14 Los Angeles County Bar Association President Patricia Egan Daehnke; Officers and Board of Trustees; and incoming Barristers President Mark Kressel and Officers." Instructions are given as to how to make reservations. The registration code is 011737.
Copyright 2012, Metropolitan News Company