Friday, July 20, 2012
Page 11
SNIPPETS (Column)
Parris Urges Mandatory Utilization of Motor Vehicle Black Boxes
Personal injury attorney R. Rex Parris, the mayor of Lancaster, yesterday issued a call for legislation to require insurance companies to utilize data from automobile "black boxes" following crashes.
A press release said:
When airplanes crash, investigators look for the black box to help understand what happened, improve safety and affix blame. The United States Senate has passed a bill that would require similar "event data recorders" or EDRs to be in all new vehicles by 2015. Vehicle Event data recorders collect and record vital information regarding a crash, much like black boxes do for airliners. These devices provide information concerning the moments prior to the crash, such as the speed of the vehicle involved, if and when the brakes were applied, at what speed the airbags deployed, if seatbelts were worn, etc., delivering vital and incontestable evidence.
"Electronic data recorders take the guesswork out of the speed the cars were moving or if the client was wearing a seat belt, did the airbags deploy, etc. They can also provide information regarding safety issues, consequently leading to the installment and incorporation of safety features that were previously unavailable or undiscovered," stated R. Rex Parris an attorney who has successfully used data from recorders in several car accident cases.
As useful as this device is, insurance companies rarely use the information provided by event data recorders, due to its detrimental nature of providing facts about their clients regarding a crash, and potentially determining them to be at fault, thus costing the insurance company. "Insurance companies save a lot of money by not knowing what the true facts are. This is especially the case for rear-end collisions, seeing as how those cases are usually the fault of the driver that drove into the car in front. Data from a front-end collision is beneficial to the person hurt, and often detrimental to the insurance company. Many insurance companies obstruct justice by allowing the data to be erased. It is evident that the insurance companies are contesting the mandated utilization of recorded information from the event data recorders solely due to potentially negative financial impacts," stated Parris.
•District Attorney Steve Cooley and retired Deputy Public Defender Ken Green have supplied copies of the eulogies they delivered at the funeral for Wilbur Littlefield, who was Los Angeles County public defender from 1976-93.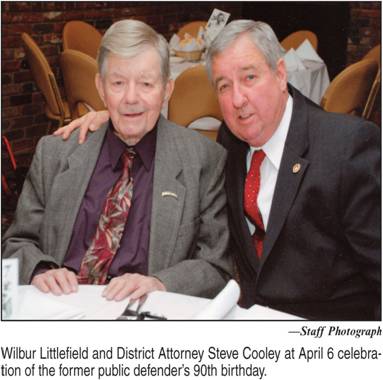 Cooley said at the June 30 service:
In the L.A. Times Obituary the quote below Bill's photograph was "An Exquisite Gentleman." That description well summarizes Bill. He was that and more. He was always cordial and genuine—whether it be in a social setting or the adversarial setting of a court of law.
But that only begins to describe Bill Littlefield —- a man whose honor and courage were displayed and evidenced in many venues—most particularly during combat in WWII and defending death penalty cases in Los Angeles County courts.
Tom Brokaw's book "The Greatest Generation" sought to acknowledge the achievements of millions of Americans—who in many ways fought and defeated tyrannical forces that threatened world freedom and human dignity.
Bill could have been a poster child for that book based upon his bravery and resourcefulness as an Alamo Scout—behind Japanese lines in WWII.
Also many members of the "Greatest Generation" accomplished much upon return to the homeland.
Bill's accomplishments during his career as a Deputy Public Defender and as the Public Defender of Los Angeles County were just a continuation of his greatness.
I assert—with great confidence—Bill Littlefield was one of the greatest of the greatest generation.
Bill's passing is something to be mourned—yes—but his life is something to be celebrated and applauded.
I ask you stand and do just that—
•Applaud our friend
•Applaud a war hero who defended us all
•Applaud a great attorney who brought great skills and commitment to our justice system
•Applaud an "Exquisite Gentleman."
Green said, in part:
Bill Littlefield was the Rolls Royce of men. He was a man's man.
Most of you know that Bill was a war hero, but not all of you know what he did to earn the title. He volunteered for one of the most dangerous missions of WWII. He was an Alamo Scout, the forerunner of the Rangers, and, as an Officer, he lead his men deep behind enemy lines in Leyte and Luzon. They lived in trees and ate dogs to survive. On one occasion, they were surprised by a Japanese company, and they hid in the brush. A Japanese soldier urinated on his head, and, had he been caught, he would have been beheaded. These Scouts were the toughest of the tough, and the bravest of the brave. There were 138 Scouts. They went on 108 missions, killed 500 enemy soldiers, and took 60 prisoners. No Alamo Scout was ever killed or captured.
After the war, Bill attended Hastings Law School at night, and worked on the docks in San Francisco as a longshoreman during the day. After passing the bar, Bill opened his own law office, but left private practice eventually. Law school never taught him how to collect from his clients. In 1957, he joined the Public Defender's Office and became it's 26th lawyer. Today, there are 700 lawyers. Bill distinguished himself quickly. He tried more death penalty cases than any other lawyer in California, and probably, more than any lawyer in the United States.
People have asked me what made Bill Littlefield such a great lawyer. The answer is that he knew the formula. He was the consummate gentleman. When Bill walked into the courtroom, the judges loved him, the court staff loved him, the DAs loved him, the cops loved him, the jurors loved him, and most importantly, his clients loved him, because he constantly visited them in jail to let them know he cared.
In 1976, Bill was selected by the Board of Supervisors as the Public Defender. He is the acknowledged father of the modern Public Defender's Office in the United States.
About once every two months, my dog Honey would receive a letter from Bill's dog, Angel. Angel was a smart dog, but never learned to spell, so every word was spelled phonetically. The letters were 3 pages, single spaced.
Bill, there are no more battles. Now you can rest. You will always be an Alamo Scout.
•The Armenian Bar Association—a national organization headquartered in Glendale—has slated the group's mid-year meeting for Oct. 19-21.
The venue will be the Fairmont Queen Elizabeth in Montreal.
Particulars were not supplied in a "save the date" e-mail to members from Executive Director Lisa Boyadjian.
•The Pasadena Bar Association will be staging a "Judges Night Reception" on Sept. 20—but it's for PBA members only, further restricted to those with reservations.
It will take place at the Shakespear Club of Pasadena, 171 S. Grand Ave., starting at 6 p.m.
Reservations are available by e-mailing info@pasadenabar.org.
•The Immigration Section and Downtown Section of the Los Angeles Paralegal Association will present a program on Aug. 9 on "Prosecutorial Discretion" in immigration law enforcement.
The program is aimed at enabling paralegals to help "clients make the most of the Department of Homeland Security's enforcement prioritization process," according to a meeting announcement.
Speakers will be Helen Sklar and Taiyyeba Skomra, attorneys with Stone & Grzegorek LLP in Los Angeles.
The event will be held at UCLA Extension, 261 S. Figueroa Street, Los Angeles. California 90071
"Registration/dinner/networking" will start at 6 p.m., with the presentation from 7-8 p.m.
The cost is $30 for LAPA members who register by Aug. 7, $20 for students (who must show a current student ID), and $35 for others.
Copyright 2012, Metropolitan News Company