Monday, July 9, 2012
Page 11
SNIPPETS (Column)
Dragnet.com Questions Trutanich's Ability to Raise Funds for Reelection Bid
On the heels of a report in the Daily News that Assemblyman Mike Feuer has raised $650,000 in his bid for election next year as Los Angeles city attorney, and attorney Greg Smith, with the same goal, has amassed $200,000, a posting Friday on the Dragnet.com website comments:
"[City Attorney Carmen] Trutanich, who now seems to be able to talk the media, told the LA Daily News that he does not feel any pressure at this point to begin raising money for his re-election campaign. 'The one thing I learned (in the district attorney's race) is that money doesn't get you elected,' Trutanich said. 'Only God and doing your job can do that.' Trutanich made no mention of when, or even if, he will try to raise money for his re-election campaign, as he probably has to figure out who will support his re-election bid.
"Former supporter District Attorney Steve Cooley is unlikely to support Trutanich's re-election having seen how recklessly Trutanich threw away all the political goodwill he had built by reneging on his 'Pledge to Serve' in an ego-driven bid to become DA."
The commentary, by Deputy District Attorney David Berger, continues:
"Equally, Sheriff Lee Baca, one of Trutanich's principal supporters in his failed DA campaign, may be both unwilling and unable to support Trutanich's re-election. Baca is probably still smarting from being labeled a law-breaker thanks to Trutanich's ignorance of a state law that prohibited Baca from endorsing Trutanich in uniform. But even if Baca is willing to forgive and forget Trutanich's stupidity, Baca has already endorsed City Attorney candidate Mike Feuer and has agreed to serve as his Campaign Co-Chair, so it's unlikely (but not unheard of) that Baca will try to dance at both parties."
Feuer's campaign is being guided by John Shallman, who ran Trutanich's ill-fated bid for district attorney. The strategist for Smith is John Thomas, who was at the reins in Trutanich's 2009 ride to the city attorney's office, and is presently running the campaigns of Deputy District Attorney Alan Jackson, in a run-off for DA, and Kevin James, a former federal prosecutor who is seeking the office of Los Angeles mayor.
Berger remarks:
"The reality for Trutanich is that he is in something of a Catch 22 situation when it comes to campaign consultants. Few will want to be associated with a doomed campaign of a proven liar, and those who do, will only take on the job for all the cash they can squeeze out of Trutanich. Which takes us back to that other thorny little problem Trutanich has (or hasn't) about fundraising. It will cost him a lot of cash to hire a top line consultant, assuming he can find one who is willing to risk damaging their reputation by association with him. At the moment, Trutanich doesn't have any cash for his City Attorney campaign, and may have debts to retire from his failed DA campaign."
•Attorney John Birke is facing an eviction from his Woodland Hills home—and is seeking publicity in connection with it. He contends that it is in retaliation for his efforts to create a smoke-free environment in the apartment community for his asthmatic daughter.
Birke, who works in the Westwood law office of Michael R. Sohigian, is being represented by himself and Sohigian (son of Los Angeles Superior Court Judge Ronald Sohigian).
A press release, issued by Birke on Friday, bears this headline:
"CAN NONSMOKING RENTERS DEFEND THEMSELVES AGAINST INCONSIDERATE SMOKERS? THE WORLD'S BIGGEST LANDLORD SAYS NO—AND IF YOU TRY, WE'LL KICK YOU OUT!"
Here's a portion:
On July 18, 2012, at 10:30 a.m. in the courtroom of Van Nuys Superior Court Judge Elizabeth A. Lippit, trial will begin in the matter of Oakwood Woodland Hills Lessee, LLC v. John Birke and Caryl Birke, Case No. 11B05489.
This is an unlawful detainer (eviction) lawsuit in which Oakwood, the world's largest provider of rental housing, is seeking to evict Los Angeles attorney John Birke, his 64 year old wife Caryl, who is an asthmatic and breast cancer survivor, and their ELEVEN year old daughter Melinda, who is also asthmatic. The Birkes have lived at the Oakwood apartments in Woodland Hills for Melinda's entire life. In January 2009, Melinda became the first tenant in the country to be allowed to go forward with a lawsuit against her landlord (Oakwood) for exposing her to secondhand smoke in the outdoor common areas of the complex against her will.
In the eviction action, Oakwood asserts that John Birke committed "illegal or nuisance activity" against smokers who drove Melinda away from the Oakwood's swimming pool, by spraying water on them and taking their pictures without their consent. The smokers, Vered Nissan, Rotem Weingarten, and Nicole "Lady" Anderson, allege John Birke harassed and assaulted them because they were smoking. Another tenant. Karen Moynier, alleges Birke's efforts to photograph her sons—who were minors at the time—as they smoked at the Oakwood pool last summer in front of security guard Alex Higareda.
For the past ten years, Oakwood has refused every request by the Birkes and several other tenants to set up a smoking area on its 20 acre complex away from children, who are among the 1,500-1,600 of Oakwood's 1,800 or so residents that do not smoke. Oakwood has refused and instead, through its high powered attorneys at Kinsella Weitzman Iser Kump & Aldisert in Santa Monica, litigated against the Birkes for the past six years, even after the California Air Resources Board declared in January 2006 that outdoor secondhand smoke is a "Toxic Air Contaminant" and the United States Surgeon General in June 2006 found "there is no safe level of exposure to secondhand smoke," and at least 12 California cities have declared outdoor secondhand smoke a public nuisance.
David Williamson and Chris Evans of Kimball Tirey & St. John are the attorneys for Oakwood. Williamson was reported to be out of his office on Friday and Evans did not respond to a request for a comment.
In 2009, Div. Seven of this district's Court of Appeal reinstated an action Birke brought on behalf of his daughter against Oakwood. Her action—for nuisance and for violations of Americans with Disabilities Act) and Fair Employment and Housing Act—had been dismissed by Los Angeles Superior Court Judge Richard B. Wolfe (since deceased).
A trial on the merits took place before Judge Louis M. Meisinger, who issued his decision in Oakwood's favor on June 24, 2011. That decision is on appeal and is before Div. Seven.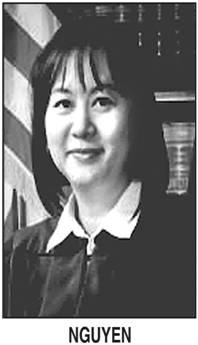 •Jacqueline H. Nguyen, who assumed office May 14 as a judge of the Ninth Circuit U.S. Court of Appeals, will be honored at a reception on Thursday.
She previously served on the U.S. District Court for the Central District of California since 2009.
The event will take place from 6:30–8:30 p.m. at the Los Angeles Athletic Club, 431 W. 7th Street, downtown Los Angeles. The cost to attend is $10 for members of sponsoring organizations, and $20 for others.
It is being staged by the National Conference of Vietnamese American Attorneys and the Asian Pacific American Bar Association of Los Angeles County, and co-sponsored Asian Pacific American Women Lawyers Association, the Japanese American Bar Association, Korean American Bar Association, Philippine American Bar Association, South Asian Bar Association, Southern California Chinese Lawyers Association, Vietnamese American Bar Association of Southern California, and the Vietnamese American Bar Association of Northern California.
Reservations are due today, and can be made by e-mailing by rsvp@ncvaa.org or telephoning Tita Nguyen at (213) 897-2060.
•The Labor & Employment Section of the Pasadena Bar Assn. will convene tomorrow at noon to hear about the California Supreme Court's April 12 decision in Brinker Restaurant Corporation v. Superior Court in which it was held that employers only need to permit meal breaks for employees and don't have to make sure that the breaks are actually taken.
A meeting announcement poses the questions: "Is it really the 'victory for employers' that some in the media proclaimed? Or does it raise as many questions as it answers?'
Panelists will be Steve Pearl, a full-time neutral; Randy Renick, a partner of the Pasadena law firm of Hadsell Stormer Keeny Richardson & Renick; and Tom Kaufman, a partner of Sheppard Mullin. The moderator will be Jack Schaedel, a founding partner of Hernandez, Schaedel & Associates, and chairman and founder of the section.
The cost for the lunch and discussion is $40 for judges, students, and summer associates; $45 for association members; and $50 for others,
There will be one hour of MCLE credit,
Reservations, which are required, are obtainable by e-mailing labor@hernlaw.com or telephoning (626) 440-0022.
Copyright 2012, Metropolitan News Company