Thursday, June 28, 2012
Page 11
SNIPPETS (Column)
Chief Judge of Texas Court of Criminal Appeals Faces Spirited Challenge
A lively election contest looms in Texas where the top judge of the state's highest court in the realm of criminal cases is being challenged.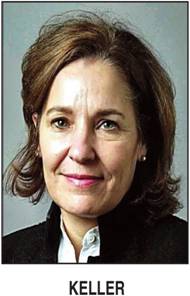 A campaign e-mail signed by 22 lawyers says, in part:
"We are all former presidents of the Texas Criminal Defense Lawyers Association. Some of us are Democrats. Some of us are Republicans. Some of us are Independents. We are united in our strong support for Keith Hampton's bid to unseat Judge Sharon Keller as Presiding Judge of the Court of Criminal Appeals….
"As you know, Judge Sharon Keller brought national embarrassment to the Texas judiciary and legal system when she so famously shut the courthouse doors at 5 p.m. to a death-sentenced inmate whose lawyers had meritorious claims which would have saved his life. Her quip reverberated throughout the state: 'We close at 5,' she said.
"For this supreme act of judicial recklessness, she was condemned by the State Commission on Judicial Conduct. She was also fined a record $100,000 by the Texas Ethics Commission for concealing her millions in assets when she asked taxpayers to pay for her defense. For a sitting judge, the record can't get worse. It is time for her to go."
Keller's campaign website contains sketchy biographical matter and does not allude to the controversy.
Judicial elections in Texas are partisan. Keller is the Republican nominee and Hampton is the Democratic Party's candidate.
On his website, Hampton says of the judge he is challenging:
"Republicans are embarrassed by her. I spoke with a well respected political science professor, and asked him "Can a Democrat win in 2012?" He responded, 'A Democrat can win statewide in 2012 if you have three things: 1. It must be a presidential election year; 2. It must be a judicial race; and 3. Your opponent is just really, really bad.'
"We have all three."
•Dissension has been sparked by a German court ruling that circumcision is a form of bodily harm.

Reuters reported yesterday:
"Jewish and Muslim groups protested on Wednesday after a German court banned the circumcision of young boys for religious reasons in the first ruling of its kind in the country.
"The court in the western city of Cologne handed down the decision on Tuesday in the case of a doctor prosecuted for circumcising a four-year-old Muslim boy who had to be treated two days later for post-operative bleeding.
"It ruled involuntary religious circumcision should be made illegal because it could inflict serious bodily harm on people who had not consented to it."

As reported by the Daily Mail in London:
"A decision to outlaw circumcision on young boys on the grounds that it causes 'illegal bodily harm' has sparked fury among Jewish and Islamic groups in Germany.
The court decision to make child circumcision a crime, made in the city of Cologne, has incurred the wrath of the Central Council of Jews in Germany, a body politicians and the judiciary try to placate as often as possible given the history of the Holocaust.
"Although a local ruling, it may set a legal precedent that courts in the other 15 states of Germany would be obliged to follow.
"Therefore the fight to reverse it could, ultimately, lead all the way to the Federal Constitutional Court, Germany's highest.
"The irony of Jews and Muslims being brought together over a religious issue has not been lost on observers. But while both religions decry it, mainstream German citizens are in accord with the court ruling and believe it should be halted.
"One survey last year showed 60 percent of Germans equating circumcision with genital mutilation, a comparison, however, that the Cologne court refused to draw."

The Times of Israel carried this account:
"Parents having their sons circumcised can be brought before a judge for causing bodily injury, even if they did so for religious reasons, a regional court in Germany has ruled.
"The recent landmark decision will likely draw the condemnation of Jewish and Muslim communities, although official representatives have refrained from commenting so far, saying they first want to study the reasons given for the judgment.
"Following the judgment by the District Court of Cologne, neither the rights of parents nor the constitutional freedom of religion can justify interventions such as circumcision, according to Financial Times Deutschland, which first reported the story.
"Jewish community officials in Cologne said they have yet to study the court decision but have already contacted the Central Council of Jews in Germany. 'The Central Council will try immediately to receive a written version of the judgment. Only then will it be possible to comment,' a statement read. 'We understand the disquiet and we noticed the numerous phone calls and emails of our community members. We will stay involved and keep you updated.' "
•Three bench officers of the Los Angeles Superior Court will be shifted around on Monday, with some others playing musical chairs later in the month.
On Monday, Judge Valerie Salkin will move from Department 70 in the Metropolitan Courthouse to Department 65, while Commissioner Robert M. Kawahara will depart that courthouse and go to Department 55 of the Clara Shortridge Foltz Criminal Justice Center.
Judge Sally L. Meloch, who presided in the courtroom where Salkin is going, will be taking over Department 3 in the Long Beach Courthouse.
On Tuesday, Commissioner Kenneth H. Taylor will find himself in Department 60 of the Metropolitan Courthouse, where Kawahara sat, moving from Department 61.
Also on Tuesday, two rookie judges will report for training. Judge Peter A. Hernandez will be in Department 81 in the Central Arraignment Court, with his permanent assignment there starting July 24. Judge Bruce G. Iwasaki will begin his orientation in presiding over family law cases and will embark July 9 on his assignment in Department 63 of the Stanley Mosk Courthouse.
 Judge Michele E. Flurer, on July 9, will move from Department 88A in the San Pedro Courthouse to Department 85, and Commissioner Douglas M. Haigh, now in Long Beach, will assume duties in Flurer's former courtroom.
July 23 will be a day of changes in Compton. Judge John J. Lonergan will take over Department O; Department 4, where he is now, is where newly appointed Judge Halim Dhanidina will be sent; Judge Kevin Brown will move to Department TR from Department 2; the courtroom Brown is vacating will go to newly appointed Judge H. Clay Jacke II.
On July 24, Judge Yolanda Orozco will begin serving in Department 73 of the Metropolitan Courthouse, leaving behind her assignment in the Central Arraignment Court.
Copyright 2012, Metropolitan News Company