Tuesday, June 26, 2012
Page 11
SNIPPETS (Column)
Baretta, Bartenetti to Be Feted by Italian American Lawyers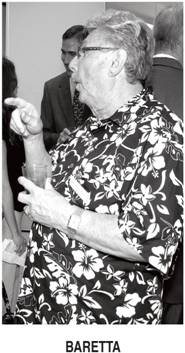 Edward C. Baretta and Philip W. Bartenetti will be inducted into the Italian American Lawyers Assn. "Hall of Fame" on July 18, IALA President Stephen A. Mesi announced in an e-mail to members on Sunday.
Mesi, a deputy attorney general, wrote:
"IALA proudly invites you to a special evening honoring two of our most illustrious members."
Baretta has, for many years, served as a member of the IALA Board of Governors and been mentor to the group's presidents. Admitted to practice in 1961, he is now retired from practice.
He specialized in family law and probate as a long-time practitioner in Pasadena.
Baretta seldom misses the group's monthly general membership meetings or its board meetings, which he attends, typically, in colorful shirts and coatless.
He is presently the president of the Sunland Heights Condominium Association.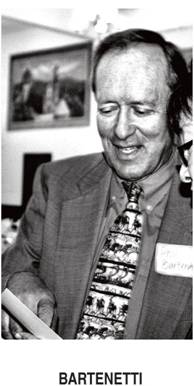 Bartenetti, an attorney since 1971, is a principal in Clark & Trevithick. He handles general business litigation with specialties in unfair competition, securities arbitration, corporate dissolution and shareholder disputes.
He is a past president of the IALA and is now in his second term as president of the Italy America Chamber of Commerce West.
The lawyer is past-president of the Federated Italo-Americans of Southern California, and was highly involved in preserving Italian Hall in El Pueblo. He is a former commissioner on the El Pueblo de Los Angeles Historical Monument Authority Commission, and was president from 1995-2000.
Bartenetti was president of the Los Angeles City Human Relations Commission from 2001-2007.
The meeting will be held at Casa Italiana, 1051 North Broadway, one block north of Chinatown. The cocktail hour begins at 6 p.m., followed by dinner at 7 p.m.
The cost to attend, if reservations are made at least 48 hours in advance, is $35 for members and retired judges and $45 for non-members, with an additional $5 charged in the absence of timely reservations. Students are charged $20, and sitting judges don't have to pay.
Reservations are available by e-mailing iala07@ yahoo.com or telephoning (213) 891-4845, and indicating an entrée choice of chicken, sausage and peppers, or vegetarian lasagna.
•Deputy District Attorney Alan Jackson has picked up yet another law enforcement endorsement in his campaign for district attorney.
The latest one, announced yesterday, is the Montebello Police Officers Association.
Sgt. Julio Calleros spoke for the group in saying:
"Alan Jackson is a battle-tested prosecutor and a true partner of law enforcement. We are confident that as District Attorney, Alan will continue to promote innovative approaches to stop crime before it starts and keep our streets safe in the face of grave challenges to public safety."
Jackson declared, in a press release:
"As DA it is essential to partner with members of law enforcement throughout the County. I am proud to be leading the charge with the most police support of any candidate. Together we will make LA County a safer place for our families and children."
Other law enforcement groups endorsing Jackson are the police officers' associations in Alhambra, Arcadia, Azusa, Baldwin Park, Claremont (Police Managers' Association and the Police Officers' Association), El Monte, El Segundo, Glendora, Inglewood, Irwindale, La Verne, Montebello, Pasadena, Pomona, San Gabriel, Torrance, and West Covina (Police Managers' Association and Police Officers' Association), as well as the West Covina Fire Association.
Jackson and his run-off opponent, Chief Deputy District Attorney Jackie Lacey, were jointly endorsed in the primary by the Peace Officers Research Association of California (PORAC) and the Los Angeles Airport Police Officers' Association (LAAPOA).
Lacey has the endorsement of the California Robbery Investigators Association.
•John Eastman, a professor at the Chapman University, and a former dean there, will be the speaker at the Aug. 11 California Republican Lawyers meeting at the Burbank Marriott, GOP national committeeman Shawn Steel announced in an e-mail yesterday.
The meeting, to be held from 10 a.m. to noon, will be held in connection with the semi-annual convention of the California Republican Party, Steel said.
He noted:
"Keith Carlson was just inducted to serve as CRLA's President. He will chair the upcoming meeting and promises to offer a bold agenda for CRLA."
Carlson is founding partner of the Newport Beach law firm of Carlson & Jayakumar and is treasurer of the state Republican Party.
Steel also wrote:
"Finally we may be able to feature our newest elected Judge, Gary Kreep of San Diego. Congratulations to Gary for the excellent work he performed."
In a race marked by candidates with unusual names, Kreep—who has been vocal in insisting that Barack Obama was not born in the United States and is therefore constitutionally ineligible to hold the presidency—narrowly defeated a deputy district attorney, Garland Peed, in the June 5 primary.
Copyright 2012, Metropolitan News Company