Friday, June 15, 2012
Page 11
SNIPPETS (Column)
Paul Boland Exhibit Unveiled at Children's Courthouse Ceremony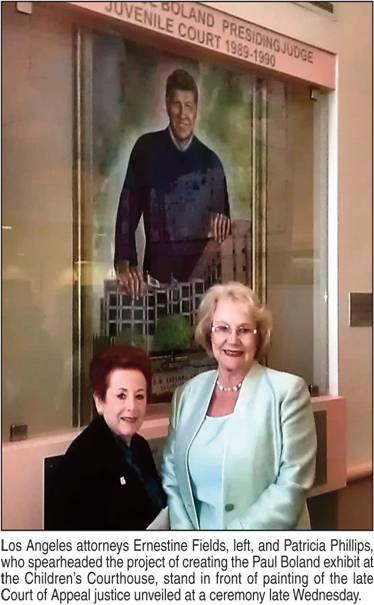 An exhibit honoring Court of Appeal Justice Paul Boland, who died in 2007, was unveiled in a ceremony late Wednesday afternoon at the Children's Courthouse in Monterey Park, the centerpiece being a huge painting of Boland towering over the building.
Boland had served as Los Angeles Juvenile Court presiding judge in 1998 and 1999. The current presiding judge, Michael Nash, told those assembled that Boland conceived of and formulated plans for the innovative courthouse, designed to minimize intimidation for children attending proceedings.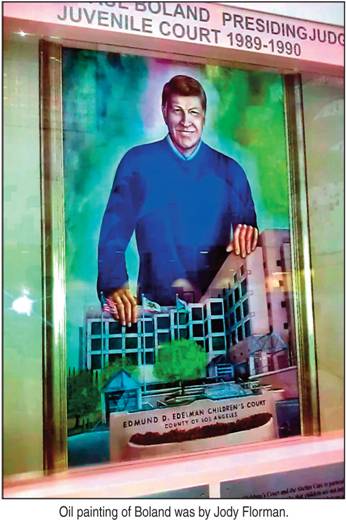 Nash said that even though Boland—who went on to the Court of Appeal in 2001—never sat in the courthouse, he senses the late jurist's presence there.
Emceeing the ceremony was Patricia Phillips of Phillips Jessner LLP, a former Los Angeles County Bar Assn. president and founding chair of LACBA's Senior Lawyers Section.
That section sponsored the project in conjunction with Comfort for Court Kids Inc., which provides a free teddy bear to each child coming to the courthouse. Its president, L. Ernestine Fields, and Phillips spearheaded the effort to install the exhibit.
Phillips said it was Nash who came up with the idea.
U.S. District Judge Margaret Morrow, Boland's widow, was present, with their son, Patrick Boland. Morrow said that many had suggested various memorials to Boland, but the only one she and the son gave approval to was the one at the Children's Courthouse.
She said her late husband, himself, would not have approved because he disliked tributes to himself.
Awards were given to financial sponsors, who also were listed on the program. Phillips mentioned that she had promised them that their names would be etched on a plaque on the wall, but it emerged that doing so would contravene a court policy against giving recognition to attorney donors.
Several of those who were colleagues of Boland were among those in attendance, including Court of Appeal Presiding Justices Roger Boren, Norman Epstein and Dennis Perluss, and a Los Angeles Superior Court presiding judge under whom he served, Richard P. Byrne (now retired). The current Superior Court presiding judge Lee Edmon was present as was her husband, Richard Burdge, who was sworn in last night as Los Angeles County Bar Assn. president.
•Former Los Angeles County District Attorney Gil Garcetti is involving himself in fundraising for the mayoral bid of his son, Los Angeles City Council member Eric Garcetti.
In a campaign e-mail, dispatched, the former DA says:
"As Father's Day approaches, I've been thinking about how Eric has always made me incredibly proud—on the Little League field, in the classroom and as a public servant. I could go on and on about his past accomplishments, but I think it's more important to talk about what he wants to do next: My son is running for Mayor of Los Angeles to move our city in a new direction.
"Eric is seeking to leverage new ideas to push L.A. to compete in the new economy. To ensure every L.A. neighborhood is fertile ground for opportunity. And to make City Hall a place that works for the people.
"But having the best ideas isn't enough to win this race. Eric's campaign must have the resources necessary to communicate those ideas to the people of Los Angeles. We need the support of people like you—Angelenos who care about our city and who take action to make a difference."
The elder Garcetti asks that recipients click on a link to make a financial contribution.
•William J. Becker Jr., a West Los Angeles attorney, yesterday sent out this press release:
The Santa Monica City Council Tuesday night ended a nearly 60-year-old Christmas tradition of allowing Nativity displays in Palisades Park overlooking the Pacific Ocean. Responding to a clamor of opposition from atheists concerning the religious displays, the council voted unanimously 5-0 (with two members absent) to ban all displays from the park.
"The City has abdicated its duty to protect the First Amendment's guarantees of free speech and the free exercise of religion within a traditional public forum—a city park," said William J. Becker Jr., a First Amendment attorney and lead counsel for the Santa Monica Nativity Scenes Committee, a group that has been seeking to preserve the Nativity Scenes tradition. "The city council members surrendered to the angry mob, and in the process sent the world a message that religious freedom is not worth protecting in Santa Monica."
Last year, the city instituted a controversial lottery system. That system led to disputes over the fairness of the new rules when lottery-winning atheist groups displayed signs and banners attacking Christian beliefs and left a full block within the park empty.
Last week, attorneys for the Nativity Scenes group sent a letter to the city council urging it to delay action on the proposed ban. In spite of that letter and throngs of local residents who appeared in support of the holiday tradition, City Attorney Marsha Moutrie stepped up her support for the ban on unattended displays.
"The city lacked the will to come up with a creative solution to the problem of accommodating the anti-religion agitators, and caved in to their demands to remove a universally cherished symbol of the Christmas season from its traditional place in Palisades Park," Becker said. "This act represents an erosion rather than an expansion of First Amendment vitality in America."
The Nativity Scenes Committee is studying its options, but has not yet determined whether it will file a lawsuit. Becker said the Committee will make a decision sometime soon.
•The Beverly Hills/Century City Legal Secretaries Association will hear a talk June 21 by Georg Finder, a credit damage measurement specialist.
He will discuss credit reporting violations and credit reputation damage valuations.
The meeting will take place at the Crown Plaza Hotel, 1150 S. Beverly Drive, in Los Angeles. Those attending will gather at 6:30 p.m., with the dinner at 7 p.m.
Reservations, which are required, can be made by e-mailing Gina Schemerhorn at Gscemerhorn@sheppardmullin.com or telephoning her at (310) 228-3700. The cost is $35.
Copyright 2012, Metropolitan News Company