Friday, June 1, 2012
Page 15
SNIPPETS (Column)
Berger Acknowledges on TV News Show That He's Blogger 'Joe Friday'
Los Angeles Deputy District Attorney David Berger has publicly acknowledged  that he has been pseudonymously blogging under the moniker of "Joe Friday" and presides over the anti-Carmen Trutanich website "Los Angeles Dragnet."
He bared his identity—a secret that had not been closely guarded—on Fox 11 Wednesday night, in an interview with anchor Jeff Michael.
Berger was a candidate for Los Angeles city attorney in 2009. Losing in the primary, with less than 14 percent of the vote, he became a supporter of Trutanich in the run-off with then City Council member Jack Weiss.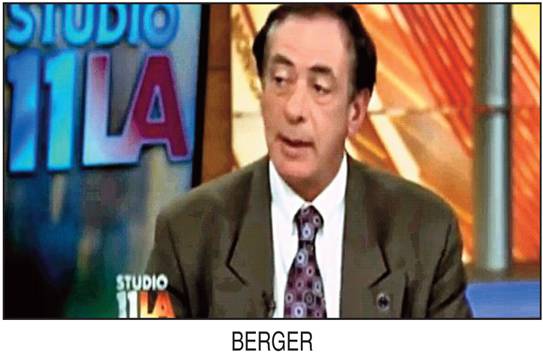 When Trutanich became city attorney, Berger became a special assistant to him, on loan from the District Attorney's Office. He abruptly left for unspecified reasons, and is now an outspoken critic of Trutanich.
Michael asked Berger (which rhymes with "merger") if he is merely a "disgruntled employee."
He responded that many have become disenchanted with Trutanich, including District Attorney Steve Cooley.
"Is he disgruntled?" Berger asked rhetorically. "No."
Why does he oppose Trutanich, Michael queried.
"Because the man is a liar," Berger answered. There's no two ways about it.
"Everything he's done from the moment he started his campaign, it's been untruthful.
"The man hasn't got it in him to tell the truth about anything—even the number of people who watch his campaign video. He has to buy hits on that to say he has three-quarters of a million."
Berger recounted that Trutanich had pledged, in running for city attorney, that he would serve two terms (if reelected) "and not use the office as a stepping stone." He said Trutanich has justified "going back on his word" on the basis of Cooley having decided not to run for a fourth term, remarking:
"That is just an explanation. It is not an excuse."
 He credited Trutanich with being "an extremely good con man" and "the consummate politician."
Berger termed Trutanich account of having been shot at by gang members while a deputy district attorney "BS."
•Mario Trujillo, a deputy district attorney who bowed out of the DA's race and shortly afterward endorsed Los Angeles City Attorney Carmen Trutanich for the post, yesterday said in a  e-mail to his former campaign supporters:
" 'The Most Suitable Candidate for the Latino Community'
"Dear Friends,
 "That's what La Opinión said about my friend, Los Angeles City Prosecutor Carmen Trutanich, when they endorsed him.
 "Since I gave Carmen Trutanich my enthusiastic and wholehearted endorsement, countless other Latino leaders have joined me, including California Assembly Speaker John A. Peréz, California Governor Jerry Brown, and the Los Angeles County Federation of Labor, AFL-CIO, and many more.

"We're all supporting Carmen Trutanich because he'll bring a fresh approach to the District Attorney's office—one that focuses on crime prevention, education, alternative sentencing, and after-school programs that keep kids from joining gangs.
 "In addition to the endorsement of La Opinión, Carmen Trutanich has also won valuable endorsements from the Latin American Law Association (La Ley), the Mexican American Bar Association (MABA) PAC, and the National Nonpartisan Latino Peace Officers Association for Law & Order (N.N.L.P.O.A.)."
Trutanich has garnered Latino support in the wake of his siding with Los Angeles Chief of Police Charlie Beck's policy against impounding vehicles of unlicensed drivers when the licensed owner shows up to claim the vehicle.
The bilingual Eastern Group Newspapers have also endorsed Trutanich, while the Los Angeles Newspaper Group's Impacto is jointly backing Deputy District Attorney Alan Jackson and Chief Deputy Jackie Lacey, and the Metropolitan News Company's Nuestra Cominidad is urging the election of Jackson.
Trujillo's e-mail has this postscript: "If you're interested in joining me by attending a fundraiser for Carmen Trutanich, this Friday, June 1st from 5:30PM- 7:30PM, please contact Christina Kegeyan at (310) 597-0830."
•The San Fernando Valley Bar Assn. is offering members a free lunch and a talk on "Building Your Practice Via the Web."
The event is scheduled for Thursday and will take place at the SFVBA offices at 21250 Califa St. Suite 113, Woodland Hills.
"Dave Hendricks is back again with critical tips and suggestions on how to market yourself and your firm via the Web," the meeting announcement says.
Hendricks is an Internet marketing consultant.
Reservations can be made by telephoning Linda at (818) 227-0490, ext. 105, or e-mailing  events@sfvba.org.
Copyright 2012, Metropolitan News Company