Monday, October 22, 2012
Page 1
Superior Court Judge Sheldon to Retire Next Month
By a MetNews Staff Writer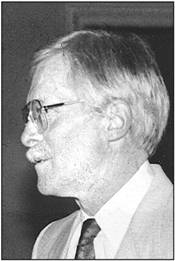 CHARLES D. SHELDON
Los Angeles Superior Court Judge
Los Angeles Superior Court Judge Charles D. Sheldon will retire next month.
Sheldon, 80, sat for the last time on Friday. The judge, who has maintained the same Long Beach chambers for 29 years, officially ends his career on Nov. 21.
His calendar has been transferred to Judge Tomson T. Ong until further notice, the court said.
Sheldon, who was appointed to the court by then-Gov. George Deukmejian in 1983, told the MetNews that he had been pondering retirement "in the back of my mind" for several years, but had continued to put it off because "I love this job."
Suddenly, however, "a flash comes into my brain a couple of weeks ago," telling him the time had come, he said.
The jurist said he does not intend to come back on assignment or pursue other plans, except for a long-postponed effort to write a book. The tome would be either a true-crime story or a novel based on a case he tried as a deputy district attorney back in the 1970s, he explained, adding that he only recently came across his notes on the matter.
The victims were a father and son who owned a gun store in Long Beach, Sheldon explained, who were killed by robbers using guns they took from the store. The two perpetrators ran off with dozens of guns, some of which were recovered from a dumpster in Torrance.
The case, he explained, wasn't solved until more than two years later when a woman who knew the sister of one of the defendants came forward and incriminated them. The defendants were convicted, during a period in which there was no death penalty in California, and were sentenced to 25 years to life in prison.
A native of New York state, Sheldon graduated from Williams College in Massachusetts and from the University of Virginia School of Law, then served as a legal officer in the U.S. Navy from 1957 to 1960. He then worked as an insurance adjuster in Long Beach—which he had first visited while in the Navy—while studying for the bar exam, and was admitted in January 1961.
He joined the District Attorney's Office, where he remained until his appointment to the bench, except for a 10-month period in 1963-64 when he worked for a personal injury attorney. He served a couple of stints as head deputy in Long Beach, sandwiched around a time as head of the then-new Compton office, and also spent time in the Organized Crime Division downtown.
He got to try a lot many interesting cases, he recalled Friday, under the mentorship of Lynn "Buck" Compton, who became chief deputy district attorney in 1964. Compton, who died last year and was inducted Friday onto the Criminal Justice Wall of Fame at the Foltz Criminal Justice Center, went on to serve on this district's Court of Appeal.
Sheldon also served on the Long Beach Bar Association Board of Governors, the Los Angeles County Delinquency Planning Committee, and Los Angeles County Criminal Justice Planning Board. .
As a judge, he served on several court committees, including two years on the Executive Committee in the 1980s, and was the South District supervising judge in 1987 and 1988.
Copyright 2012, Metropolitan News Company