Tuesday, June 5, 2012
Page 1
Lacey Disputes Allegations by Strategist For Rival DA Candidate Trutanich
By a MetNews Staff Writer
Los Angeles Chief Deputy District Attorney Jackie Lacey, a candidate for district attorney in today's election, yesterday labeled as "totally false" the allegation by the political strategist for Los Angeles City Attorney Carmen Trutanich, a rival candidate, that she engineered an appearance by a critic of Trutanich on a television news broadcast.
Deputy District Attorney David Berger—who maintains the anti-Trutanich Los Angeles Dragnet website—appeared on Fox 11 News on Wednesday, interviewed by anchor Jeff Michael. A portion of his remarks were devoted to deriding Trutanich for claiming in television ads that he was shot at by gang members during an investigation 27 years ago as a deputy district attorney when there is no evidence that such a shooting took place.
The following night, Trutanich's political strategist, John Shallman, appeared with Michael. After insisting that bullets were, indeed, fired by gang members, this dialogue took place:
"My point is: It's a swift boat attack on Carmen Trutanich propagated by his chief opponent, the chief deputy district attorney in Los Angeles who's just recently—.
"MICHAEL: So, Wait a minute. Let me make sure, You're now accusing Jackie Lacey of this thing?
"SHALLMAN: I'm accusing Jackie Lacey, the chief deputy district attorney, of putting this guy on the air who you had here yesterday for seven minutes, this guy—
"MICHAEL: David Berger.
"SHALLMAN: David Berger—
"MICHAEL: It wasn't seven minutes. It was four-and-a-half.
"SHALLMAN: Who's a deputy district attorney. His boss is Jackie Lacey. He was an opponent of Carmen Trutanich. He ran against Carmen Trutanich."
Competing Candidate
Berger was a candidate for Los Angeles city attorney in 2009, losing in the primary but supporting Trutanich in a run-off with then-City Council member Jack Weiss. On Sunday, he posted a photograph on the Dragnet website reflecting his presence at the Trutanich victory celebration.
Berger later served as a special assistant to Trutanich, on loan from the District Attorney's Office. Contacted by the MetNews, Berger declined to reveal his reasons for abruptly leaving his post with Trutanich.
Also on Fox 11 News. Shallman insisted that Lacey "was just exposed in the Los Angeles Times of having lied under oath, and you don't have her here asking why she lied under oath, in as case where she was cracking down on unions in the DA's Office."
Denies Allegation
As to when the Times exposed her of lying under oath, she said yesterday:
"Never."
A May 29 editorial in the Times alluded to an instance where, before the Los Angeles County Employee Relations Commission, Lacey corrected her earlier testimony. The editorial says the change in recollection "tempers our enthusiasm for Lacey, not because we believe she lied under oath—we don't—but because it hints at a certain sloppiness that seems out of character."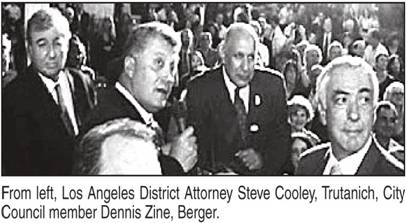 Trutanich has speculated that his personnel file might corroborate his account of a shooting, and on May 11 wrote to state Attorney General Kamala Harris to say that the recent statement by the Los Angeles District Office that that file no longer exists was "shocking." He asked for an investigation into "suspicious political activity taking place in the Los Angeles County District Attorney's office" in connection with the disappearance of the file.
Shallman denied that Trutanich has known since 2008 that the file was missing.
Research Firm's Report
Michael recited that Trutanich hired a research firm to look into his background and the firm's report indicated that personnel file did not exist.
Shallman maintained: "Mr. Trutanich was not aware of the fact that his personnel files were missing," adding:
"Actually, I wasn't aware of it."
He explained:
"When someone does research, they tell you information that they find. They don't tell you information that they don't find."
In Sunday's posting, Berger included a page from the report which included:
"We have requested all releasable portions of Trutanich's personnel file from the Los Angeles County District Attorney's office, along with a listing of the cases Trutanich handled. We have been informed through a written response that the requested information is no longer maintained by the Los Angeles County District Attorney's office. We were informed that Trutanich served as an Assistant District Attorney from April 27, 1981 until he resigned from his position as a Deputy District Attorney III."
Other candidates for district attorney in today's primary are Deputy District Attorneys Alan Jackson, Danette Meyers, Bobby Grace, and John Breault III.
Copyright 2012, Metropolitan News Company