Tuesday, July 17, 2012
Page 1
S.C. Throws Out Death Sentence in L.A. Murders
Unanimous Ruling Says Potential Juror Wrongly Removed, Per Se Reversal Required
By KENNETH OFGANG, Staff Writer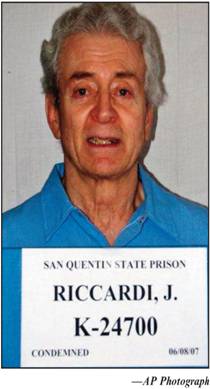 The death sentence imposed for a 1983 Los Angeles double-murder was thrown out yesterday by a unanimous state Supreme Court.
In an opinion by Chief Justice Tani Cantil-Sakauye, the court said Los Angeles Superior Court Judge David Perez, since retired, committed per se reversible error when he disqualified a potential juror. The woman should not have been disqualified solely on the basis of questionnaire responses that were internally inconsistent with respect to her views of the death penalty, the chief justice said.
John Riccardi was convicted of killing Connie Navarro, his ex-girlfriend, and Navarro's best friend Susan Jory, at Navarro's home. Prosecutors presented evidence that Riccardi had been stalking Navarro since their final breakup.
Riccardi left town shortly after the killings, and had surgery that shortened his nose, and also had a mole removed. He was apprehended eight years later after the story of the crime was dramatized by the television program "America's Most Wanted."
His arrest, a result of a tip by a neighbor who saw the program, occurred in Houston, Texas to which he had relocated. He supported himself there primarily through burglaries, he later admitted.
Among the witnesses for the prosecution was Navarro's son. David "Dave" Navarro was 15 at the time of the crime.
He testified that he was supposed to stay at his mother's house that night, but went over to his father's instead. He also related an incident prior to his mother's death, saying that Riccardi entered her home uninvited when she was away and he was home sick, instead of at school.
Handcuff Incident
Riccardi, he testified, came in his bathroom and said he was going to kill himself because Connie Navarro no longer wanted to be around him, then produced a handgun, pointed it at the teenager, then handcuffed him. When Connie Navarro returned, the two quarreled, and Riccardi then returned to the bathroom, released him from the handcuffs, and secured a promise not to tell his mother about the incident.
Dave Navarro, now 45, went on to become a prominent rock guitarist, primarily with the groups Jane's Addiction and Red Hot Chili Peppers. He testified that he felt guilty about his mother's death, because he never told her about the bathroom incident, and blamed her murder for his subsequent depression and involvement with drugs, including heroin.
Riccardi testified in his own defense, denying any involvement in the killings, although he acknowledged his obsession with trying to reconcile. He claimed he was home the night of the murders, left the next day on a scheduled trip to New York, learned of the killings a few days later, and did not return to Los Angeles because he thought it was likely he would be accused.
Jurors found him guilty of two first degree murders, with special circumstances of burglary and multiple-murder. Perez imposed the death sentence, but the chief justice wrote yesterday that Gray v. Mississippi (1987) 481 U.S. 648, compelled reversal. The case said that reversal of the death penalty is automatic when potential jurors are improperly dismissed because of their written answers to questions about their views on capital punishment.
Problem Questionnaire
In this instance, the judge excused four potential jurors solely on the basis of their answers to questionnaires, and Cantil-Sakauye said that in three of those cases, the judge did not err because the responses unambiguously showed that the venire members could not put aside their objections to the death penalty and be fair and impartial.
But the fourth person, identified only by the initials "N.K.", wrote on the questionnaire that she supported California's reinstatement of the death penalty and stated that it is not used enough, then later in the questionnaire, gave answers that suggested she opposed capital punishment.
"I'm afraid I could not feel right in imposing the death penalty on someone even though I feel it is nessasary (sic) under some circumstances," N.K. wrote. Cantil-Sakauye wrote that the trial court judge should have questioned her more instead of dismissing her as he did.
The chief justice said the juror's conflicting answers meant either she "feared that actually being on a death jury would be difficult or uncomfortable, or she was advising the court that she could not impose a decision of death, even if the evidence warranted its application. From the questionnaire alone, we cannot possibly determine which scenario prompted her answers."
In a concurring opinion, joined by Justices Marvin Baxter, Ming Chin, and Carol Corrigan, the chief justice questioned the logic of the per se reversal rule of Green and said the Supreme Court might wish to reconsider it. Justice Goodwin H. Liu wrote his own concurrence, saying he saw no need to question the rule.
The case is People v. Riccardi, 12 S.O.S. 3471.
Copyright 2012, Metropolitan News Company