Thursday, January 19, 2012
Page 1
Ex-Gov. Gray Davis Praises Rally Audience For 'Speaking Up' for Court Funding
By SHERRI M. OKAMOTO, Staff Writer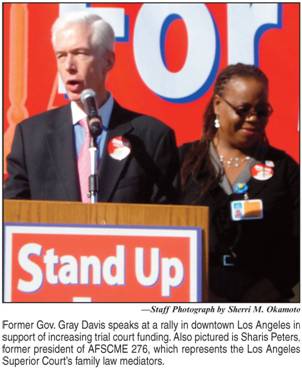 Former California Gov. Gray Davis yesterday called on the Legislature to increase funding for the judicial branch, saying the courts provide the best, and only, route to justice for the citizenry.
He stood before a crowd of a few hundred individuals gathered in downtown Los Angeles for a mid-day rally to support increased court funding and told them "by speaking up for the courts, you are speaking up for every citizen in society."
Davis insisted that "the only way you can get justice is in that courthouse," gesturing to the nearby Stanley Mosk Courthouse.
"My message to the Legislature," he said, is "keep the doors to the courthouse open," since "a citizen needs to be able to walk in."
Retired Supreme Court Justice Carlos Moreno took the podium after Davis, and queried:
"What greater symbol of injustice could there be, than if those courthouse doors were closed?"
He emphatically declared that "courts cannot stand by while cut after cut is made," warning the law wills cease to have meaning without a justice system to administer them.
State Bar President Jon Streeter also picked up on this theme, proclaiming:
"No courts, no justice, no freedom."
He explained that "we, as lawyers, stand as protectors for our clients," and their rights and liberties, but this job cannot be performed without a functioning judicial system. Accordingly, he said, "the threat to the courts is a threat to our profession."
'Clients Need the Courts'
Yesterday's event was sponsored by the Los Angeles County Bar Association, whose president, Eric Webber, advisement, iterating "our clients need the courts."
He contended that the "wheels of justice are grinding to a halt," and "California can't afford to let that happen."
The "dangers of a failing court system are hard to see until it's too late," Webber said, but "when courts don't do their work, there are costly consequences for everyone."
Webber noted that divorce cases, domestic violence matters, and child welfare cases are "taking years longer," than they should.
He predicted that frustration with the inability of the courts to resolve disputes due to their lack of resources and support staff could lead to people taking the law into their own hands and seeking "street justice."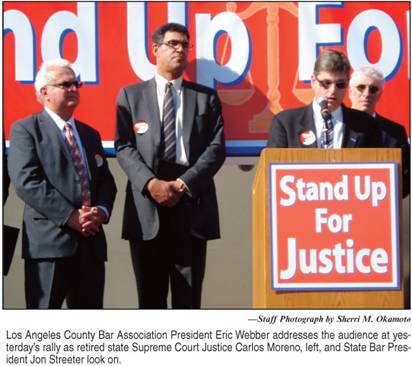 Thus, Webber concluded, without adequate funding for courts, there is "no justice, no jobs, no law, [and] no peace."
Los Angeles attorney Gary M. Paul, president of the American Association for Justice, also addressed the crowd and said he was there to "speak for the Seventh Amendment."
He contended that cutting funding to the trial courts is "taking away a right of all Americans, and that is access to justice."
'Unique Position'
Niall McCarthy, president of the Consumer Attorneys of California, remarked that "lawyers are in a unique position to see the impact of court closures on clients," and asked that attorneys, who "by nature fight for your clients, use that desire and drive to fight for our courts."
He called on every attorney to "join the fight to uphold the oath you took on the day you became a lawyer, to uphold the Constitution."
Bar Association of San Francisco President Kelly Dermody said she and about 10 members and officers flew to Los Angeles for yesterday's event to help raise awareness about the impacts of budge cuts.
Dermody said her organization has "realized through our courts, our clients and our services, that if we don't step forward and let people know [the lack of court funding] is a threat…to basic human services, no one else is going to do it."
The loss of funding this fiscal year has hit San Francisco hard. In July, the San Francisco Superior Court issued layoff notices to 40 percent of its staff, and announced plans to shutter 25 courtrooms indefinitely.
A $2.5 million loan of emergency funds from the Judicial Council in September enabled the court to reduce the number of layoffs from 177 to 75, and the number of courtrooms closed to 14.
Still, Dermody related that the public has had difficulty obtaining services at the court, with long lines at clerk windows created by the shortage of staff, and noted that "life-changing events…can happen purely though a lack of funding."
Copyright 2012, Metropolitan News Company