Tuesday, January 31, 2012
Page 1
Deukmejian Urges Legal Community to Agitate for Court Funding
By a MetNews Staff Writer
Concerns over the prospect of court operations being curtailed to the point of jeopardizing the attainment of justice were voiced by speakers during Friday night's Metropolitan News-Enterprise "Persons of the Year" dinner, with former Gov. George Deukmejian, one of the two honorees, calling for judges and lawyers to press for allocation of sufficient funding for the judicial branch of government.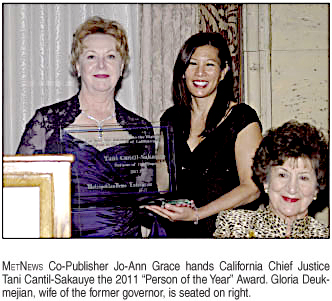 He told the assemblage of more than 200 persons that "it's imperative" that the judicial branch "have the resources to do its job."
The other honoree, California Chief Justice Tani Cantil-Sakauye, also noted that the budgetary situation "in the last four years" has been "bad" for the state court system.
Serious reflections on the current budgetary woes came during a program marked by levity and also entertainment—with the Los Angeles Lawyers Philharmonic performing, and the two honorees each conducting the playing of a selection.
Urges Activism
Deukmejian, who was attorney general of the state in 1979-83 and governor in 1983-91, told the audience, after accepting his award:
"There is a real concern that there are going to be some major reductions to the judicial system in California because of the state budget problems, and I want to urge everyone in this room to do your part to contact your elected representatives, your assemblyman, your senators, and if you know the governor, the governor, to urge them not to do that—not to cut, in a significant way, the resources that the public depends upon in order to receive justice throughout our excellent judicial system."
He added:
"It is an equal, third branch of government, and it should have the necessary resources to do its job because the public depends upon it every day, with thousands and thousands of individuals being affected."
Deukmejian acknowledged that "it's tough in Sacramento," with cries coming from "everybody" in state government not to slash their budgets. He argued with the public's need for access to justice being in peril, those present should "make an effort to do something about it."
Webber Hails Efforts
Earlier in the program, Los Angeles County Bar President Eric Webber told Deukmejian, in presenting a plaque to him on behalf of LACBA, that it was not only for his "past service" to the state, but also his "current service in connection with the Open Courts Coalition."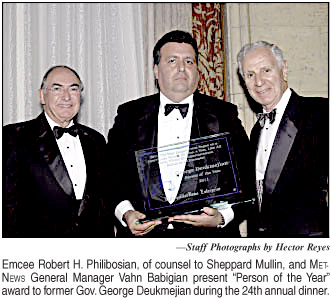 The coalition is a statewide group pushing for restoration of court funds in the wake of the Legislature last year slashing the judiciary's budget by $350 million.
Webber, who orchestrated the Jan. 18 rally at Disney Hall in support of adequate court funding, commented to the former governor:
"Your words in support of our courts, and the need to fund those courts, have been welcomed and are incredibly important as we all drive to ensure that the justice system is functioning."
In presenting a plaque to Cantil-Sakauye, he decried the impending "unprecedented budget cuts" and remarked:
"It's saying the least to note that our chief has been absolutely extraordinary in her advocacy on behalf of the courts and adequate funding for our justice system, both publicly and behind the scenes."
State Bar Board of Trustees member Patrick Kelly, a representative from Los Angeles, observed:
"There are various forces in our state that are challenging our justice system by trying to deprive our courts of the resources necessary dispense justice to the citizens of our state."
He declared that Cantil-Sakauye "has truly stepped forward" to defend against those efforts, adding:
"She truly is the right person at the right place at the right time. Because of her intelligence, her experience, her drive, and a way of dealing with people, she is making progress in a very difficult area, and is making us all very proud."
Edmon Offers Tribute
Los Angeles Superior Court Presiding Judge Lee Smalley Edmon said that Cantil-Sakauye "assumed the role of chief justice at perhaps the most difficult time in our branch's history, in light of our dire fiscal situation."
Edmon said of the leader of the state court system's leader:
"She sends out the message, loud and clear, that the judicial system is the cornerstone of our democracy and we can absorb no further cuts without significant impact on the public. She has proven to be an articulate and eloquent voice for that message."
Cantil-Sakauye alluded to the budget crisis only briefly, and in a jocular context.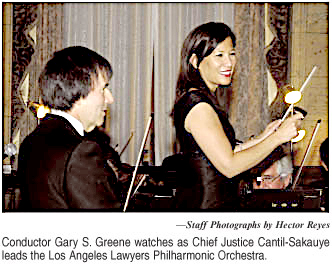 She recalled babysitting for Gloria and George Deukmejians' children when George Deukmejian was a young state senator and she was "the kid down the street." Cantil-Sakauye told her co-honoree:
"[N]ever once when you hired me [in 1988 as a deputy legal affairs secretary], or promoted me [to deputy legislative secretary in 1989], or appointed me to the [Sacramento Municipal Court] bench [in 1990] , did I play the babysitter card. But if you were governor today and the judicial branch were in the financial state that it is, I would play the babysitter card."
Thawing Relations
In presenting the "Person of the Year" award to Cantil-Sakauye, MetNews co-publisher Jo-Ann W. Grace made a veiled reference to reported hostility on the part of the former chief justice, Ronald George, toward Los Angeles Superior Court Presiding Judges J. Stephen Czuleger (2007, 2008) and Charles "Tim" McCoy (2009, 2010). Czuleger and McCoy were both vocal in opposing George's push for funding of court computerization over keeping courtrooms open.
Grace reflected that with Cantil-Sakauye as chief justice, "relations with trial court are decidedly on the mend." She noted that the chief justice had been seated next to the Superior Court's presiding judge (at the head table) and that this was "not a seating arrangement that we would have considered" in the recent past.
"Judge Lee Edmon's words of tribute to the chief tonight are demonstration that the lines of communication are open, and that the opportunity to persuade is there," the co-publisher added.
Cantil-Sakauye had words of praise for Edmon. She noted that they both started memberships on the Judicial Council in 2008 and summarized Edmon's contributions by saying:
"Her advice and her wisdom and her intelligence and her laser-like focus have moved us forward."
She added that Los Angeles Superior Court Assistant Presiding Judge David Wesley has done the same, and that Los Angeles and its county bar association have "always moved California forward" and are "always a voice in what we do."
Other Presentations
Each of the "Person of the Year" award recipients was also handed a scroll or plaque by Edmon, Kelly, and Webber, as well as by Los Angeles County Supervisor Michael D. Antonovich, Los Angeles County Sheriff Lee Baca, and Los Angeles County District Attorney Steve Cooley.
"I will make a prediction tonight," Cooley announced, in presenting a scroll to Cantil-Sakauye. He forecast that she would be "the greatest, long-serving chief justice in the history of California."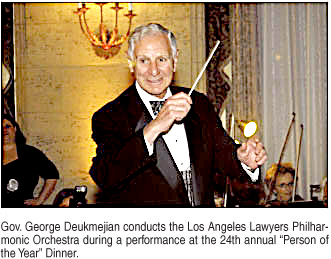 Edmon told Deukmejian:
"You can be justly proud of the legacy you left with regard to judicial appointments."
Several of his appointees were present, and gathered after the dinner for a group photo.
Baca told Deukmejian:
"Your elegance, your dignity, your thoughtfulness, thoroughness, and certainly, your commitment to public safety is without equal."
Deukmejian Credits Others
Deukmejian disclaimed deserving the award or the words of praise, saying that plaudits should go to the able persons with whom he surrounded himself. He remarked:
"One of the decisions I made was: always try to hire people that are smarter than I am. And I tried to do that in every way that I could, and that has served the people well, and it served me very well—and one of those individuals was our master of ceremonies tonight, Robert Philibosian, who helped me tremendously when I was attorney general, and he served as assistant attorney general."
Philibosian served as emcee for the 15th time.
Several past recipients of the "Person of the Year" award were in attendance. They were:
Court of Appeal Presiding Justice Norman Epstein (1994), Baca (1999), retired Los Angeles Superior Court Judge Burt Pines (2000), former State Bar President Karen Nobumoto (2001), Antonovich (2002), retired U.S. District Judge George Schiavelli (2006), Court of Appeal Presiding Justice Paul Arthur Turner (2006), Philibosian (2007), former Los Angeles County Bar Assn. President Gretchen Nelson (2007), attorney/civic leader Lee Kanon Alpert (2007), Edmon (2008), Cooley (2009), attorney/bar leader Jack Denove (2010), and attorney/orchestra leader Gary S. Greene (2010).
Copyright 2012, Metropolitan News Company