Tuesday, November 20, 2012
Page 7
PERSPECTIVES (Column)
Gregory Alarcon: Not Apt to Be Chosen as Anybody's 'Judge of the Year'
By ROGER M. GRACE
I heard from an attorney on Friday who's in a quandary. He appeared by telephone recently in a matter before Los Angeles Superior Court Judge Gregory Alarcon. The judge rejected his application but granted the lawyer until Nov. 30 to correct the deficiencies.
The problem is: the lawyer doesn't know what the deficiencies are. During the hearing, Alarcon wouldn't—or couldn't—tell him what they were.
As I discussed here on Aug. 15, it's clear that in Alarcon's Department 36, motions are determined by a research attorney and Alarcon has no inkling as to what is before him. He sits through an argument nodding his head, like a Bobble-Head doll, pretending he understands, while asking no questions, making no comments, and evidencing an inability to respond to any queries. He's a pretend-judge; like a lip-syncher, he's faking it.
The lawyer who's in quandary, and who spoke on condition of anonymity, says it's his impression that "the judge didn't even look at the file."
As to the application, he asserts, flatly, that it wasn't Alarcon who rejected it—"His research attorney rejected it."
What Alarcon told the lawyer when he asked what was lacking in the application was to consult the tentative, posted online. But, after the hearing, the tentative was no longer online.
Well, what about the minute order? Surely that could be obtained from the department. The attorney recounts that the first time he phoned there, the clerk said she would not provide it. Indeed, this is not a department where accommodation is customary.
The second time he phoned, a substitute clerk was there. She tried to be helpful but told him, according to the lawyer's rendition, that it would do no good to send a messenger to fetch the minute order; it was in "imaging." That's place where papers are sent to be converted into PDFs, accessible from a pay-to-view website.
The minute order might well, by now, be obtainable via the Internet, and in enough time for the lawyer to meet the Nov. 30 deadline. But the point is that Department 36 of the Mosk Courthouse is a place where you will find one of the least conscientious judges in the system, a slacker who arrogantly attempts a ruse. With a bobbing head, he play-acts the role of a thoughtful judge…fooling only the gullible.

Department 36 is a circus. Alarcon is the clown. His clerk, Cheryl (Cher) Mason, might well be pictured as a lion-tamer, whip in hand. What she seeks to crack her figurative whip at are attorneys.
Following the last column on the spectacle in Department 36, I received a letter from Beverly Hills attorney Richard MacNaughton who commented, in part:
This situation is a disgrace to the judicial system. Ms. Mason is a shrill, argumentative, rude, bully who treats almost everyone like dirt.
I have seen Judge Alarcon walking about the courtroom while Ms. Mason has her tirades against virtually everyone. Thus, he has personally witnessed them but does nothing.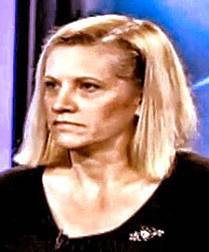 CHER MASON
On KNBC News Conference
Ms. Mason is totally self-absorbed. This last Friday, for example, we had to wait at least 10 minutes while she was hollering at an attorney that there is never any delay between papers being filed and appearing on the court's case summary site. He was saying that there is often a lag time between filing and a document appearing on the website. She was hollering that as soon as a document is filed it on the website, demonstrating how she types in a document and it appears. Of course, she ignored the fact that there is a lag time between a document being filed and a clerk typing it into the system.
Not only was her position wrong, her rude demeanor should never be exhibited by a member of the court staff.
Then she was yelling at someone on the phone telling that they cannot just add defendants to a lawsuit. I don't know the specifics, but whatever the other person was doing, he/she did not need the clerk to yell at him/her.
There was a man in pro per and he was supposed to write out some statement with the other side's attorney but he was afraid to go into the room with the attorney. Ms. Mason paid no attention to what the man was trying to say; she just kept hollering at him. She constantly treats people with disdain.
Twice the judge has asked us to work out a briefing schedule, and while opposing counsel and I are trying to work out the schedule, Ms. Mason starts yelling at us demanding that we give her the hearing date. The hearing date was dependent upon our figuring out a fair briefing schedule, but she keeps yelling at us demanding that we give her the hearing date.
….Ms. Mason's conduct is clearly unacceptable and His Honor knows about it.
Alarcon's refusal to control abuses on the part of his staff, of which he has knowledge, is in derogation of his duties under the Code of Judicial Ethics.

An attorney, providing remarks on condition of confidentiality, says this of Alarcon:
"I tried case in front of him. When 11 prospective jurors clearly said that they will not be fair, and they will not grant my client anything regardless of evidence, he refused to disqualify them for cause stating that in his experience these individuals are fair and they are lying to get off jury duty. Instead I was accused of bringing the worst out of people. When I asked to place my objection on the record, he repeatedly refused stating that he will give me an opportunity to do so later. Later never came despite repeatedly asking.
"When we won the case, he threw out the verdict on a bogus jnov.
"In my experience, he judges EVERY case with an agenda. Not necessarily left or right, plaintiff or defendant, it's almost psychopathic. He will choose a side to hate and will go out of his way to see them lose. The man has some deep psychological issues. I won't be surprised to see him implode or explode some day."
That attorney's comments might well be dismissed as those of a sore loser. Yet, those comments mirror those of numerous other attorneys. There is a consistency in the assessment that, with respect to motions, Alarcon has delegated the decision-making role, and as to trials, he is other than a neutral arbiter.
I have an e-mail from an attorney who won a case before Alarcon but describes proceedings in Department 36 as a "nightmare" and says that "it's horrible and badly out of control, literally with Cher acting as judge."
Alarcon, understandably, has an unfavorable reputation. One attorney who has disqualified him, Heather Appleton of El Segundo, explains her action by saying that although she has not had "personal experience" in his courtroom, she's "heard stories."

These comments on Alarcon are posted on the "Robing Room" website:
•"If you are on his good side, you luck out.
"He seems to care. Frankly, he could care less about the outcome of a case. That is his problem. Because he says nothing, you will think he actually is listening.
"Terrible judge to be in front of the jury [because] juries believes [sic] his Mister Rogers attitude. You get him on your bad side, jury will go that way as well. Even when he is wrong."
•"Let's you try your case. Allows you to pick your jury. Don't get on his bad side."
•"Judge was nice to jurors, but SUPER rude to counsel. Never left his chambers and immediately left the bench. He would not talk to his clerk, he would email her. So, when we needed a ruling he would say he had emailed it [to] his clerk (she was right there), but the attys never rec'd it. Lazy is a good description. Must have gotten to be a judge [because] his dad was one?" [Gregory Alarcon is the son of Ninth U.S. Circuit Court of Appeals Judge Arthur Alarcon.]
•"No idea how he managed to get on the bench much less stay here. Lazy and intellectually devoid of legal ability."
Copyright 2012, Metropolitan News Company