Thursday, August 30, 2012
Page 6
PERSPECTIVES (Column)
Was Lacey's Recantation of Earlier Testimony a Routine Correction or Perjury?
By ROGER M. GRACE
John Thomas, the "political strategist" for Deputy District Attorney Alan Jackson in his race for DA, last week alleged that the other candidate in the run-off, Chief Deputy District Attorney Jackie Lacey, has "lied under oath to protect a political boss."
I'm certain that Jackson would not have made such a rash utterance, himself, and suspect that his young consultant caused him some embarrassment.
The statement unmistakably refers to testimony by Lacey before the county's Employee Relations Commission ("ERCOM"). On July 9, 2009, she told of giving personal advice, probably in 2007, to a deputy in the office, who was a close friend of hers, not to align himself with Steve Ipsen. Ipsen was the prime organizer of an effort to turn the Deputy District Attorneys Association into a union—which, on March 24, 2008, came to fruition.
On Jan. 14, 2010, Lacey again testified, but renounced two statements she previously made. The corrections were ones potentially helpful to District Attorney Steve Cooley and to the county in connection not only with the ERCOM proceeding, in which union-busting activity was alleged, but also the ADDA's federal action based on the same alleged conduct.
Clearly, it's Cooley whom Thomas referred to as a "political boss." Cooley has run for public office—for DA, a nonpartisan office, thrice, and state attorney general, as the GOP nominee once—so the adjective "political" is accurate. Too, he's Lacey's boss. But calling him a "political boss"—connoting a corrupt politician who controls a local political machine that doles out favors to party loyalists—was an absurd slur. It is one with no sting; no one would be apt to take it seriously.
What warrants attention is the allegation that Lacey lied under oath. That, necessarily, is an assertion that she committed the felony of perjury. To accuse someone of a crime for which he or she has not been convicted is injudicious, to say the least. While everyone knows that Cooley is not a "political boss," the facts concerning Lacey's testimony have not been detailed in print. A Los Angeles Times article on May 20 did alert the general public to the conflict in testimony, but told little more than that she flip-flopped on testimony and blamed low blood sugar for confusion on her part in the initial round of questioning.

Thomas's statement was made to the MetNews on Aug. 22. He was asked to comment on a poll released that day by the Lacey camp saying that voters favored her—while the Jackson campaign days before unveiled a poll showing that Jackson was in the lead.
In telling of questions posed to voters by Jackson pollsters, he said:
"Once we mention that Ms. Lacey lied under oath to protect a political boss her support abandons her at an alarming rate."
That signals that the campaign has decided on an approach, and that more on the issue of Lacey's testimony will be heard of between now and election day, Nov. 6.
Let's look at Lacey's actual statements so that we might gauge: Is there a rational basis for a suspicion that she did not testify truthfully on Jan. 14, 2010?
(In quoting the transcript, a few changes have been made in punctuation for sense, none altering meaning.)

When Lacey testified on July 9, 2009, she was assistant DA—the Number Three post in the office. (As chief deputy, she's now Number Two.)
She was questioned at the ERCOM hearing by Steve Ipsen, then president of the ADDA, now a former deputy, having been recently fired for misconduct.
The deputy to whom she gave advice was Rob Dver, whom she had known since 1987 or 1988, and with whom she had a "very close relationship," personally and professionally, Lacey testified.
Ipsen read this from the transcript of Dver's testimony:
"Basically she [Lacey] was warning me that it was bad for my career to be seen with you [Ipsen], talk to you, and associate with the union."
Ipsen asked Lacey whether she had "warned" Dver "that it was bad for his career to associate with the union."
Here's her response:
"That's partially accurate in the sense that he would ask me on a personal level [for] advice on what he should do about a particular issue with regard to you and the union.
"And inasmuch as he and I were, and are, very close friends, I would give him my honest advice."
She denied that she had used the words "bad for your career," though acknowledging: "That may be his interpretation of what I said."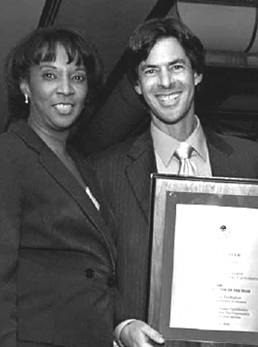 Lacey, left, hands 2005 ADDA "Career Achievement Award" to Dver. The ADDA was not yet a union.
Ipsen asked what the "exact words" were she spoke to Dver on "repeated occasions." Lacey said she recalled only "two conversations."
One was during a time, apparently in 2007—prior to the ADDA becoming a union—when candidates were running for ADDA posts and Dver asked her if he should endorse Ipsen for president. Lacey testified:
"And I told him I thought it was not a good idea because I knew that Mr. Cooley did not like Mr. Ipsen."
The second conversation, she said, was in December, 2008, when Dver asked if he should join the union bargaining team. She responded to Ipsen that she advised Dver "it was a bad idea because of the animosity between you [Ipsen] and Mr. Cooley."

This dialogue took place:
Q. Let me ask this: Did you think it would be bad for his career if he was closely allied with the union, meaning it would lessen his chance of getting promoted to a Grade V [management level] by Steve Cooley?
Did you believe that?
A. Inasmuch as if you were the president —
Q. Okay.
A.—Yeah, I did.
Q. And you believed that it hurt his chances and hurt his career if he did that while I was president?
A. I definitely thought that being associated with you would hurt him.
Q. Or even with the union while I was president?
A. While you were president.
Q. Would hurt him in the sense of 'hurt his career'?
A. Yes.
Q. Why did you think that?
A. I thought that because Mr. Cooley felt that you were dishonest and felt, quite frankly, that anybody associated with you would be ratifying or endorsing that dishonesty.
Q. Okay. Anything else?
A. No. And so by Rob, you know, associating with you I felt that, you know, that Mr. Cooley would think that Rob was ratifying any dishonesty.
Q. Was that just speculation on your part or things that Mr. Cooley said?
A. I think that—well, those were things that he said.

Ipsen asked a question premised on Lacey having issued "warnings" to Dver. She balked:
"This is a friend saying, 'What do you think about this?' and I'm giving him advice. Had he never asked, I wouldn't have given the advice.
" 'Warning' implies almost a, you know, proactive where I sought him out and warned him: 'Don't get involved.' This man said, as my friend, 'What do you think?' "
She went on to testify:
"I didn't warn him. I gave him advice."
She disclaimed having said, as Dver alleged she had, that it would be detrimental to the career of anyone to join the union, and disavowed holding that view.
Put in context, there's no inconsistency in saying that associating with Ipsen could have hurt Dver's standing in the office, but that merely being in the union would not have impeded the chances for success of others. Dver, who was a Grade 4 deputy, had told Lacey at a breakfast of his desire to be elevated to a Grade 5 post of a "deputy in charge." Lacey testified that she thought that Dver, if he joined up with Ipsen, "would ruin his friendship and his reputation with the district attorney." It is understandable that Cooley would lose confidence in someone closely linked to Ipsen—in his eyes, a despicable scoundrel—and not want a person with such lack of judgment in management. That does not evidence animus toward the union, itself, or rank-and-file members of the union who were not among Ipsen's lieutenants.

If Lacey were a man, her advice to Dver would be labeled avuncular. I had to look it up, but the feminine version—referring to an aunt rather than an uncle—is "materteral."
Lacey's forthright testimony conveys that she was rendering materteral guidance to a friend, speaking as an individual, and not issuing a warning or threat in her official capacity.
It was like a grown-up expressing a hope to a teenager that he or she not associate with the wrong crowd. Ipsen and his cronies were the wrong crowd.
Dver was given sound advice that he should not have his identity linked with Ipsen's—a man whose antics had included testifying as a character witness at a sentencing hearing of one of his "closest friends" who had been convicted of indecent exposure and urging that, though it was his third conviction, he not be required to register as a sex offender. Ipsen admitted that it was his car the man was driving when arrested and that he was in possession of Ipsen's DA's Office badge at the time.
Ipsen had been excoriated by the California Supreme Court for portraying each of two murder defendants, in separate trials, as the one who pulled the trigger. It was Ipsen who orchestrated an ill-conceived and ill-starred effort, based on gross distortion of facts, to deny two Los Angeles Superior Court judges—David Wesley (now assistant presiding judge) and Dan Oki (presently a candidate for that post)—reelection in 2004. And, there was more.

None of the statements quoted above was corrected by Lacey in her subsequent testimony.
What she did repudiate were two concessions she appeared to have made in course of responding to this testimony by Dver:
"Jackie told me…that I shouldn't be part of the bargaining team, that Steve [Cooley] doesn't like you [Ipsen], doesn't like the union, thinks the union is going to be a disaster and anyone associated with the union is not going to be—that it's going to be very bad for their careers."
The hearing officer went through that statement, piece by piece, as follows:
HEARING OFFICER KERRIGAN:…It says on line 1:
"That I shouldn't be part of the bargaining team because Steve doesn't like you."
That's accurate; right?
THE WITNESS: Right.
HEARING OFFICER KERRIGAN: "Doesn't like the union."
Is that accurate?
THE WITNESS: That's correct.
HEARING OFFICER KERRIGAN: Beg pardon?
THE WITNESS: Yes, that's correct, sir.
HEARING OFFICER KERRIGAN: Okay.
"Thinks the union is going to be a disaster."
Is that true?
THE WITNESS: That's correct.
HEARING OFFICER KERRIGAN: Okay. So those are all things that you said to him?
THE WITNESS: Correct.
….
HEARING OFFICER KERRIGAN: Okay.
"And anyone associated with the union is not going to be—it's going to be bad for them in their careers."
Did you say anything to that effect?
THE WITNESS: I did not say that last—that last phrase where it says:
"That it's going to be very bad for their careers."

Now to Lacey's testimony on Jan. 14, 2010. Under questioning by her own attorney, L. Trevor Grimm of Manning & Marder, Lacey said she had not intended to acquiesce in Dver's assertions, reflected in the transcript of his testimony, that she had told him that Cooley "[d]oesn't like the union" and thought it would be a "disaster."
In answering "right" to the first question, she said, "I believed that was asking me: Is that what the transcript—you know, transcript reads."
And in responding to subsequent questions, Lacey explained, she likewise thought Kerrigan was merely eliciting from her an affirmation that what he was reading aloud was a correct representation of what was in the transcript.
Grimm read the question by Kerrigan "So those are all things that you said to him?" and asked why she answered "correct." She said:
"The only way I could explain it is that that's not correct in terms of those are the things that I said to Mr. Dver.
"So I believe that that answer has to be me thinking that Hearing Officer Kerrigan is saying: 'Is that what is in the transcript before you?' and I got confused on that area."
Kerrigan asked: "And you didn't think it was curious for me to ask you what was in the transcript?"
Lacey answered:
"I will tell you that that afternoon I was really tired and I just, obviously was confused because this is incorrect."
She explained, under prompting by her lawyer, that she is a "morning person" and said:
"I have blood sugar issues in the afternoon where I lose concentration quite a bit in the afternoon."

Lacey's testimony in clarifying what she said earlier is bound to be perceived by most of her ardent supporters as plausible if not convincing, and by most staunch Jackson partisans as lame.
How will undecideds react?
Is a suspicion that Lacey committed perjury a reasonable one? If so, do the facts warrant a suspicion so strong as to justify a voting decision based upon it?



FEDERAL JUDGE ERRS: U.S. District Court Judge Otis D. Wright II of the Central District of California, presiding over the ADDA's action in that forum, twisted Lacey's ERCOM testimony. He issued a March 2, 2010 order granting the ADDA's motion for a preliminary injunction barring discrimination against ADDA members, in such forms as transfers or demotions. In it, he recited that Lacey "admitted to warning Dver not to join ADDA's contract negotiating team and not to even discuss ADDA matters with Cooley, as it would negatively impact his career."
Lacey repeatedly testified that she was not issuing a "warning."
Wright was wrong in writing:
"[U]ndisputed is Lacey's admission that being associated with ADDA would 'definitely' hurt one's career so far as Cooley was concerned."
If "one" is taken to mean anyone, that was not Lacey's testimony.
Copyright 2012, Metropolitan News Company