Tuesday, June 12, 2012
Page 1
Southwestern Law School Names Parrish Interim Dean
By KENNETH OFGANG, Staff Writer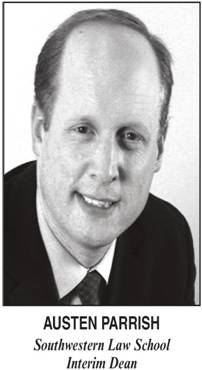 Southwestern Law School has named Vice Dean and Professor of Law Austen Parrish as interim dean, effective July 1.
Parrish, who practiced at O'Melveny & Myers before becoming a full-time professor, was named by the Board of Trustees run the school while it searches for a permanent replacement for Dean Bryant Garth. Garth, who has held the position for seven years, announced in May that he would be returning to teaching and scholarship and will be taking a sabbatical.
Parrish has been a member of the Southwestern faculty for 10 years, having started as an adjunct professor while still at O'Melveny, and has served as vice dean since 2008.
Attorney Thomas Hoberman, chairman of the Board of Trustees, issued a statement expressing the board's confidence that the interim dean "will provide outstanding leadership and carry on the momentum we have enjoyed under Dean Garth's stewardship—particularly in the areas of curricular enhancement, faculty recruitment and development, academic support, student housing, institutional partnerships and major fund raising efforts."
Michael Berger, an Encino attorney who is an alumnus of the school and a faculty member, said the faculty had given Parrish a strong endorsement.
"He's an excellent teacher and administrator, the students think he's great, and he was the perfect candidate to be interim dean," Berger said. "He has a lot of energy....The faculty definitely gave him the thumbs up."
Parrish said in a release that he was honored to be selected for the position and would work with the board and faculty to "continue the momentum and build on Bryant's accomplishments." He noted that the school is involved in several major initiatives, including construction of its first student housing, a major capital campaign coinciding with its 100th anniversary, and a new online entertainment law LL.M. program.
Parrish has taught a variety of courses at Southwestern, including Advanced Topics in American Law, Civil Procedure, Constitutional Law, Federal Courts, International Environmental Law, and Public International Law. He also served as director of the Summer Law Program in Vancouver, Canada for eight years and has done major research and testified as an expert in the field of Canada-U.S. transboundary relations.
He is the author of numerous scholarly articles and the co-author of two books, Effective Lawyering: A Checklist Approach to Legal Writing, published earlier this year, and Hard-Nosed Advice From a Cranky Law Professor, published in 2010.
Parrish graduated from the University of Washington , majoring in political science and economics, and earned a law degree at Columbia University, where he was a Harlan Fiske Stone Scholar and served as managing editor of the Columbia Journal of Transnational Law and as a student-editor of the Columbia Journal of European Law. He was admitted to the State Bar in 1997 and took inactive status in 2005 after joining the law school fulltime.
At O'Melveny, he practiced complex business litigation in both federal and state trial and appellate courts. Active in pro bono activities, he has worked with the Anti-Defamation League, the Constitutional Rights Foundation, and Public Counsel Law Center.
Los Angeles Superior Court Judge Stan Blumenfeld, who was an O'Melveny partner, praised Parrish's "exceptional intellect, creativity, judgment, and equanimity." Parrish was excellent at developing younger lawyers at the firm, and "will continue to lead Southwestern in the right direction, as he understands the importance of a legal education that promotes academic learning and practical experience in a supportive environment," the judge said.
Copyright 2012, Metropolitan News Company