Thursday, October 25, 2012
Page 1
Former Senior Lawyers Chair Hugh I. Biele Dies at 70
By a MetNews Staff Writer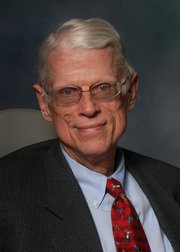 HUGH I. BIELE
1942-2012
Hugh I. Biele, immediate past chair of the Senior Lawyers Section of the Los Angeles County Bar Association, has died at the age of 70.
Former LACBA President Eric Webber, in an email sent yesterday to members of the section's Executive Committee, said Biele—who had remained active despite suffering from multiple ailments in recent years—died Oct. 15, several weeks after suffering a stroke.
"Hugh's life partner of almost 25 years, Chuck Rios, was with him when he died," Webber reported. "This past Thursday, October18, Hugh's closest survivors—Chuck, Chuck's seven siblings, their spouses and 20 children, as well as Hugh's son Jonathan, daughter Melissa, sister Susan, brother Don, and nephew Ray—held a small, family-only memorial gathering at the home Hugh and Chuck shared in the Hollywood Hills."
There will be no public service, Webber said.
Biele practiced primarily in the field of commercial law. He was a graduate of the University of Utah's law school and was vice president of First Interstate Bank from 1971 to 1980, subsequently working as a private practitioner and college instructor.
He was a past chair of LACBA's Commercial Law & Bankruptcy Section, a past president of the Financial Lawyers Conference, and a past co-president of the Lesbian & Gay Lawyers Association.
He was a decorated Vietnam-era veteran of the Army and a founder of the County Bar's Armed Forces Committee.
Webber wrote:
"Hugh touched countless people with his good nature, generous spirit, open mind, boundless energy and unique charm. To his extended family, he was a devoted spouse, father, grandfather, uncle and brother. Over the course of his life, Hugh was also a mentor, role model, and great friend to many beyond his family—including a large number of Los Angeles lawyers."
Patricia Phillips, a former LACBA president and one of the founders of the Senior Lawyers Section, said she had known Biele for 30 years.
"I've always known him to be an exquisitely wonderful guy," she told the MetNews. Despite his illnesses, he continued to work vigorously on various projects, she said.
"There was not a thing that got by him," she commented. "He was working so hard, he wanted to do a great job and he put in more time than anybody thought of putting in."
He was, she added, a strong believer in resolving matters by agreement.
His family suggested that donations in his memory be made to The City of Hope, in order to support the work of its chief medical officer, Alexandra Levine, who was also his private doctor. The address is The City of Hope, 1500 E. Duarte Road, Duarte, CA 91010, Attn: Dr. Alexandra Levine.
Copyright 2012, Metropolitan News Company