Tuesday, June 5, 2012
Page 3
Former L.A. County Bar President Don Mike Anthony Dies at 73
By KENNETH OFGANG, Staff Writer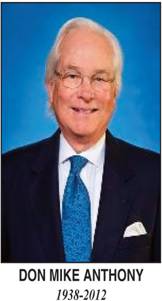 Former Los Angeles County Bar Association President Don Mike Anthony has died.
Anthony, 73, who also served as president of the Pasadena Bar Association, died of cancer, friends said. They said there would be no funeral or memorial services.
"If you've ever had the good fortune of meeting Don Mike, or of working with him, then you know that the world is a lesser place today," friend and former law partner Chuck Greaves, now a mystery writer, wrote in a eulogy published on LACBA's website.
Anthony, a graduate of Occidental College and UCLA School of Law, was admitted to the State Bar in 1964 and spent his entire career at of Hahn & Hahn in Pasadena, one of the state's oldest law firms.
He was a certified family law specialist and a leading litigator.
"The first thing you should know about Don Mike is that he loved the law," Greaves wrote. "Not, as many lawyers do, as a way to make a comfortable living, but rather as an honored calling, a kind of secular priesthood. He was, in fact, a genuinely great lawyer, in every sense of the word."
ABOTA Associate
He was an associate of the American Board of Trial Advocates, and a fellow of the American College of Trial Lawyers, the American Academy of Matrimonial Lawyers and the International Academy of Matrimonial Lawyers.
The Southern California Chapter of the AAML named him its Person of the Year last year. He was president of the chapter in 2007-2008.
Anthony also authored program materials and served as a panelist for numerous continuing education programs.
His County Bar service included eight years as a trustee, including his presidential year of 2009-2010. He was president of the Pasadena Bar Association in 1992-93—the same year he chaired the State Bar Client Security Commission—and of the County Bar Foundation in 1999-2000.
He was a member of the State Bar Board of Governors from 1984 to 1987. In the early 1980s, when the State Bar Court was a volunteer operation, he served on the Review Department and the Executive Committee.
He also took on a number of special projects, including serving as a special examiner when UC Berkeley law professor Stephen Barnett—since deceased—filed an ethics complaint against then-State Bar Executive Director Judy Johnson.
Barnett, who had represented an unsuccessful Board of Governors candidate in a challenge to the election procedures—claimed that Johnson, who was recently named to the Contra Costa Superior Court—broke a promise to look into why an agreement to make changes to the procedure was violated. Anthony concluded there was "not a scintilla of evidence that Ms. Johnson committed an act involving moral turpitude, dishonesty or corruption."
While he "was wonderfully gifted as an attorney," former LACBA President Alan Steinbrecher wrote on the group's website, "he was modest about his acheivements" and "never had to be the 'smartest guy on the room.'"
Anthony, he wrote, "had a sly wit, and could always find something humourous in even the most perplexing situations." Steinbrecher said the legal profession "and our community have lost a great person, a friend, and an inspiration."
Webber's Comment
Current County Bar President Eric Webber called Anthony "a beloved member of the Los Angeles legal community" and "a great lawyer and a great leader" whose service had been "wide-ranging and exemplary."
Anthony, he said, "touched countless people with his good nature, unfailing graciousness and extraordinary combination of intelligence, savvy, candor and charm."
Survivors include his wife of 50 years, Bonnie Anthony, son Trevor Anthony, and grandsons Connor, Cameron and Dashiell.
He had a particular fondness for dogs, two of whom—Darcy and Jasper—survive him, Greaves wrote.
His family, Webber said, has asked that donations in his honor be made to the County Bar Foundation or to the Pasadena Human Society.
Copyright 2012, Metropolitan News Company