Tuesday, February 28, 2012
Page 1
Jurist, War Hero, Prosecutor 'Buck' Compton Dead at 90
By a MetNews Staff Writer
Retired Court of Appeal Justice Lynn "Buck" Compton of this district's Div. Two has died at age 90.
Compton passed away Saturday evening at his home in Burlington, Wash. Both a small, private memorial service and a larger public one will be held at a later date, writer Marcus Brotherton wrote on his website.
A veteran of the Normandy invasion and the Battle of the Bulge, Compton was a first lieutenant in Easy Company, 2nd Battalion, 506th Parachute Infantry Regiment, 101st Airborne Division—made famous in the Stephen Ambrose book and HBO miniseries "Band of Brothers." Brotherton helped Compton write "Call of Duty: My Life Before, During, and After the Band of Brothers," published four years ago.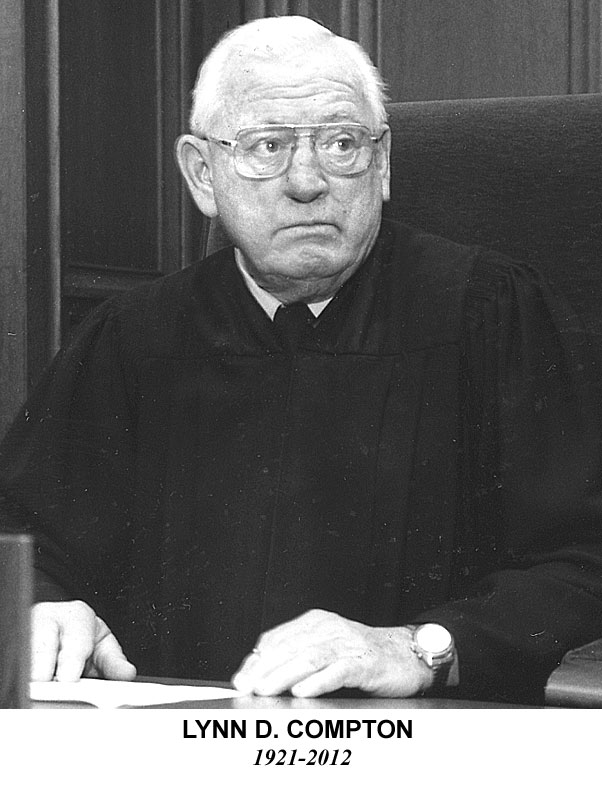 Brotherton wrote on his site:
"I was so greatly honored to have met this man, to speak with him on many occasions, to have participated in the writing of his book, and to travel with him to several shows and signings around the country.
"I can't say enough good things about him."
Compton, who took his nickname during elementary school—he once explained that he liked it because it rhymed with "Truck," as in Truck Hannah, a baseball player with the Los Angeles Angels whom Compton admired—was a Los Angeles native. He took prelaw courses at UCLA, where he played football and baseball—he was a teammate of Jackie Robinson on the 1943 Rose Bowl team—and graduated in 1943 before joining the service.
In one battle depicted in the "Band of Brothers" television series, the assault on Brécourt Manor, Compton and others assaulted a German battery firing on Utah Beach, disabling the guns and forcing the Germans to flee. Compton was awarded the Silver Star, one of several decorations he earned during the war, including the Purple Heart and the French Croix de guerre with palm.
In 1944, Compton was shot while participating in Operation Market Garden, the Allies' ill-fated attempt to seize a number of bridges in Holland and cross the Rhine River into Germany. He recovered sufficiently to rejoin Easy Company in time for the Battle of the Bulge.
Discharged from active service in 1946—he served in the Army and later Air Force reserves prior to retiring with the rank of lieutenant colonel in 1970—he turned down a chance to play minor league baseball and joined the Los Angeles Police Department. He attended Loyola Law School while working as an LAPD detective and was admitted to the State Bar in 1949.
He remained with the LAPD until 1951, when he accepted an offer to become a deputy district attorney. Serving under four district attorneys, he became chief deputy under Evelle Younger in 1966 and headed the three-man prosecution team that won the conviction of Sirhan Sirhan for the 1968 murder of Robert Kennedy.
Then-Gov. Ronald Reagan appointed him to the Court of Appeal in 1970, making him, according to reports, the first ex-peace officer to serve on a California appellate court.
Retired Justice Edwin Beach, who served with Compton in Div. Two, said yesterday that Compton "was a model for me." While they would sometimes talk about his experiences in sports, the military, and the prosecutor's office, Compton was not one to brag, Beach said.
"He had many accomplishments, but there wasn't any pretense about him," Beach said. Compton, he said, made a major contribution to the court in some difficult cases, including two decisions involving the "right to die."
Compton wrote the opinion in the first case, Barber v. Superior Court (1983) 147 Cal.App.3d 1006, which upheld the right of a competent adult to refuse life-saving medical treatment.
Later came the case of Elizabeth Bouvia, a woman with cerebral palsy and severe degenerative arthritis, who drew national media attention when she tried to starve herself to death and was subjected to court-ordered force-feeding at Riverside General Hospital until the Court of Appeal upheld her right to have the feeding tube removed.
Beach wrote the majority opinion in Bouvia v. Superior Court (1986) 179 Cal.App.3d 1127, and Compton wrote in concurrence:
"The right to die is an integral part of our right to control our own destinies so long as the rights of others are not affected. That right should, in my opinion, include the ability to enlist assistance from others, including the medical profession, in making death as painless and quick as possible."
Compton deserves a lot of credit, Beach said yesterday, for his willingness to face those "hard cases, with a lot of religious aspects to them" and strong public feelings on both sides.
Compton, who was honored by the MetNews as its Person of the Year in 1989, remained on the Court of Appeal until 1990, retiring to Washington state but continuing to work throughout the western states as an arbitrator and private judge.
A number of tributes to the jurist were received yesterday in response to his passing.
Retired Los Angeles Superior Court Judge Brett Klein, a onetime research attorney at the Court of Appeal, said that while Compton "liked to look and talk like the jock he had been in college," he was "truly an intellectual, a deep thinker, and a man of compassion."
John P. McNicholas, a former member of the State Bar Board of Governors, called him an "outstanding athlete, war hero, trial lawyer public servant." Compton "did it all," McNicholas said.
Former County Bar President Harry Hathaway said it was "sad news of the death of a legend…a great man, a soldier, a prosecutor, a judge" who was "deeply respected by all of us who knew him."
Presiding Justice Paul A. Turner, of the Court of Appeal's Div. Five, said Compton "was the bravest man I've known, and I've known a lot of brave men." Turner's 2007 interview with Compton for the court's Legacy Project can be found on the state courts' website at http://www.courts.ca.gov/documents/Lynn_Compton_6042.pdf.
Copyright 2012, Metropolitan News Company