Thursday, November 15, 2012
Page 1
Judge O'Connell Nominated for Federal Judgeship
By a MetNews Staff Writer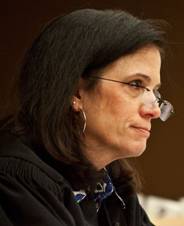 BEVERLY R. O'CONNELL
Superior Court Judge
Los Angeles Superior Court Judge Beverly Reid O'Connell was nominated yesterday to serve as a judge of the United States District Court for the Central District of California.
She was one of seven persons nominated by President Barack Obama for District Court judgeships.
O'Connell was an assistant U.S. attorney for the Central District of California at the time of her appointment in 2005 by then-Gov. Arnold Schwarzenegger.
She had been with that office for 10 years, and from 1990-95, worked at the law firm of Morrison & Foerster.
O'Connell received her J.D., magna cum laude, from Pepperdine University School of Law in 1990.
For a five-month stint in 2010-11, she sat, under assignment, as a pro tem on this district's Div. Eight. She has served as assistant supervising judge of the North Valley District.
Also nominated yesterday for District Court judgeships were Valerie E. Caproni, Southern District of New York; Kenneth John Gonzales, District of New Mexico; Raymond P. Moore, District of Colorado; Florida Circuit Judge William L. Thomas, Southern District of Florida; Manhattan Judge Analisa Torres, Southern District of New York; and Derrick Kahala Watson, District of Hawaii.
The president commented:
"These individuals have demonstrated the talent, expertise, and fair-mindedness Americans expect and deserve from their judicial system. They also represent my continued commitment to ensure that the judiciary resembles the nation it serves. I am grateful for their willingness to serve and confident that they will apply the law with the utmost impartiality and integrity."
At present, there are more than 100 federal court vacancies across the nation and 19 nominations are awaiting Senate action. Obama remarked:
"Too many of our courtrooms stand empty. I hope the Senate will promptly consider all of my nominees and ensure justice for everyday Americans."
Copyright 2012, Metropolitan News Company