Monday, April 30, 2012
Page 1
Vote Set on Nguyen's Nomination to Ninth Circuit
By KENNETH OFGANG, Staff Writer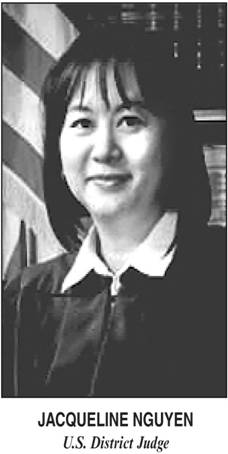 A vote on the nomination of U.S. District Judge Jacqueline Nguyen of the Central District of California to the Ninth U.S. Circuit Court of Appeals has been scheduled for next Monday.
Nguyen and two other of President Obama's judicial nominees, who will be voted on the same day, are the latest beneficiaries of a bipartisan agreement to give confirmation votes to more than a dozen potential appointees who have been approved by the Judiciary Committee but whose confirmations have been stuck for months.
The nominations of Nguyen and district court nominees Kristine Gerhard Baker and John Z. Lee will be debated together and then voted on in that order. The debate is now set for 4:30 p.m. Eastern time next Monday, under a unanimous consent agreement announced Thursday.
Other Nominees
Baker, a management-side labor lawyer with a Little Rock firm, has been nominated to the U.S. District Court for the Eastern District of Arkansas. Lee, who has been nominated for a seat on the U.S. District Court for the Northern District of Illinois, is a partner in a Chicago firm, handling complex federal litigation. after having begun his career in the Justice Department's Environmental and Natural Resources Division.
Judiciary Chairman Patrick Leahy, D-Vt., said in remarks that appeared in the Congressional Record that "the Senate is still only considering judicial nominations that should have been confirmed last year." He castigated Republicans, as he has in the past, for what he called a "devastating development"—delays in confirmation of Obama nominees well beyond those of prior presidents' selections.
Among 19 committee-approved nominees awaiting floor action are two Ninth Circuit choices, Los Angeles attorney Paul Watford and Arizona Supreme Court Justice Michael Hurwitz. Two district court nominees from Texas, Gregg Jeffrey Costa and David Campos Guaderrama, were confirmed yesterday.
Costa was the lead prosecutor in the case against recently convicted swindler Robert Alan Stanford.
Born in Vietnam
Nguyen, who was approved by the Judiciary Committee last year in an unopposed voice vote, was born in Dalat, Vietnam. In 1975, at the age of 10, she fled the country with her family and they were placed in a refugee camp in Camp Pendleton, Calif.
After several months of living in a tent, her family settled in the Los Angeles area. She went on to graduate from Occidental College in 1987, and earn a law degree from UCLA in 1991.
After joining the State Bar, Nguyen began her legal career as a litigation associate with the law firm of Musick, Peeler & Garrett from 1991 to 1994.
Nguyen then moved to the U.S. Attorney's Office and served in the Public Corruption and Go­vernment Fraud Section. Her job included overseeing Department of Defense fraud prosecutions.
Bar President
She helped found and was president of the Asian Pacific Ame­rican Bar Association and was a board member of the Women Law­yers Association of Los Angeles.
In 2002, Nguyen was tapped for the Los Angeles Superior Court in 2002 by then-Gov. Gray Davis and Obama appointed her to the federal bench seven years later.
Copyright 2012, Metropolitan News Company