Friday, June 15, 2012
Page 3
Nebron Remembered as Serious Judge With a Lighter Side
By a MetNews Staff Writer
Los Angeles Superior Court Judge Irwin Nebron was remembered yesterday as a man who took his work seriously but had a lot of fun with it.
Retired Court of Appeal Justice Jack Goertzen recalled Nebron, who died April 22 at age 85, as a practical joker.
He, Nebron, and Judge Pat Mullendore—who also became a Superior Court judge and died in 1985—were constantly playing tricks on each other as Los Angeles Municipal Court judges decades ago, Goertzen recalled.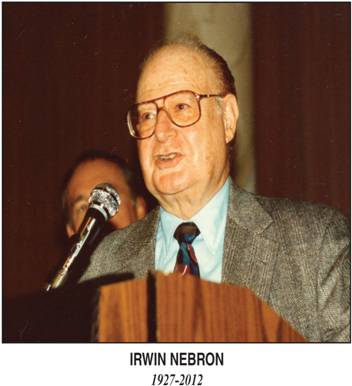 "Pat was one of those really orderly guys," Goertzen said, "so one day I snuck in and took his suit coat and gave it to the clerk." When Mullendore couldn't find the coat, the clerk produced it and explained what Goertzen had put him up to.
Mullendore, he retold, then recruited Nebron into assisting in a revenge scheme. The pair went down to the Grand Central Market "and got a little pig's head and put it in my [chambers] toilet."
But Goertzen "had the last word," he explained. "I got a live chicken and put it in Nebron's chambers and spread a little chicken feed." When the surprised jurist told the bailiff to clean it up, the bailiff's response was "I didn't put it there," Goertzen explained.
On another occasion, he said, Nebron and Mullendore put BB-gun pellets in Goertzen's beloved 1965 Porsche—which he still owns—and let them rattle around, making Goertzen think he was having serious engine problems. But the jokesters did call his wife to convey what they had done before he had to pay a mechanic to find the source of the problem, he said.
The serious side of Nebron, the justice explained, was his devotion to the legal community, his wife and daughter, and his Jewish faith. Nebron was a longtime member of the congregation Adat Ari El in North Hollywood, and founded Justice Lodge, a legal group within the international Jewish service organization B'nai B'rith, and made Goertzen, who is not Jewish, an honorable member.
Goertzen and retired Superior Court Judge Arnold Gold both recalled the ever-present jars of candy in Nebron's chambers. They may have been put there for children, the jurists said, but lawyers and litigants partook as well.
When Nebron retired from the court and went to work for Alternative Resolution Centers, Gold recalled, he complained that there was no candy.
"So the next thing you know, there are tons of candy jars on the conference room table," provided by the company, Gold, who still works for ARC, recalled. "And that continues to this day."
He noted that Nebron remained active with ARC until two or three years ago, primarily resolving personal injury cases.
Nebron was a Pennsylvania native, but came to Ventura with his family as an infant. He was sent to a now-defunct boarding school in Los Angeles, a great financial sacrifice for his parents, who wanted him to get an education and quality medical care.
He eventually graduated from UCLA and UC Berkeley School of Law, then practiced in Oxnard and later Ventura before then-state Controller Alan Cranston tapped him to be his chief deputy in 1959.
He held the post until 1965, when then-Gov. Pat Brown named him to the Municipal Court. He won a Superior Court seat in a contested election in 1978 and remained on the court until he retired and joined ARC in 1994.
While on the Municipal Court, he served as supervising judge in the San Fernando Valley, and, in 1977, as presiding judge. On the Superior Court, he founded and chaired the Bench-Bar-Media Committee.
Copyright 2012, Metropolitan News Company